Read on for the 10 hottest trends from the most widely anticipated design event of the year!
The design week included Salone del Mobile, Rho Fiera Milano's furniture fair and Fuorisalone, events that were scattered around the city's design districts. This year, attendees immersed themselves in the excitement of witnessing the launch of new creations by emerging and established designers and architects. The 58th edition swept Milano from April 9-14 and broke previous attendance records, with 386,236 visitors from 181 countries flying in to support 2,418 exhibitors from 44 countries (including Italy).
TRENDS FROM MILAN'S 2019 FURNITURE FAIR
Milan Design Week 2019 wasn't radically different from 2018's, with some trends that had developed, while others burned out. There were fewer examples of leather and fur, as brands shift to responsibly sourced materials with fewer wasteful processes. Ecoconscious and sustainable materials, sculptural shapes and technology-crafted designs were still big in this edition. Terrazzo was not as prominent as in previous years, but marble was still found in surprising places and combinations.
Brands chose many colours, ranging from pastels to vibrant shades. Muted hues set the scene at Brera Design Apartment, alongside soft textures at Planetario, a project by Cristina Celestino for Besana Carpet Lab.
Bolder colours were displayed at The Cassina Perspective, a new catalogue by Cassina at its Milano showroom. Here, we have picked out a range of exciting products available on the market that will have your home looking on-trend.
1. Lee Broom's Eclipse, a light collection inspired by the skies, available at Space Furniture.
 
2. Ciempies, a woven textile series focusing on tactility, by Ana Maria Gomez.
3. Wall&Deco travel-themed wallpaper Instant Panorama/ Reloaded by Studiopepe.
4. Playful Mash.T Design Studio's Ventura Future exhibit.
5. Urban-style standing lamp Uptown by Foscarini.
6. Diederik Schneemann's Cherished room divider is big on geometry.
1 FUN & PLAYFUL
Designers reminded us all to have some fun this year. London studio Supergroup debuted its inaugural collection, Superscene, for Hem with support by Modern Design Review. Its exclusive sets of handmade clouds, flowers and rainbows will bring a playful angle to your home. South Africa's Mash.T Design Studio presented a lively collection of African-inspired objects, vivid colours and unique materials. Sol and Condition X furniture collections by Kristel Laurits also showcased whimsical colours and patterns.
7. Kristel Laurits' Sol collection of shelves and sidetables.
8. Glassware by Kristel Laurits.
9. Mash.T Design Studio's Ventura Future jars.
GET THE LOOK
10. A cheerful design can easily brighten up your day, like the Qeeboo kong XS lamp by Stefano Giovannoni. It has a gorilla holding a torch, making this a fun table lamp perfect for apartments and workspaces.
Available in pink and blue. Qeeboo Kong XS lamp, $448, from Journey East.
11. Are you one who likes to rearrange things in your home?
If so, you will be intrigued by &Tradition's MH1 Shuffle Table designed by Mia Hamborg. As its name suggests, you can shuffle the "beads" along the stem of the table, so it looks different each time. A mix of colours also adds a fun touch!
MH1 Shuffle Table, $990, from Made & Make.
2 THE EYE HAS TO TRAVEL
Travel lends itself well to themes for design and interiors. Louis Vuitton's Objets Nomades collection had quite a few stunning additions by remarkable designers inspired by travel. The Moroso showroom opened M'Afrique Detached, 10 years after its first collection made in Dakar, Senegal. Wall&Deco's latest wallpaper collection included travel imagery: Saigon by Alessandro Gottardo and Instant Panorama/ Reloaded by Studiopepe. The Missoni Home booth at Salone del Mobile showed outdoor-inspired interiors with Landscape.
12. Instant Panorama/ Reloaded wallpaper by Studiopepe.
13. Saigon wallpaper by Alessandro Gottardo.
GET THE LOOK
14. "To travel is to live," some would say, so get yourself into the wanderlust mood with this travel-inspired wallpaper from Hello Circus.  With an artistically designed world map as a wall mural in your home, you can add travel destinations to your bucket list and make a mark on the spots you've visited.
Hello Circus wallpaper, from www.hellocircus.co 
3 TACTILE MATERIALS
Alessandra Roveda and Angela Missoni curated Home Sweet Home, an installation featuring an entire home in knitwear. All furniture and everyday products from television to dinnerware were knit in a rainbow of shades at the Missoni showroom in Brera. Nearby at La Pelota, Hermes had its Spotlight On Materials exhibition featuring granite, porcelain, paper and bamboo objects placed atop grey sand. Ana Maria Gomez used Peruvian alpaca wool in her woven and knitted textile series, Ciempies.
15. Bowls from Hermes home collection 2019.
16. Hermes' continues to work with artisans to produce multicoloured vases for its latest collection.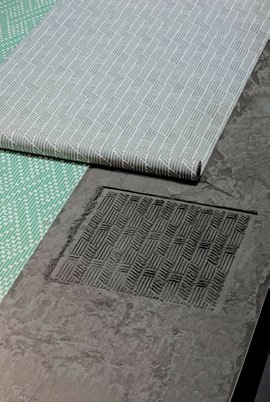 17. Hermes' new range of wallcoverings.
18. Ciempies textile series by Ana Maria Gomez.
GET THE LOOK
19. Ikea's April 2019 launch included the handmade bamboowoven Knixhult lamps that can be used on the floor and table, and as a pendant. With the use of darkercoloured bamboo, light filters through to lend tactility and texture, while giving the space a warm ambience.
20. It also launched the Tankvard collection of rattan-made furniture and furnishings, such as this flatwoven rug that offers a raw and rustic look, which embraces the imperfections of the beautiful, natural material.
Knixhult lamps, from $49.90, from Ikea.
21. Bring elegance into the outdoor areas of your home, with the Bangkok Outdoor collection by Flexform. The ottoman upholstered in woven polyurethane rubber is available in a range of colours including olive green and burgundy, which will go well with earthy tones in an understated fashion.
Bangkok Outdoor ottoman, from $3,980, from Flexform.
4 SUSTAINABILITY IN DESIGN
Sustainability has remained a prominent trend in design and architecture. An exemplary, no-waste exhibition was Carlo Ratti's The Circular Garden at Orto Botanico di Brera. Mushroom arches were grown over six weeks, then shown at Fuorisalone and sown into the soil they stood on. Paola Antonelli curated La Triennale's XXII Triennale with the theme Broken Nature: Design Takes on Human Survival. It features international projects using design solutions and will be on display till September 2019.
22. Carlo Ratti's Circular Garden, featuring mushroom arches.
GET THE LOOK
23. The Mater Ocean chair designed by Joergen and Nanna Ditzel is made of recycled materials, and combines innovative solutions to avoid polluting oceans. Made and tested for outdoor use, this piece of furniture can be disassembled and completely recycled to ensure zero waste.
Mater Ocean chair, $490, from Made & Make.
24. The Swarovski's Euroluce 2019 collection features beautiful lighting products made of responsibly created crystals. The brand dedicates itself to sustainable crystal production processes where energy is harnessed from renewables; 70 per cent of the water used is also through recycled sources.
The Euroluce 2019 products are available for pre-order at crystalpalace@ swarovski.com.
5 GETTING DIGITAL
Technology is certainly changing the way designers create furniture and objects. The blend of craft and technology was seen in the A.I. chair for Kartell by Philippe Starck and AI studio Autodesk, as well as the gravity-formed furniture collection entitled Melt by Wonderglass and Japanese design studio, Nendo. Ribbon-styled seating systems Cowrie chair by Made in Ratio and Ribbon Dance two-seater sofa by Andre Fu for Objets Nomades were also created using new technologies.
25. Louis Vuitton's Objets Nomades Ribbon Dance sofa by Andre Fu.
26. Cowrie Walnut 2 chair by Made In Ratio.
GET THE LOOK
27. Make a statement with Miniform's Caruso, a quirky and fun console or sideboard that has an in-built sound system, which you can control via your smartphone.
Miniform's Caruso, $6,100 (nett), from P5 Studio.
28. Hydra system pendant lighting by Melogranoblu.
29. The Nuee lamp by Marc Sadler for Foscarini.
30. Lee Broom's Eclipse pendant lights.
6 HEAD IN THE CLOUDS
Many designers had their gazes fixed on the sky, finding comfort in environmental connections. Celestial shapes and symbols were copious. Foscarini presented Nuee by Marc Sadler at Euroluce alongside Beep by Ludovica + Roberto Palomba, and Sun - Light Of Love by Tord Boontje. Lee Broom's Eclipse collection relays lunar musing in both title and theme. The Brogliato Traverso + Magis Lost lamp and Melogranoblu's Arabic-esque system As If By Magic brought stellar sparkles to the mix.
Get the look
31. Imagine being on cloud nine each time you look at the dreamy, sky-like designs on a wall in your home, such as this soothing wall mural from Hello Circus. Use it in your kids' room to encourage them to expand their imagination and to inspire creativity.
Hello Circus wallpaper, from www.hellocircus.co 
7 URBAN OUTFITTING
Urban living was styled to perfection by Studio Salaris at Zanotta's Salone del Mobile booth. It featured living spaces in cosmopolitan cities such as Rome, Shanghai and Paris. New products from the brand include the Florin headboard frame by Roberto Lazzeroni, Graphium small marble table by Garcia Cumini, and Tusa armchair by Rodolfo Dordoni. Foscarini's stunning new Uptown light by Ferrucio Laviani mimics the shape of a skyscraper.
32. Marble table Graphium by Garcia Cumini.
33. New collection from Zanotta home.
GET THE LOOK
34. Singaporean furniture brand Commune's Volta collection embodies contemporary style with a touch of industrial chic – solid walnut wood is matched with brass-finished stainless steel.
Commune Volta co ee table, $699.
35. Configure the design of Viabizzuno's Traccia system to your liking or space requirements, thanks to its accessories that allow for flexible pairing. You can mix and match items such as lights and shelves to acoustic panels.
Viabizzuno's Traccia system, from P5 Studio.
8 SMART WOOD
Kartell Windows celebrated 70 years of the Italian furniture brand best known for using plastic materials. Included was a glimpse of the Kartell Smart Wood Collection. Swedish brand Hem introduced Max Table by British designer Max Lamb, a large multipurpose table made from untreated Douglas fir. Natuzzi paid homage to Mother Earth for its 60th anniversary through Ross Lovegrove's Ergo collection.
36. Kartell wooden chairs.
GET THE LOOK
37. Display your library on the Legend bookcase – designed by Christophe Delcourt – which is made entirely of solid oak. Stained or varnished in eight finishes, every piece embraces the natural beauty and characteristic of the tree it is made from.
Legend bookcase, $17,260, from Roche Bobois.
38. If you're familiar with the classic aluminium 1006 Navy Chair, you'll recognise it here, except that Emeco introduced its solid wood edition in the light of the chair's 75th anniversary. Now in three new finishes: white oak, black-stained oak and walnut.
Emeco Navy wood chair, $700, Space Furniture.
9 A PASSING GRADE IN GEOMETRY
Geometric patterns and structures were everywhere this year. The most Instagrammable was Conifera, a 3D-printed, bioplastic structure by COS and Arthur Mamou-Mani. Diederik Schneemann's Cherished series included a collection of 3-D postcards cut into square or octagonal shapes and fit into a screen divider. The Socialite Family's pyramidshaped pillows, Diamond Mirror by Marcel Wanders, and Somewhere wallpaper by Silvia Stella Osella for Wall &Deco were also inspired by clean lines and geometric shapes.
39. Bioplastic structure Conifera, by COS and Arthur Mamou-Mani, at Fuorisalone.
40. The Socialite Family's pyramid-shaped pillows.
41. Wall&Deco Somewhere wallpaper by Silvia Stella Osella.
GET THE LOOK
42. Combine fluid design with geometric lines to get the Cassina Beugel chair, which has a more ergonomically correct line and is supported by a tubular metal frame. It comes in colours including black, natural, taupe, petroleum green and purple-red.
Cassina Beugal chair, from $2,125, from Space Furniture.
43. Complement simple forms with intricate geometrically designed furniture like the Dix concrete round coffee table. Its black mesh frame base is what makes it unique and a standout piece.
Dix concrete round coffee table, $369, from Born in Colour.
10 THE WORLD KEEPS GOING ROUND
Circles and spheres continued to make the rounds, influencing designs from lighting to furniture, sanitaryware and beyond. The Pigreco lamp was introduced in the labyrinth-inspired booth by Italian designer Davide Groppi. Made in Italy luxury brand Ivano Redaelli showcased its Glamour round bed in a contemporary and comfortable ambience. Though Agape's In-Out freestanding round bathtub isn't a new design, it has remained popular as an award-winning design, with marble materials added since its debut in 2009.
44. Ivano Redaelli's Glamour round bed.
45. Agape's In-Out freestanding bathtub.
46. Pigreco table lamp by Davide Groppi.
Get the look
47. Designed by renowned architect Patricia Urquiola, Glas Italia's lA Sunset low round tables have a laminated glass top with a blend of hues remiscient of watercolours. Available in two colours, midnight blue and copper.
LA Sunset low round tables, from $4,025, from Space Furniture.
48. Break up the linearity of design due to rectangular tables or long TV consoles by adding circular elements that will draw the eye. Notre Monde round trays are versatile in that they can be used as functional serveware or even as decor accessories.
Notre Monde round trays, from $160, from Soul and Tables.
TEXT GRACE DAVIN ADDITIONAL REPORTING DOMENICA TAN