With over 16 years in the industry, Alicia weaves her design finesse in every project – right down to cushions and fruit bowls. Her busy clients value her input in the fi nishing touches that complete their homes
With over 16 years in the industry, Alicia weaves her design finesse in every project – right down to cushions and fruit bowls. Her busy clients value her input in the finishing touches that complete their homes
GOLD AND SILVER TONES MAKE THE HOME LOOK BRIGHT, WITH A TOUCH OF SHIMMER.
The rule of not mixing gold and silver may apply to jewellery, but not to interiors. Under Alicia's expert hand, indulgent gold and glistening silver work together to lift this five-room HDB flat's neutral colour palette. Textured gold wallpaper in the dining area casts a soft warm sheen in the otherwise all-white room. The wallpaper is also reflective and works in tandem with the glossy homogeneous tiles and a Venetian glass mirror. In the kitchen, a backsplash of hexagonal stainless steel mosaic tiles bring a sense of luxury and surprise to the modern white glossy cabinetry.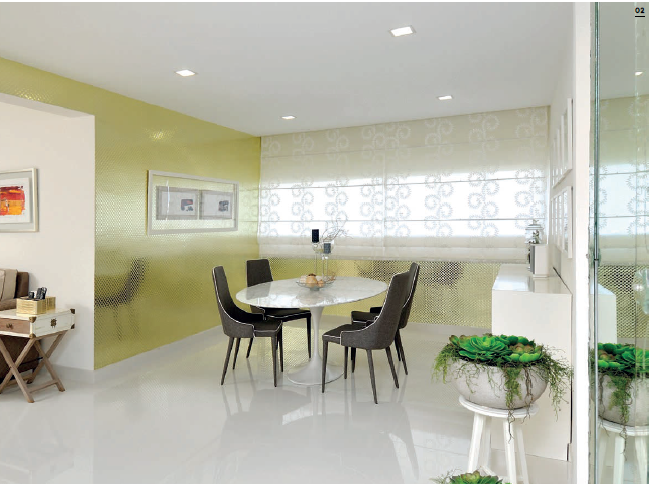 TEXTURE AND COLOURS FROM MOS AICTILES AND DECALS KEEP THE INTERIOR SUNIQUE.
The metallic magic continues in both bathrooms in very different styles, but with lavish results. Black is the commanding hue in the common bathroom. Crystal mosaic tiles and a clear glass countertop sink highlight the vanity counter, while the metallic flecks in the brown homogeneous floor tiles add sparkle. For contrast, the designer went with a lustrous white look for the master bathroom. Pearlescent mosaic tiles and silver decals provide metallic accents here. Both dark and light work in this flat as the high floor and location allow for great views. Sliding windows in the home maximise the window openings, flooding the space with natural light. The result is a brightly lit home with a touch of bling.