The 17th edition of the London Design Festival was, once again, a celebration of talent from the UK – which has one of the biggest creative economies in the world – and beyond with over 400 different events, exhibitions and installations.
The last edition of the London Design Festival, before Covid-19, seemed to mark a shift towards a more conscious approach to design. The best product launches and installations focused on how designers can address some of the most pressing concerns facing the world today, from sustainability to the activation of public spaces in increasingly dense urban areas. 
British designer Paul Cocksedge transformed one of London's most pedestrianised neighbourhoods with Please Be Seated, a huge installation of undulating benches offering communal seating and archways for shelter, and delivering a new way for people to interact with the built environment and each other. At the V&A Museum, Japanese architect Kengo Kuma created a sculptural installation that explored how bamboo and carbon fibre could be woven together as a potential building solution for earthquake-prone areas, and architect Sam Jacob brought one of the Eames' most famous textile patterns to life in an animation projected into the museum's vast lobby, replacing the sea creatures of the original pattern with plastic waste objects.
Elsewhere, designers showcased products in striking ways. Lee Broom's Kaleidoscopia installation, for example, featured just 17 Orion lights reflected in infinity mirrors to create a mind-bending immersive space. Here, we share our favourite trends, products and emerging designers from the festival.
TREND 1
MATERIAL MATTERS
Sculptural lighting with a focus on overt materiality was big. From new innovations to more traditional materials used in clever ways, designers had fun playing with the way light interacts with surfaces. These lamps make a huge impact, whether hung as single pendants or clustered dramatically.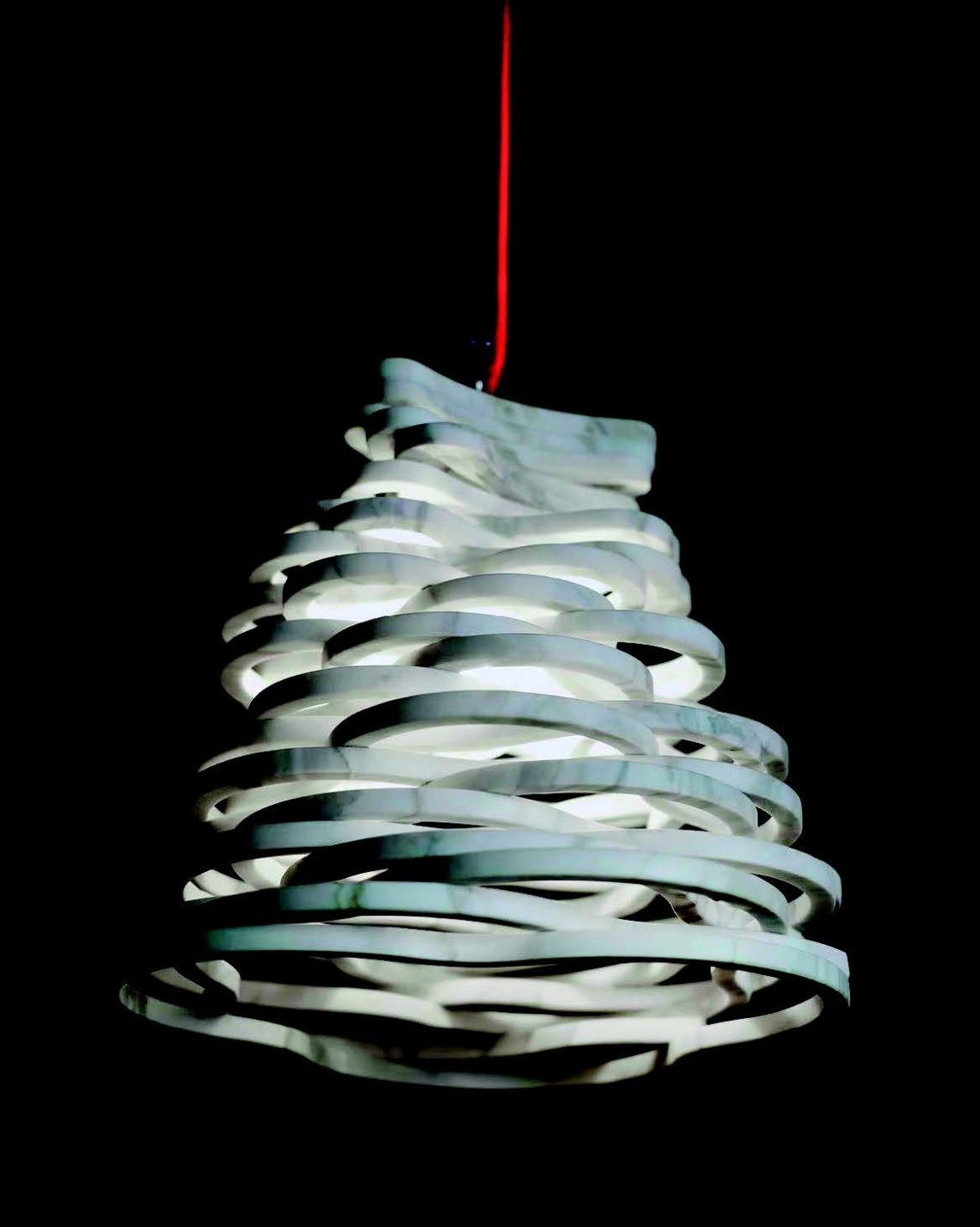 ANNIKA BY UPGROUP
Biomorphic layers of Carrara marble form the elegantly intricate Annika pendant by Italian designer Paolo Ulian for Upgroup. www.upgroup.it 
STRAND PENDANT LAMPS BY LAYER FOR MUUTO
The Modernist Strand Pendant Lamps by Layer for Muuto are made by spraying an innovative fibrous material over fine steel frames. 
www.muuto.com; www.layerdesign.com
COAX BY JOHN HOGAN FOR ROLL & HILL
Glass artist John Hogan has created a sculptural symphony of glass, metal and light in the Coax pendant lamp for Roll & Hill. 
www.rollandhill.comimage
TREND 2
COLOUR POP
Bright, bold accents can bring any unremarkable interior to life. This year, it was all about solid primary colours and simple graphic forms. When it comes to playing with such vivid shades, it's all about finding a balance; a little goes a long way.
MT MIRROR BY VERY GOOD & PROPER
The MT Mirror by Ed Carpenter, CEO and creative director of British design brand Very Good & Proper, features a bold yellow frame with chunky details inspired by a ship'sporthole.
www.verygoodandproper.co.uk
APOLLO CHAIRS BY BOHINC STUDIO
Bohnic Studio took inspiration from the 50th anniversary of the historic Apollo 11 Moon mission for its Planetaria collection, which features these striking blue and red chairs.
www.bohnicstudio.com
HOPPER CREDENZA BY JAMES BURLEIGH
After more than 20 years in the industry, British design studio James Burleigh launched its first credenza. The Hopper has a hard-wearing laminate finish and comes in over 100colours.
www.jamesburleigh.co.uk
TREND 3
CONSCIOUS DESIGN
Eco-friendly design is a timely trend that isn't going anywhere anytime soon. Responsible designers explored all facets of sustainability – from upcycling and recycling to innovative new materials, and crafting objects that make us think about what and how we choose to consume. The best pieces celebrated the inherent characteristics of the sustainable process through striking form and materiality.
RAEBURN X LAYER
British fashion designer Christopher Raeburn collaborated with Benjamin Hubert of Layer to turn surplus military parachutes into evocative rocking chairs and screens. 
www.layerdesign.com
CANOPY BY LSA INTERNATIONAL 
Inspired by the biomes of the Eden Project, said to be the world's largest indoor rainforest that's in the UK, this clever self-watering vase by LSA International is made from 100 per cent recycled glass.
www.lsa-international.com
HIGHLIGHT BY HIGH SOCIETY
Italian manufacturing start-up High Society used upcycled by-products from the hemp, tobacco and wine industries tocraft these minimal lampshades. 
www.high-society.it
RESPONSIBLE DESIGNERS FESTIVAL EXPLORED ALL FACETS OF SUSTAINABILITY – FROM UPCYCLING AND RECYCLING TO INNOVATIVE NEW MATERIALS, AND CRAFTING OBJECTS THAT MAKE US THINK ABOUT WHAT AND HOW WE CHOOSE TO CONSUME.
TREND 4
FROM THE ARCHIVES
Everything old is new again, it seems, as brands reinterpret iconic pieces in new colours and finishes. Contemporary designers have taken inspiration from the influential Bauhaus design movement, which celebrates its centenary this year. Think strong geometric forms and a focus on functionality.
REFLECT BY VERPAN
The elegant Reflect lamp by Verpan was developed from never-before-seen sketches from the archives of iconic mid-20th century Danish architect and designer Verner Panton. 
www.verpan.com
UNDERGROUND VOL.II BY KIRKBY DESIGN
Kirkby Design teamed up with Transport for London (TfL) to create Underground Vol.II, a distinctive collection of upholstery velvets derived from the original designs historically used across the TfL network.
www.kirkbydesign.com
FF CHAIRS BY FRIENDS & FOUNDERS
These Bauhaus-inspired FF chairs by Copenhagen-based Rasmus and Ida Linea Hildebrand of Danish/Swedish design company Friends & Founders feature a chrome-plated steel tube structure and curved backrest, giving them seriously retro vibes. 
www.friendsfounders.com
TREND 5
INTO THE WOODS
Timber is always in fashion, but the focus this year was on design that put craftsmanship and undisguised construction in the spotlight, while celebrating the inherent qualities and character of natural wood. This is part of a larger movement with an obviously more crafted approach to design – and to which the warmth of timber lends itself particularly well.
CARABOTTINO BY CARA DAVIDE FOR MEDULUM
Italian design studio CaraDavide built these cabinets using a traditional system of wooden slats that defines graphic architectural forms.
www.medulum.it
SCALLOPED BY TEDWOOD
Crafted from solid oak, the ScallopEd collection by Ted Jefferis of TedWood Furniture utilises a clever scalloped leg detail to remain visually light.
www.tedjefferis.co.uk
TENON TABLE BY DANIEL SCHOFIELD FOR ERCOL
British designer Daniel Schofield's Tenon Table for Ercol is based on an oversized wedged tenon joint, creating a strong visual identity from the method of construction.
www.ercol.com
THE NEXT GENER ATION
The London Design Festival isn't just a showcase for established designers. It is a hotbed of new creative talents just waiting to be discovered, too. Here are three of the most talked about.
TRIS TAN HIBBERD
A recent graduate from Kingston School of Art in London, Tristan Hibberd's work explores the fine line between sculptural form and engineering prowess. His Pivot Coat Stand – which exemplifies this approach and won a Joined + Jointed's J+J Generations 2019 Award – was exhibited at the 100% Design showcase. The playful piece features a series of poles that rotate on solid timber orbs at their base to create a visually spectacular, elegant object.
@tristanhibberd_design; www.joinedandjointed.com
JESPER ERIK SSON
London-based designer Jesper Eriksson, born in 1990 in Paris, has made a name for himself by exploring coal as something more than a functional raw material. The second iteration of Coal: Post Fuel, a collection of furniture that explores the potential of coal as a design material, was showcased at Mint design gallery. Elemental chunks of coal were polished on the surface to resemble black marble and paired with refined glass and metal elements.
www.jesper-eriksson.com
ALEX ANDER SCHUL
Young German designer Alexander Schul has tapped into global concerns about plastic consumption, looking at new applications for recycled plastic. His Substantial furniture collection – on show as part of the Guiltless Plastic exhibition – won him the inaugural Ro Plastic Prize, founded by renowned Milanese gallerist Rossana Orlandi. This pleasingly utilitarian chair is made from sheets of high-impact polystyrene, and has been designed to be easily and efficiently manufactured.
www.alexanderschul.com
text MANDI KEIGHRAN