Extraordinary gift ideas for extraordinary people.
"Every porcelain piece in the homeware range is produced by Richard Ginori, one of Europe's oldest porcelain manufacturers, which Gucci acquired in 2013. "
THE VINTAGE HOMEWARE THAT ONLY LOOKS VINTAGE
Quaint, eclectic, one-of-a-kind. That's the joy of flea market finds. But for folks who like the idea but not the "unknown bad history" that may come with them, Gucci's homeware offers the former without the latter. And the range is now at the brand's Paragon flagship, not just online. – BG 
Wooden chair upholstered in jacquard, $3,870.
Gucci creative director Alessandro Michele's Boston terriers, Bosco and Orso, are on this cushion with a velvet cover, $2,560.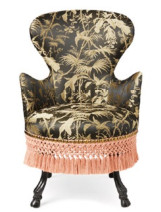 Wooden armchair upholstered in jacquard, $8,980.
Metal foldable table, $5,460.
Porcelain mug, $510. 
"The tabletop is also a removable tray."
Metal foldable table (which can also be hung up), $5,460.
Wooden screen with jacquard panels, $44,010.
Porcelain jug, $440. 
"Gucci's leftover fashion fabrics are upcycled into armchair upholstery."
Wooden armchair upholstered in jacquard, $8,980.
Porcelain vase, $7,290. 
"Esotericum = the scent of jasmine, orange bitters and leather."
Candle in porcelain holder, $1,250.
Metal folding tray, $2,290.