If you've just set up on your own or are working freelance, a co-working space makes sense. The rent isn't astronomical, you'll connect with loads of people outside your industry, and have tons of useful, fun events to go to. Oh, and did we mention? These spaces are gorgeous. So even if you're not in the market for a hot desk, read this and drool. Then show it to your boss.
WeWork: The one that lets you work anywhere in the world
THE PLACE:
The best way to describe it? Hyper-local. The space – the first for US-based Wework in South-east Asia – pays homage to the traditional Singapore shophouse. It features elements such as old storefronts with arched window frames and shutters, and coffee shop tiles. Pastel colours also make the place feel airy and light. The customised artwork that incorporates local slang like "can lah" and "chope" is also a nice touch. You'll have everything you need here – conversation rooms for conference calls, meeting rooms, breakout areas to chat, and even pockets of space to meditate. With three floors, Wework can accommodate close to 700 people at any time. Plans are in the works to set up two more spaces – at Robinson Road and Funan.
THE PEOPLE:
Ten per cent of Fortune 500 companies are Wework members, including HP Enterprise in Singapore. Larger companies tend to use Wework spaces in countries where they have fewer employees, or base certain departments at the co-working space if they feel it's a more conducive environment for them to work in. Well-known local start-ups like Chope, Policypal, and Stashaway also operate out of the Wework space here.
Interestingly, women make up 45 per cent of Wework's membership, and most of them run businesses in new media, tech, manufacturing and marketing.
Wework members can also tap any of its 212 locations around the world by booking workstations or meeting rooms via its app, at zero extra cost. "The app also lets members connect and work virtually with other members around the world, and allows them to discover business opportunities within the network by providing feedback and inviting each other to events," explains Turochas Fuad, Wework South-east Asia's managing director.
THE PERKS:
Beer on tap aside (yasss), there are game nights, a ping-pong table in the lounge, and "Wellness Wednesdays", when healthy snacks are served up and members are encouraged to take a free fitness class offered by Guavapass. It's all aimed at helping people across different companies get to know each other.
But if you feel bad about having too much fun, hit up any of the product demonstrations, panel discussions, pitch competitions, and networking opportunities that Wework organises throughout the week.
Wework Beach Centre is at 15 Beach Road. Monthly membership begins at $550 for a hot desk and $1,100 a member for a private office. For more, go to
www.wework.com
/buildings/ beach-centre--singapore.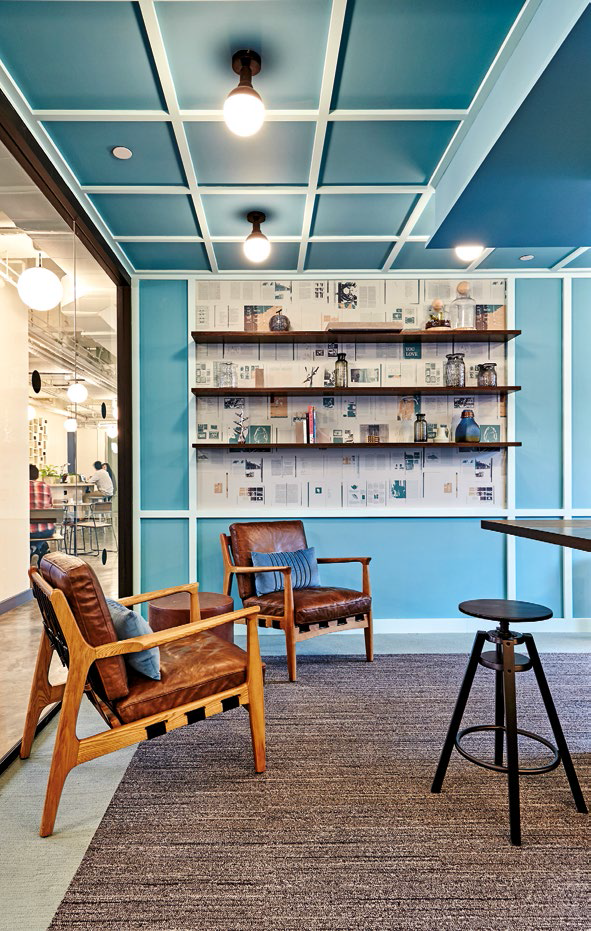 The Work Project at Downtown Gallery: The one that doesn't feel like an office
THE PLACE:
This elegant space, which can host 350 members, takes its inspiration from colonial black-and-white homes. From the light-filled veranda and courtyard to the dimmer and enclosed den (for low-key socialising), The Work Project's design is fuelled by functionality. The team worked closely with workplace strategists, designers, and acoustic and technical consultants to build the glass facades that now provide a panoramic view of the greenery outside. The aim is to create an ambience that helps members feel comfortable even when they're pulling long hours. This one's so luxe, it won't feel like you've stepped into an office.
"The workplace of the future will allow you to choose the most effective way of getting a task done. It allows you the freedom to be mobile, to be private, to be collaborative, to be social, and to be engaged," says founder Junny Lee. That kind of flexibility is what he modelled The Work Project after. Besides 15 meeting rooms, there's a mix of open and intimate pockets to slip into – depending on whether you're up for some company, or just want quiet time to take a phone call or check your e-mails. The lounge area has a long table for large group discussions, one-on-one seats for personal chats, and small round tables for group huddles.
THE PEOPLE:
It's a mixed bag. The Work Project encourages diversity among its members and avoids having two members from the same industry competing in the same space. In Singapore, one-third of its clients work at MNCs, another third in professional services companies (think: PR, advertising, headhunting, architecture and design), and the rest in a wide range of fields, including education, food and beverage, and tech.
THE PERKS:

If you're a foodie, you're going to love this. The Work Project's partnership with The Providore gives members a 15 per cent discount, while the super-hip Omotesando Koffee from Tokyo is stationed right by its entrance. Members get special discounts for shops and services within Downtown Gallery, including the Oakwood serviced residences – great for busy executives who don't want to travel far for work. The Work Project also hosts regular sessions called "Enable Success" with its clients, to find out what they need and how to improve their experience at the co-working space. "Based on these sessions, we plan social and professional programmes like our Friday happy hours, group cooking classes at the social kitchen downstairs, and professional seminars," says Junny.
The Work Project is at #04-01 to 09, 6A Shenton Way. Monthly membership for full-time hot-desking begins at $395 a month, and a private office starts from $700 a person, each month. Day passes cost $45. For more, go to
https://theworkproject.com/sg.
JustCo at UIC: The one that keeps you super motivated
THE PLACE:
Justco is a huge, two-storey co-working complex that can accommodate 1,000 members at a time. The design aesthetic is raw and unpretentious, with pops of colour. You'll see lots of common breakout areas and creative corners where you can scribble on the table surfaces and walls – because who knows when a good idea will strike, right? Workspaces can also be converted into standing desks if you're tired of being sedentary and need a little kick.
If your eyes need a break from the screen, train them on the art installations and murals lining the walls, all done by local artists, including students from Lasalle College of the Arts. Find your motivation flagging? Look out for the quotes – like "Just Keep Believin'", "Just Collaborate", and "Just Conquer" – which hang on walls and meeting room doors. Seriously, it's like having a personal cheerleader right next to you.
Justco's also good for bigger companies – members can access other Justco centres around the Central Business District, in Robinson Road, Raffles Quay, and Marina One.
THE PEOPLE:
"This model appeals to many businesses as they feel that co-working spaces help them expand their network, leverage on a common pool of resources, attract the best talent, and drive success to their business," says Justco's marketing communications manager, Eileen Wee.
The co-working space helps to do just that with an app, where members can see one another's profiles on the individual and company directory. It helps everyone maximise their reach. You can post about events, find business contacts, book meeting rooms and spaces, and use it as a platform to broadcast products and services. Justco is also looking to enable payments on the app so its members can go cashless.
THE PERKS:
Justco hosts a wide range of events that just about covers any interest. You could go for a one-to-one consultancy clinic hosted by PWC's Venture Hub (useful if you're keen to head overseas), and attend motivational workshops, fintech talks, and even curated film screenings by Red Dot Cinema.
We love that The Coffee Academics is Justco's partner, which means the pantry is always stocked with good coffee, and tasty sandwiches and snacks.
Members also get preferential rates and discounts for beauty and wellness services that include Vaniday, Pure Fitness, and City Osteopathy and Physiotherapy.
Justco is at #10-01 UIC Building, 5 Shenton Way. Monthly membership begins at $400, and a dedicated work studio (which requires a minimum of two members to book) starts from $800 a person. Day passes cost $50. For more, go to
www.justcoglobal.com.
THE CAFES THAT LET YOU RENT A SPACE TO WORK
If you're the sort that likes a change of scenery while you work, these apps will sort you out:
Appedine
An app created to help merchants get discovered, Appedine lets you book three- to four-hour slots at restaurants and cafes such as Wheeler's Yard and MOB Cafe. Look under the "unique spaces" tab, then select "co-working" and filter according to area, price point, date, and the number of people. Certain packages include a main course and a drink.
Workwander
Workwander lets you book both eateries and co-working spaces from as little as $3 an hour. Some bookings come with food credits, which get you $5 off a meal. Partners include co-working space Trehaus, which includes childcare and learning facilities. It also offers corporate rates and can be used in Kuala Lumpur.
Appedine and Workwander are available from iTunes and Google Play.