With no assurance of a Selective En bloc Redevelopment Scheme (Sers) offer in sight, that's the question on many concerned flat owners' minds, including our property columnist's.
With no assurance of a Selective En bloc Redevelopment Scheme (Sers) offer in sight, that's the question on many concerned flat owners' minds, including our property columnist's.
"Currently, 70,000 flats are more than 40 years old; almost 10 per cent of flats will face lease expiry in 50 years."
When my husband and I bought our first home back in 2000, the age of the flat was not a big consideration. Convenience was key. Although Build-to-Order (BTO) flats were cheaper, we didn't like the long wait and the locations offered. We viewed several four-room resale flats in Clementi but those 20-yearold flats were commanding $50,000 to $60,000 in Cash- Over-Valuation (COV). So, we headed to Jurong East, just one MRT stop away, and bingo! Our budget stretched to a five-room flat! We paid $334,000 (including $22,000 in COV) for a spacious 1,302sqf unit on a low floor.
A youngish 16-year-old flat then, the renovation, though unfashionable, was of good quality and still usable, so that saved us a pretty penny. Most of my family and friends had bought resale flats of about the same age or older. Nobody was counting down the 99-year lease because the Government was carrying out upgrading and Sers projects all over the island.
Despite being unseasoned first-timers, we spotted Jurong East's potential, even before the Urban Redevelopment Authority unveiled (in 2008) the blueprint for the Jurong Lake District, and the master plan (in 2017) for the Jurong Gateway, Lakeside and Lakeside Gateway precincts to form the second Central Business District. True enough, those former green fields around Jurong East MRT station are now home to J Cube, JEM, Westgate, Big Box and J Gateway condominium, joining the older IMM nearby. Across the road are the new Ng Teng Fong and Jurong Community hospitals.
We love the superb location of our flat so much that we refuse to sell it and plan to retire there some day, even though we now own and stay in a condominium. It is 5 minutes away from the Jurong East MRT station, the hospitals and the malls. So, like many other Singaporeans, we assumed that when our turn came, our old flat would undergo Sers and we'd get to buy a new one. That is, until National Development Minister Lawrence Wong sounded an ominous alarm.
NO GUARANTEE OF SERS
Do not assume that your flat will be chosen for Selective En bloc Redevelopment Scheme (Sers) when the lease runs out, warned Wong in a blog post in March 2017. Singaporeans, many probably for the first time, found out that only 4 per cent of HDB flats have been chosen to undergo Sers since the programme's launch in 1995. The post was meant to caution some home buyers who were shelling out as much as $1 million for older flats, gambling on their Sers potential. But, judging from the online chatter and letters to The Straits Times' Forum page, the post has got many owners of ageing HDB flats worried and increasingly frustrated.
For years, Singaporeans have been sold the idea of home ownership and that our HDB flats are our greatest asset. Will over 80 per cent of Singapore's population who live in HDB flats end up in homes where the value gradually whittles down to zero? Currently, 70,000 HDB flats are more than 40 years old, and almost 10 per cent of flats will face lease expiry in 50 years, and the flats will be returned to HDB.
While some have called for an automatic lease extension, Wong says it's not such a straightforward matter, as Singapore, having limited land, needs to recycle its land use for future housing to keep subsidised housing accessible to our children and grandchildren. Although the Government promises to study the issue further and welcomes proposals, the current message is clear: Buy expensive old flats at your own risk, and don't bank on profiting off it.
THE 'SELL' CAMP: CHASE A NEWER FLAT
One solution is, of course, to constantly "sell old, buy young" but it can be disruptive and expensive. Homeowner Madam S.H. Tang, who is in her 50s, recently moved into a 30-year-old executive apartment in Bukit Panjang. She chose this over an 18-year-old unit in the same estate because the older flat was cheaper and bigger. However, she is concerned that should she sell her $600,000 unit after 20 years, there could be a possible dip in value of at least 30 per cent, by her estimation. Thus, she is thinking of uprooting within the next 10 years before the flat hits 40, while its worth is still maintained.
For some senior citizens, selling is not as easy as before, as some buyers are staying away from ageing flats. According to The Straits Times Forum letter writer Ronald Wong, "many seniors who want to downgrade to BTO studio apartments for the elderly are in a fix, as they are unable to sell their old flats", adding that they may even lose their deposits on their new flat if they cannot do so. "Most of them were hoping to downgrade and live on the profits from selling their flats but have become disillusioned. The Government needs to step in to manage this problem and not just leave things to market forces," urged Ronald, a retired senior education officer. Other elderly owners who prefer to live out their days in a familiar old flat but would like to bequeath their property to their children, may fret that they are handing over an inheritance that is getting smaller by the day. Should they cash in now? Has their flat's value plateaued?
THE 'HOLD' CAMP: THE GOVERNMENT WILL ACT
Audrey Sun, 40, lives in a fiveroom flat in Bukit Panjang with her family and does not intend to sell their 30-yearold home because they love its roominess. "If we move to a newer flat, which will likely be smaller, we will feel suffocated!" While she will leave the property to her two kids, she is not fussed about preserving its investment value by quickly selling it off. "My husband and I believe that our kids should work hard to buy their own housing in future, so we have not thought about this issue seriously." She is confident that even if her flat is not chosen for Sers in future, the Government of the day would carry out some upgrading and enhancement work such as painting or redoing the water proofing.
Another homeowner of a 30something-year-old flat, who declines to be named, says he also intends to hold on to his property. He has an interesting theory; with so many ageing flats in Singapore, he thinks the Government would still offer Sers but only at an opportune time. It may choose to do so for very old estates where the owners are mostly elderly and the remaining lease is short at, say, 20 years. This then allows the Government to buy back the lease at lower prices to develop new homes. Some of these can be sold with short term leases, or rented to the elderly, cheaply. This could meet both the economic and sociological needs of our ageing population.
So, will my husband and I sell off our 34-year-old flat before it hits 40? Probably not yet. My husband believes that ageing HDB flats is an issue the Government would do something about, simply because the majority of Singaporeans are in the same boat. Even President Halimah Yacob owns an HDB flat!
"If the message to the people is that whatever you buy with your money now will become junk, it will create a market crash. The Government may not necessarily offer Sers to every HDB flat but it may have other solutions, which are not finalised yet. As long as our population is still growing – be it through natural birth rate or immigration – and the demand for public housing is still there, I'm not worried," says my hubby confidently.
As for me, let's just say that should we finally sell off our HDB flat, I'd rather save up for a smaller freehold or 999-year leasehold property next. Even if there is no en bloc potential, at least I don't have to fret over a ticking lease bomb!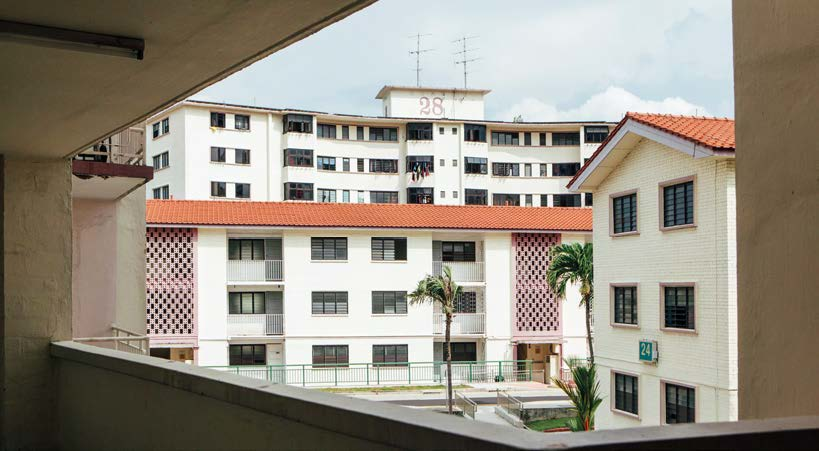 "The Government needs to step in to manage this problem and not just leave things to market forces." - Ronald Wong
Good to know
Resale prices for four-room flats in old estates, such as Aljunied and Paya Lebar, with 61-year leases currently range from $400,000 to $510,000.
STELLA THNG
Home & Decor's property columnist since 2011, Stella is a polytechnic lecturer-cumwriter with over 25 years of experience in publishing. She bought her first home at 23 and loves sniffing out good property investment deals.
The expert says
No cause for alarm
During a session in Parliament in May 2018, National Development Minister Lawrence Wong acknowledged the concerns and explained: "The Government has made clear from the outset that the HDB lease is 99 years. That is a long time – it covers two generations." Since the oldest HDB flat is around 50 years and the vast majority have more than 60 years of lease remaining, he added that this is not an immediate issue.
Text STELLA THNG