The light and slim Fujifilm X-A5 is a perfect companion.
The light and slim Fujifilm X-A5 is a perfect companion.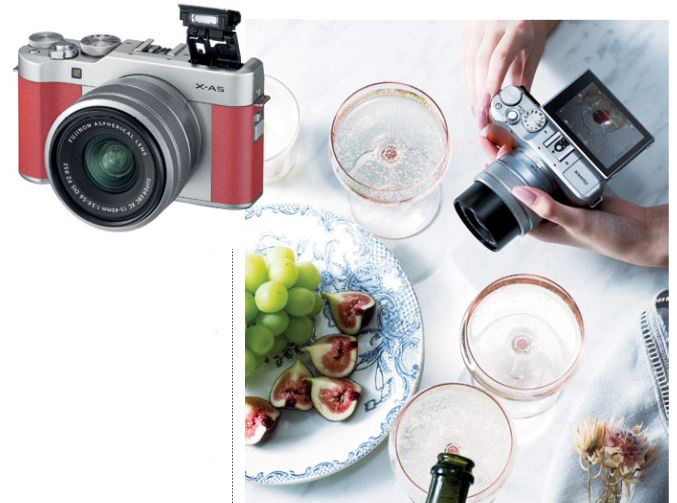 THE FUJIFILM X-A5 is a camera that combines simplicity with performance. It's light and lean, making it easy to carry wherever you go. The camera connects to a smartphone via Bluetooth, so you can easily share your photos.
The X-A5 features a 24.2MP APS-C sensor that shoots intricate images. Fujifilm's rich color heritage creates compelling photographs full of lifelike hues and skin tones. Film Simulations replicate the look of classic Fujifilm film, and Advanced Filters add artistic touches to your final picture.
It's the first X-A camera to feature phase detection pixels. The smart Hybrid AF system now focuses twice as promptly as previous models, ensuring accurate focus lock, even on swift subjects.
A new image-processing engine is 1.5 times faster than that of previous models. ISO sensitivity now goes up to ISO 51,200, which helps the camera photograph more detail in low light.
There are lots of features for videos as well. The X-A5 can record Full-HD video at a quarter speed for fun slowmotion videos. 4K Burst Shooting takes images at 15 frames per second for ace action shots. Shoot 4K videos for detailed footage.
The X-A5 introduces the new FUJINON XC15-45mm f/3.5-5.6 OIS PZ lens. It's the first electric-powered zoom lens for Fujifilm X cameras. This lens is excellent for food and macro photography, as it only needs a distance of two inches to achieve focus.
Rotate the LCD monitor 180° and Eye Detection AF automatically focuses on your eyes. Take a selfie anyway you like and you'll always be in sharp focus. Battery life has been improved so you can shoot all day without worry.
The Fujifilm X-A5 is the new 'go-to' camera for easy travel and impeccable images. It's lightweight and easy to use. It shoots photos and videos full of vibrant colors and detail. The X-A5 is the perfect companion to capture your everyday moments.
The Fujifilm X-A5 is available in pink, brown, and silver. A dark silver limited edition is also available. The X-A5 with the FUJINON XC15-45mm kit lens will retail at S$999.
To find out more about the FUJIFILM X-A5, visit www.fujifilm.com.sg