Cutting-edge Technology
Cutting-edge Technology
BEOPLAY A1
Small but powerful, the BeoPlay A1 has a fully active, two-way design that uses an aluminum cone and woofer, a ¾-inch silk dome tweeter and an advanced DSP filter to produce crisp, clear audio with a 360-degree soundscape so everyone can get in on the fun.
AMAZON KINDLE
Amazon's new entry-level Kindle now sports a thinner, lighter design, and more appealing rounded edges to go with it. Its 6-inch e-ink display has a pixel density of 167PPI, and its memory capacity has been doubled to 512MB, which should allow smoother navigation. Oh, and it's now available in white. You'll get weeks of reading out of this ivory-clad looker.
PEBBLE CORE
At its very core (not sorry), the Pebble Core is a fitness tracker and computer running on Android 5.0. It's sized like an electronic key fob, because Pebble felt that the Core's form factor is "a better experience" for running, as opposed to carrying a smartphone. With 3G and Wi-Fi connectivity, it supports Spotify streaming, location and route tracking via GPS, and it off ers Emergency SOS for runners in trouble.
ASUS ZENBOOK FLIP UX360
Is a detachable keyboard like the Surface Pro 4 too troublesome? Enter the ASUS ZenBook Flip UX360, a sleek, stylish convertible that can easily swap between laptop and tablet modes. It features an Intel Core M processor, 8GB of RAM, and a gorgeous 4K touchscreen display. And at just 13.9mm thick, it'll slide easily into your bag as if it was never there.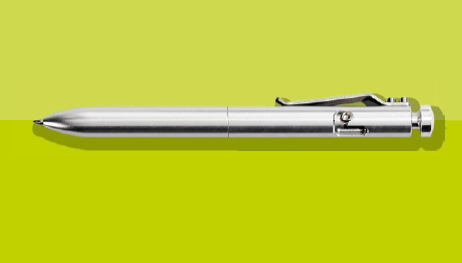 KARAS KUSTOMS ALUMINUM BOLT PEN
Here's a full metal jacket that's full of ink. The Bolt is a machined, boltaction pen made from 6061-T6 aluminium. Not only is this a solid piece of hardware, The Bolt uses any Parker ballpoint compatible refil, so it should work with you for generations.
HASSELBLAD X1D
Medium format means large and clunky right? Well, not if you're talking about Hassleblad's latest X1D-50c. It packs a 50MP medium format sensor in a mirrorless camera body that weighs just 725g, and measures just 150 x 98 x 71mm, making it no larger or heavier than a regular DSLR. What you get is full 14 stops of dynamic range. Now that's a game changer.
LENOVO PHAB 2 PRO
The Phab 2 Pro looks like a standard phablet from the front with pretty standard specs: a 6.4-inch QHD screen, Qualcomm Snapdragon 652 processor, 4GB RAM and 64GB storage. Pretty mainstream in today's competitive mobile market right? Wrong! The Phab 2 Pro is actually the world's first Tango-enabled device, with three rear cameras that see in 3D space, off ering precise virtual and augmented reality environment manipulation and tracking. This will be as close to having bionic eyes as you can today.
HYPERKIN SMART BOY DEVELOPMENT KIT
If you still pine for the days of authentic 8-bit gaming, or you have a whole pile of old Game Boy cartridges stashed away somewhere, this is the gadget for you! Hyperkin's Smart Boy Development Kit will let your Android smartphone play any Game Boy or Game Boy Color game cartridge. The Smart Boy is compatible with any 5- to 6-inch Android smartphone (sorry iOS users) and has a D-Pad, start, select, and A and B buttons.
RAZER NAGA HEX V2
Razer has updated its MOBA gaming mouse with RGB Chroma lighting and a new 16,000 DPI laser sensor. Most notably, the Hex V2 now has seven side buttons, instead of the six button layout used by the original Hex.
MOTOROLA MOTO Z
With Google's Project Ara still existing only on paper and the LG G5 not being truly plugand- play, Motorola is plugging their upcoming Moto Z as the real modular smartphone. This is based on the fact that its modules, called Moto Mods, can be snapped on and off on-the-fly without needing a reboot or to remove other components. Even on its own, the Moto Z is making waves as one of the thinnest flagship smartphones at just 5.2mm.
PLUME
Why have one router when you can have many? That's the idea behind a Wi-Fi 'mesh,' and Plume is the latest startup to take it on. Each palm-sized Plume Wi-Fi router plugs into a power outlet to fully cover your home, and the routers are optimized by cloudbased computer learning to give you the best coverage.
ASUS ROG STRIX GL502
Meet the ROG Strix GL502, the first ever gaming laptop from ASUS to carry the ROG Strix branding. It is a relatively compact 15.6-inch notebook that aims to pack enough processing power to handle modern games at 1080p. This comes in the form of an Intel Core i7-6700HQ processor, an NVIDIA GeForce GTX 970M GPU and 8GB of DDR4 RAM.