KEEP CLEANING WITH SWAPPABLE BATTERIES
1. KEEP CLEANING WITH SWAPPABLE BATTERIES 
The Bosch Unlimited skirts around the problem of runtime on cordless vacuums by using an exchangeable battery pack and quick charger. The quick charger recharges the battery in under 60 minutes, and the battery is the same used in Bosch's 18- volt Home & Garden cordless system. The Unlimited can be detached into a handheld spot cleaner, without the need to snap any accessories into place. 
BOSCH UNLIMITED 
2. THE ULTIMATE ART BAG 
This one's for the person for who can't stop sketching. The Etchr Art Satchel carries all your art tools; its modular design lets you customize your carry for anything from notebook to tablet to pencil. The Art Satchel can connect to any photography tripod and become a field table. You can also hang it from your neck and turn it into a makeshift surface. 
ETCHR ART SATCHEL 
3. BUILD YOUR OWN SUPERCAR 
The Lego Technic version of the French ultra-luxury supercar is designed with intricate details and impressive flourishes. The 1:8 scale replica model is huge, and features 3,599 pieces. There's a Lego Technic 8-speed gearbox with paddle gearshift, and the sophisticated W16 engine comes with moving pistons. Open the hood, and you'll even find a stylish Bugatti overnight bag. 
LEGO TECHNIC BUGATTI CHIRON 
PICTURES LEGO, ETCHR, BOSCH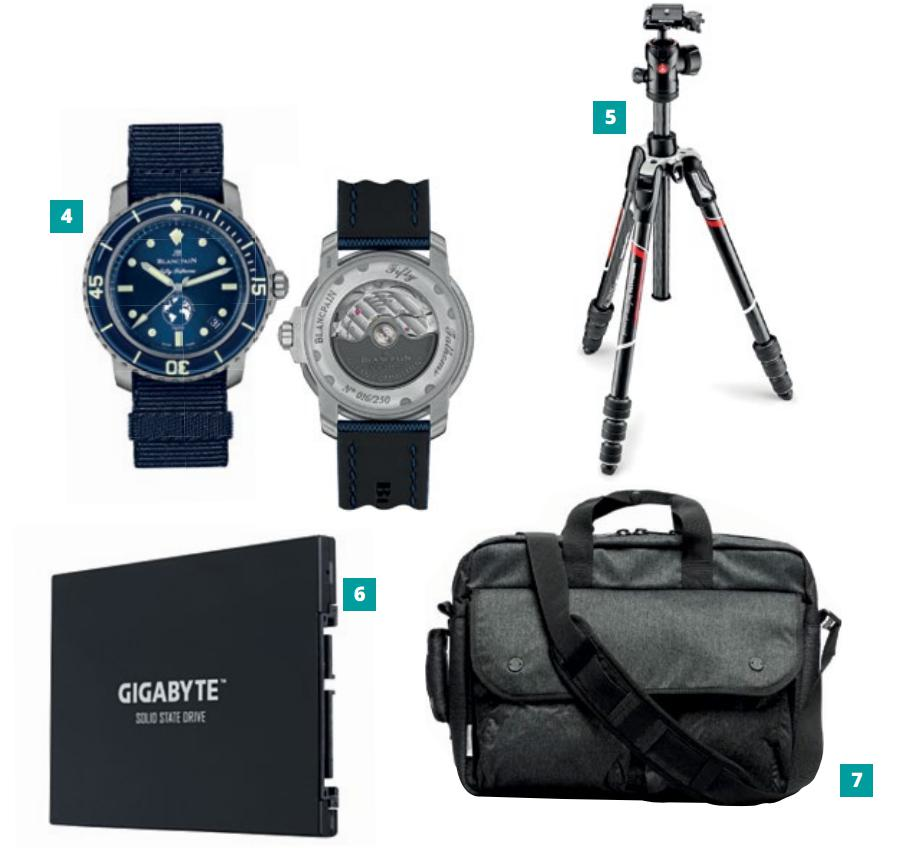 4. DEDICATED TO THE SEAS 
This gorgeous beauty from Blancpain is the third limited edition Fifty Fathoms Ocean Commitment. It comes with a smaller 40mm case and a more basic three-hand- date movement - the Calibre 1151 - but still pays homage to the original Fifty Fathoms from 1953. Super LumiNova coats the large indices, and you'll find the date window at 4:30, with the Blancpain Ocean Commitment logo at 6 o'clock. An extremely limited run of 250 pieces, each purchase will see Blancpain contribute 1,000 Euros to funding projects that preserve and protect our oceans. 
BLANCPAIN OCEAN COMMITMENT 
5. TRAVEL LIGHT, SHOOT LIGHTER 
Manfrotto updates its travel tripod with a carbon fiber model, which brings its weight down to 1.2kg. It features Manfrotto's M-lock twist lock, which has no protruding parts and closes perfectly around the head. It also has Manfrotto's Easy Link, letting photographers add accessories like lights and reflectors easily. 
MANFROTTO BEFREE ADVANCED 
6. BETTER LATE THAN NEVER 
The Gigabyte UD Pro 2.5-inch SATA 6Gbps SSD makes use of Toshiba BiCS3 3D TLC NAND and it comes in two capacities, 256- and 512GB. Its sequential read and write speeds are rated up to 530MB/s and up to 500MB/s respectively. This entry-level SSD comes with a limited 3-year warranty or up to 200TBW. 
GIGABYTE UD PRO SSD 
7. FOR THE VERSATILE PRO 
Designed for the professional who wants a versatile bag, the Utility Brief can be worn three different ways. Carry it like a backpack, sling it like a shoulder bag, or hold it like a briefcase. It carries up to a 15-inch slim laptop, with an internal elastic bottle pocket for water. A luggage- compatible sleeve lets you mount it onto rolling luggage. 
DSPTCH UTILITY BRIEF 
PICTURES BLANCPAIN, MANFROTTO, GIGABYTE, DSPTCH 
8. LIKE MITHRIL FOR YOUR GEAR 
This backpack is both understated and highly functional. The Pacsafe Instasafe bag has several security features, like a stainless steel mesh built into the fabric to prevent slashing. Even the backpack straps are slash-proof. It also has an RFID-safe pocket to prevent identity theft. Multiple padded compartments protect your devices from bumps and knocks. 
PACSAFE INTASAFE 
9. FOR THE PARANOID 
This one's for the paranoid and power hungry. The PortaPow comes between your smartphone and a USB charging port. It blocks data transfers between your device and the USB socket so you won't get nasty viruses or have your data leaked. The PortaPow SmartCharge chip can switch between Apple, Samsung, and universal charging standards. 
PORTAPOW DATA BLOCKER USB ADAPTOR WITH SMARTCHARGE 
10. GO HIGHER (LITERALLY) WITH THE NEW FENIX 
Garmin's new fitness smartwatches add offline music play, Garmin Pay, and color maps to the mix. They come in three editions, the smallest 5S Plus, the middle- sized 5, and the largest 5X Plus. Besides having the longest battery life (up to 20 days!) the 5X Plus also gains a new Pulse Ox Acclimation sensor, which measures pulse oxygen saturation levels, or SO2.
GARMIN FENIX 5 PLUS 
11. A KNIGHT'S WATCH 

If the UR-105 looks like an armored plate, that's by design. URWERK says the bezel is supposed to evoke the breastplate for a knight's armor. The UR-105 features URWERK's iconic satellite indication; a carousel carries four satellites, each carrying three-hour numerals. They parade and reveal themselves past the minute rail to show the time. 
URWERK UR-105 
PICTURES PACSAFE, PORTA, GARMIN, URWERK
12. A BAG FOR (DRONE) PILOTS 
Take to the skies with this backpack for the DJI Mavic Pro and OSMO. It comes with dedicated pockets for either product, which you can access quickly without having to put the bag down. The pack has an insulated pouch that carries two batteries, and four more can be inserted into a pocket on top of the bag. The Manfrotto Protection System keeps control sticks safe and moving parts steady. 
MANFROTTO AVIATOR HOVER-25 
13. THE BERRY IS BACK 
BlackBerry is back with the new Key2, which now includes dual 12-megapixel rear cameras, an improved physical QWERTY keyboard with taller keys, better spacing and a matte  nish, plus a "Speed Key" for customizable actions. Other specs include a 4.5-inch Full HD display, Qualcomm Snapdragon 660, 6GB RAM, Android 8.1, 64GB/128GB storage, and a 3,500mAh battery with Quick Charge 3.0.
BLACKBERRY KEY2 
14. A CABLE AND BATTERY IN ONE 
This Lightning cable is unlike any you've ever seen. Nomad combines a durable, ballistic nylon braided Lightning cable with a high-capacity 2,800 mAh portable battery in a single device. That's enough power to fully charge an iPhone. When you plug it in, the Battery Cable is clever enough to charge your iPhone  rst, before topping up its own battery.
NOMAD BATTERY CABLE 
PICTURES MANFROTTO, BLACKBERRY, NOMAD