GULL-WING GLASS SIDE PANELS!
Check out the gull-wing glass side panels of the Razer Tomahawk PC gaming chassis! They allow for quick access to build components as well as showcase those very components in operation. The casing is also optimized for bespoke liquid cooling kits like the EK Water Blocks! RAZER TOMAHAWK PC GAMING CHASSIS
2. NEW 96-LAYER V-NAND MEMORY CHIPS
The Samsung 970 Evo Plus SSD features new 96-layer V-NAND memory and a new controller, which translates into performance gains of up to 53%. This M.2 2280 form factor drive features a PCIe 3.0 x4 interface and supports NVMe 1.3. It comes in 250GB, 500GB, 1TB, and 2TB capacities. SAMSUNG 970 EVO PLUS SSD
SPONSORED
3. SWISS-MADE, ICELANDIC-APPROVED
The Luminox ICE-SAR Arctic 1000 series watches are dependable chronography gear, endorsed by the The Icelandic Association for Search and Rescue, ICE-SAR. This commemorative series comprises five models, including a limited edition 1003. SAR that's limited to 900 pieces worldwide. This limited edition piece is the only model to, feature ICE-SAR's prestigious logo. LUMINOX ICE-SAR ARCTIC 1000 WATCH SERIES 
PICTURES LUMINOX, RAZER, SAMSUNG
4. CORDLESS WINDOW CLEANING ROBOT
This cordless window cleaning robot is just like your robotic vacuum cleaner except that it clings to your windows and glass surfaces to clean them. The Ecovacs Winbot X sticks to the glass surface and is tethered to an anchor point for added safety. It makes cleaning windows in high-rise homes safer. ECOVACS WINBOT X WINDOW CLEANING ROBOT
5. PREMIUM GILDED TURING GOODNESS!
With its black and gold fan shroud, the MSI GeForce RTX 2080 Ti Lightning Z possibly marks the epitome of opulence for an NVIDIA RTX 2080 Ti GPU. Its 3-fan cooling system ensures optimal performance with its aggressive factory-overclocked profile. Best of all, its fans sport an impressive selection of visual customizations, right down to the fan blades.. MSI GEFORCE RTX 2080 TI LIGHTNING Z GRAPHICS CARD
6. BUILT FOR CONTENT CREATORS
The Lenovo Yoga A940 All-in-One PC features a nifty add-on called the Precision Dial that can be placed on either side of its display for more tactile control. Its 27-inch 4K IPS panel tilts to desk-level for up-close user interaction. Its wireless keyboar and mouse stow away to reduce clutter! LENOVO YOGA A940 ALL-IN-ONE PC
7. TRULY ELITE WIRELESS EARBUDS
The Jabra Evolve 65t is designed for corporate folks who want the best true wireless voice and music experience. The earbuds have one-touch access to Alexa, Siri and Google Now; they are also Skype for Business and UC-certified. Other specs include Bluetooth 5.0, wind noise reduction, 5-hour battery life on a single charge with an additional 10 hours of battery life with its cradle, quick charging support and a quad microphones. JABRA EVOLVE 65T WIRELESS EARBUDS
PICTURES ECOVACS , JABRA, LENOVO, MSI  
8. AIR CONDITIONER WITH WI-FI CONNECTIVITY
The LG ArtCool Plus Air Conditioner now comes with Wi-Fi capabilities, allowing you to operate and monitor the fan coil with LG SmartThinQ app on your Android or iOS smartphone. You can even control the air conditioner remotely and monitor the device's operational status. With its Plasmaster Ionizer+ feature, you get to enjoy fresh air even while indoors. LG ARTCOOL PLUS AIR CONDITIONER
9. A PORTABLE GEFORCE RTX 2080 POWERHOUSE
The Gigabyte Aero 15Y gaming notebook features the NVIDIA GeForce RTX 2080 Max-Q graphics chipset to allow for PC gaming while maintaining its svelte form factor. It's one of the most portable 15.6" gaming notebooks due to its slim design and excellent battery life. Its Microsoft AI feature tweaks system settings for optimal performance, a first for any Windows laptop!
GIGABYTE AERO 15Y GAMING NOTEBOOK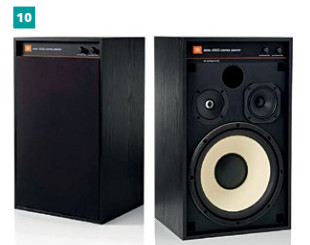 10. A MODERN TAKE ON A CLASSIC
The JBL 4312G Studio Monitor Loudspeakers are crafted in the mold of the legendary 4310/4311 family and said to deliver "thundering, clear bass, with crystalline and precise highs, even at the highest listening levels." The speakers are built in matched mirror-image pairs allowing for a variety of placement and position options, to suit most listening environments. JBL 4312G STUDIO MONITOR LOUDSPEAKERS
11. HIGH- H PERFORMANCE GAMING EARBUDS
The Cooler Master MH703 gaming earbuds aim to deliver quality audio with its 10mm Neodymium drivers, in an effort to prove quality sound can come in small packages. The earbuds come with ear tips in three different sizes for custom fit. Its braid cord makes for tangle-free storage. With its standard 3.5mm jack, its an ideal companion for your audio needs across a myriad of devices! COOLER MASTER MH703 GAMING EARBUDS 
PICTURES COOLER MASTER, GIGABYTE AERO, JBL, LG
SPONSORED
12. FREE- ROAM VR EXTRAVAGANZA
Experience one of the world's best free-roam VR gaming with up to 8 of your friends and family. Featuring state-of-the-art, award-winning technology from a pioneer in VR entertainment, players can move around freely, talk, interact and strategize with teammates in real-time. Choose from a variety of multiplayer games ranging from cooperative modes to the latest player versus player (PVP) mode, and step into an immersive virtual world. Corporate team building and party packages with catering options are available too! ZERO LATENCY
13. 3D-PRINTED HOUSING
The FiiO FA7 are a set of in-ear monitors that feature four Knowles balanced armature drivers encased in hightransparency, 3D-printed housing from a resin, which is medically certified for comfort and its antimicrobial properties. It's also being durable and resistant to discoloration. It ships with a detachable high-purity monocrystalline copper-plated silver cable. FIIO FA7 QUAD DRIVER IN-EAR HEADPHONES 
14. TURING GAMING GOODNESS IN A SMALL PACKAGE
The Zotac Magnus EC52070D Mini PC is the company's latest small form factor desktop PC. It sports an NVIDIA GeForce RTX 2070 graphics card, as well as an Intel Core i5-8400T CPU, to meet your PC gaming needs without sacrificing too much desktop real estate. Best of all, there's a SKU with Windows 10 preloaded, and storage options that include a 128GB M.2 SSD and 2.5-inch 1TB HDD. ZOTAC MAGNUS EC52070D MINI PC
PICTURES COOLER MASTER, FIIO, ZERO LATENCY