SMALL BUT FEATURE RICH
MORE INSIDE
A STAR-WARS SMARTWATCH
Garmin Legacy Saga Series
A GAMER'S G-SHOCK
2019 Special edition Watch
A SWISS PIRATE
Luminox Jolly roger 3800 Series LE.
The dJi mavic mini weighs just under 250g, and sports a 2,400mah battery for flight times up to 30 minutes. Its 1/2.3-inch cmos sensor can shoot up to 2.7k video footage at 30fps, 1080p video footage at up to 60fps and 12mp photos. a 3-axis gimbal stabilises the drone during flight.
PICTURE DJI
JUST A SLIVER OF ARGB
The Vectorrs mid-tower pc chassis from Fractal design boasts of tasteful applications of ARGB lighting effect. A slim strip that runs from its front panel to top, and its ARGB lighting effects can be customized via Fractal's adjust r1 controller. The chassis sports modular storage trays and brackets that can be swapped out for multiple radiators.
PICTURE FRACTAL DESIGN
THE CHINESE SAY, "WE MAKE MICE TOO!"
Following the hole-y mouse trend, the g-Wolves hati is made by a China-based firm. The device is super lightweight and is powered by the near-flawless 12,000 dpi pmW3360 optical sensor. It's designed with focus on e-sports, especially Fps. The shape of the mouse works well for palm, claw and fingertip grips due to its medium-to-large size.
PICTURE G-WOLVES
YES, IT'S MY ACTUAL NAME
The small transparent speaker is a minimalist bluetooth speaker that boasts of a modular system. Its components can be swapped out for future upgrades, and it supports optional plug-ins that include amazon alexa echo input or sonos connect or amp hub. It comes with wall mounts as well as a pair of gloves for handling it without fear of leaving oily prints on its tempered glass panels.
PICTURE TRANSPARENT SOUND
COMES WITH A BUILT-IN COLOURIMETER
The Dell UP2720Q is the first monitor to feature a built-in colourimeter and thunderbolt 3 connectivity for anyone demanding colourcritical performance. Its display panel boasts of a resolution of 3,840by 2160-pixel, with a high pixel density of 163ppi. Its colour coverage encompasses 100% of the adobe rgb spectrum, 80% of bt.2020 gamut and 98% of dci-p3 colour space. its 16:9 aspect ratio ips led panel has a contrast ratio of 1,300:1, but its brightness is rated at just 250 nits.
PICTURE DELL 
THESE ARE THE SMARTWATCHES YOU'VE BEEN LOOKING FOR
With these star Wars-inspired design and colour schemes, garmin's legacy saga series of smartwatches play tribute to darth Vader and Rey. The watches offer 24/7 health monitoring, on-screen workouts for personalized coaching, smart notifications, and garmin pay. The darth Vader version sports a dark slate 45mm watch case, while the rey smartwatch is designed with a smaller 40mm watch case with a silver bezel.
PICTURE GARMIN
A CLASSIC RE-ENGINEERED
The marshall major iii Voice wireless headphones have been upgraded with builtin google assistant support. Its battery life has also been increased up to 60 hours. The headphones have been redesigned with new 3d hinges and ear cushions for comfort.
PICTURE MARSHALL 
FIRST-TO-MARKET WI-FI 6 MESH NETWORKING
The Linksys Velop A X is the first mesh networking kit to support the latest Wi-Fi 6 standard. The kit features a tri-band design, i.e., its 2.4ghz network delivers speeds up to 1,147mbps, while its pair of 5ghz networks support speeds up to 2,402mbps and 1,733mbps respectively. Each network node comes with up to four gigabit ethernet lan ports!
PICTURE LINKSYS
GAMING INSIDE THE BOX….
Gigabyte claims it's the first external graphics dock to feature liquid cooling for discrete graphics cards, such as the nVidia geForce rtX 2080 ti bundled with the enclosure. The gaming box works with any laptop with a thunderbolt 3 port, and supports external graphics cards at the firmware level. Good for gaming as well as professional graphics and design work too!
PICTURE GIGABYTE
THE SUCCESSOR TO THE X-PRO2
Designed with the company's latest 26.1mp X-trans cmos 4 sensor and X-processor 4 combination, the X-pro3's detection autofocus (pdaF) operates down to -6eV. The camera also gets a new "advanced Hybrid Viewfinder", which pairs a traditional optical viewfinder (OVF) with a 3.69-million-dot organic el panel with a contrast ratio of over 1:5,000 and a maximum luminance of 1,500cd/m2.
PICTURE FUJIFILM
POLO MINTS?
Grado's limited edition the White headphones are hand-built, making use of 50mm dynamic transducers and the new 12 conductor cable design for better control of frequency ranges. They are made from brushed aluminium that's supposedly able to dampen sound distortion. its white earcups that resemble polo mint sweets also make for a good conversation starter.
PICTURE GRADO
DON'T GO CHASING WATERFALLS...
The Vivo nex boasts of a curved, waterfall-like 6.89-inch display with no notches or punch holes to accommodate front-facing cameras. This is possible due to its pop-up selfie camera that's housed in a metal casing for durability. its impressive specifications include a 4,500 mAh battery with 44W fast-charging and 5g support.
PICTURE VIVO
INTEL'S FASTEST GAMING CPU?
It's an upgraded version of the 9th-gen intel core i9-9900k, and the new cpu's base clock is increased to 4.0ghz, from the previous 3.6ghz. It also boosts up to 5.0ghz on all its eight cores. On paper, this is the processor to boast to your friends about, but is it enough for to dominate the game?
PICTURE INTEL
1. THE WATER HEATER COMES WITH WI-FI CONNECTIVITY
This water heater is designed with Wi-Fi connectivity for ease of operation. control it via its dedicated mobile app that's supported on both android and ios devices. there's even get real-time water usage reports available! its patent titanium heating elements comes with a lifetime warranty. ARISTON ANdRIS2 TOp WI-FI ENAblEd WATER HEATER
2. WOVEN CARBON FIBRE COMPOSITE ARMS
These headphones feature 43.6mm drivers, the largest in the bowers & Wilkins headphone collection, which are tuned by professional audio engineers. The arms of the headphones are made from woven carbon fibre composite, to cradle earcups with adaptive noise-cancelling capabilities. BOWERS & WILKINS PX7 OVER-EAR NOISE CANCELLING WIRELESS HEADPHONES 
3. SLIM AND STYLISH
The new surface laptop 3 comes in two variants, i.e., 13.5- or 15-inch. The former allows for either metal or alcantra material palm rest, while the 15-inch variant has metal palm rest in two different colours. The Surface laptop 3 is powered by 10th-gen intel core processors, and it comes with both usb-c and usb-a ports for more connectivity options. MICROSOFT SURFACE LAPTOP 3
PICTURES ARISTON, BOWERS & WILKINS, MICROSOFT
4.HUDDLE IN PANORAMIC 4K VIEWING EXPERIENCE
This plug-and-play video conferencing device makes use of a triplet of 13mp cameras to stitch together panoramic 4k footages with minimal distortion. No more blind spots as people huddle in small spaces for their collaborative meetings. It is easy to deploy with minimal setup required. JABRA PANACAST
5. JOLLY GOOD!
This analogue watch will appear to your buccaneer spirit with its pirate flag insignia emblazoned on its watch face. The watch also screams for attention with its red rubber straps, so bring out your rebel spirit and wear the Jolly roger on your wrist. LUMINOX JOLLY ROGER 3800 SERIES LIMITED EDITION 
6. ZOOMING INTO YOUR IMAGINATION
This latest 6.5-inch oppo smartphone sports a rear quad-camera system and a single-lens front selfie camera, both of which offer bokeh effects for video. The reno2 makes use of npu acceleration for its new ultra dark mode feature for capturing footages in lighting conditions down to 1 lux! Powered by the Qualcomm snapdragon 730g, the phone comes with 8gb ram and 256gb storage. OPPO RENO2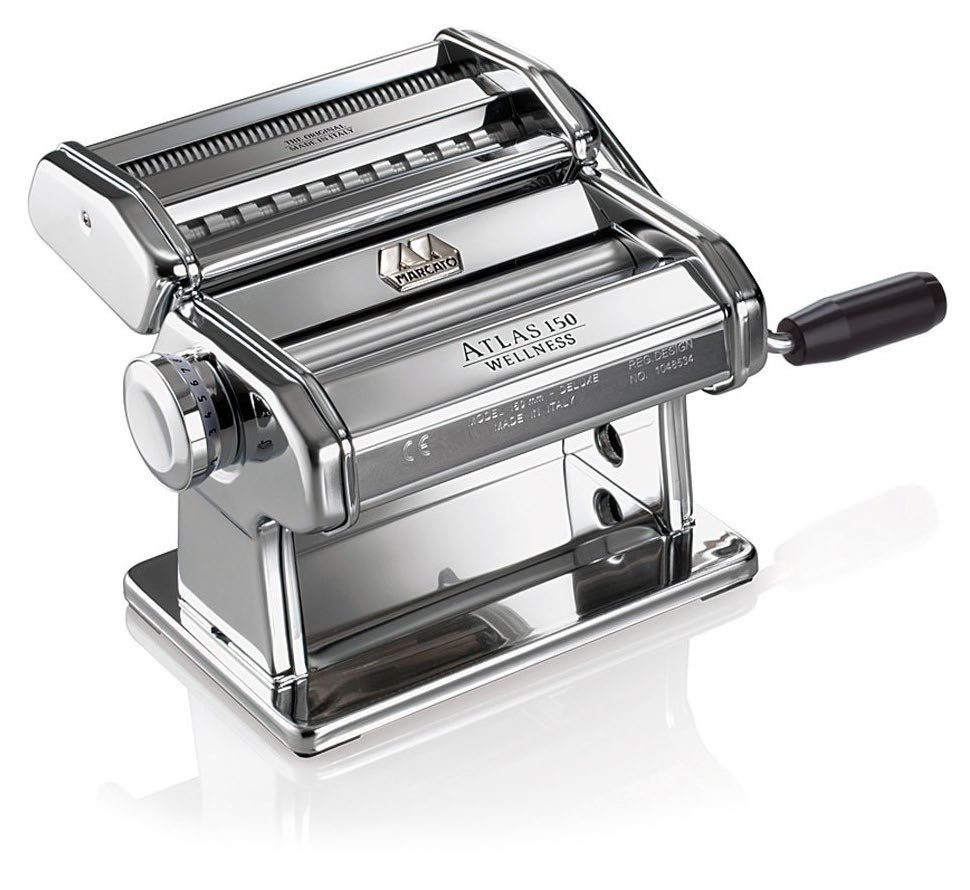 7. MAMMA MIA!
The best of low-tech for the geeky chef. Get hand-cranked freshly-made pasta with this italian purebred device. With an easy-grip crank and an adjustment knob, create the right pasta that will satiate even the pickiest palate. MARCATO ATLAS 150 PASTA MAKER
PICTURES JABRA, LUMINOX, OPPO, MARCATO 
8. NIKON'S LATEST Z-SERIES ADDITION
This latest addition to nikon's Z-series features the company's latest Z mount, and comes with 20.8mp aps-c sensor. therefore, it's a more compact and weighs just 450g! This compact mirrorless camera fits only one SDXC/SDHC memory card, with no support for speedier uhs-ii cards. It's still able to sustain continuous capture up to 11 frames per second.NIKON Z 50 MIRRORLESS CAMERA
9. NOT AN ESSENTIAL OIL DIFFUSER
This is the first wireless speaker from glasgow-based company, linn, and its body is made from white mineral casting, and its grille is finished in chrome and gold. Exuding opulence, the linn series 3 supports music streaming from platforms like spotify and tidal. It connects wirelessly via bluetooth or Wi-Fi. Other connectivity options include ethernet, hdmi arc, or exakt link. Pair it with another series 3 for a multi-speaker setup. LINN SERIES 3 WIRELESS SPEAKER 
10. WORK AND PLAY ANYWHERE
Microsoft's main 2-in 1 notebook is powered by the 10th-gen intel core cpus, with intel iris plus graphics for the higher tier variants. Its unibody magnesium design, freeform positioning kickstand hinge and touch-enabled 12.3-inch pixelsense display are features that make the surface pro 7 a stylish and functional mobile workhorse! MICROSOFT SURFACE PRO 7 
11. AN APPLE WATCH CLONE?
This is Xiaomi's first Wear OS smartwatch that looks very similar to an apple Watch. Powered by the Qualcomm snapdragon Wear 3100 chipset, it will also feature Wi-Fi and bluetooth wireless connectivity, gps, nFc and esim capability. Like the apple Watch, the mi Watch also has a digital crown. XIAOMI MI WATCH
PICTURES NIKON, LINN, MICROSOFT, XIAO MI
12. HASTA LA VISTA!
These super lightweight ear buds are ipX7 rated to be resistant against water and perspiration. They weigh only six grams and fit snugly in your ears. Together with its compact charging case, the Jaybird Vista can operate up to 16 hours; single usage will extend its battery life up to 32 hours! JAYBIRD VISTA TOTALLY WIRELESS HEADPHONES
13. FOR LEFT-HANDED GAMERS ONLY
The razer naga: left-handed edition gaming mouse is a special project by the company, thanks to a group of passionate left-handed gamers. slated for a 2020 release, razer claims to its heeding the call of this group of gamers and wants to bring the naga back for them! RAZER NAGA: LEFT-HANDED EDITION GAMING MOUSE
14. PRETTY IN PINK
The samsung galaxy note10 aura pink is only available in the smaller 6.3-inch note10 variant. Targeted at the asian female market segment, the device is essentially a galaxy note10, given a new colourway treatment. SAMSUNG GALAXY NOTE10 AURA PINK
PICTURES JAYBIRD, RAZER, SAMSUNG