In terms of performance, personality and practicality, the Touareg 3.0 TDI and the Tiguan 1.4 TSI are wildly different 'wagens.
In terms of performance, personality and practicality, the Touareg 3.0 TDI and the Tiguan 1.4 TSI are wildly different 'wagens.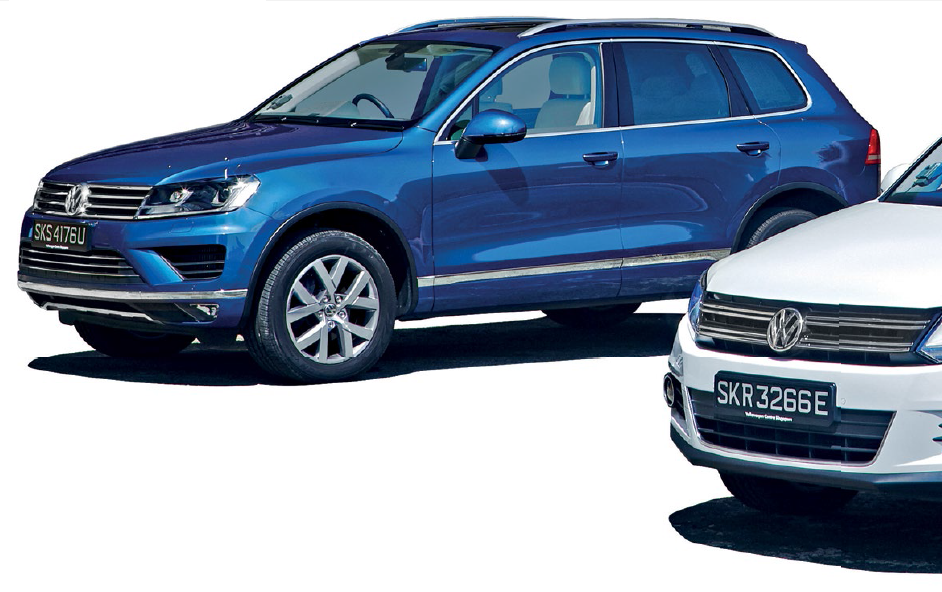 CARS of the same brand share the brand's DNA, even if they vary greatly in size and price. In the case of Volkswagen's top sports utility vehicle, the Touareg, and its smaller brother, the Tiguan (retiring model), both look quite similar to each other, but they're otherwise as different as chalk and cheese. The most "chalky-cheesy" difference is in their size.The Touareg is 4801mm long and 1940mm wide, while the Tiguan is 4426mm long and 1809mm wide. That's already a "sizeable" physical gap between the two VWs, but seen in the metal, the difference is even more striking: The hulking Touareg towers over the Tiguan, which is roughly Golf-size.
Then there are the differences in each car's cabin. As befitting a flagship model, the Touareg is dressed to the nines, with quality that rivals the Phaeton limo's. It has a fancy multi-function display screen, plush fittings and luxe off -white leather upholstery. The Tiguan's interior is more workaday, specified with coarser leather and harder plastics. That said, this car has a helpful semi-automated parking assistant and a touchscreen infotainment system with satnav, which is a pretty impressive kit by any standard. The Tiguan is well put together, but it' clearly no upmarket SUV.
Under the bonnets, their respective engines are extremely divergent – the Touareg runs on diesel, while the Tiguan sips on petrol. And I do mean sip, because it'll return a claimed 14.1km per litre – surprisingly good for an SUV. Even more surprising is the Touareg's apparent ability to return 13.9km per litre, which isn't too shabby for a 3-litre giant that weighs 2.1 tonnes.
That turbo-diesel V6 is no tractor motor. It's smooth and quiet, and pulls like a Teutonic freight train in any of the eight forward gears, as you would expect from a car with 550Nm. Compared to the Touareg's mighty powertrain, the Tiguan's turbocharged 1.4-litre 4-cylinder with 160bhp and 240Nm can seem weedy. But without an all-wheeldrive system (that adds weight and drag) and with a far smaller footprint, the compact SUV is a little ball of German pep.
It handles in a tidy fashion when the road turns twisty, too, unlike the relatively unwieldy Touareg. At anything short of racetrack speeds, the Tiguan will take everything in its stride like a Golf hatchback, albeit one with an elevated ride height and vaguely truck-like seating.
While this automobile won't throw up any nasty surprises if you decide to get frisky with it, slinging it around with reckless abandon is something I'd advise against. But then again, "sports" handling isn't the point of this sports utility vehicle. What the Touareg really excels in is longhaul touring with exemplary levels of acoustic refinement.
Naturally, this car costs much more to buy and own than the Tiguan. In range-topping R-Line specification as tested here, it's priced at $308,300, with an annual road tax hit of $3536 (versus $1962 were it powered by petrol). The $149,800 Tiguan costs under half as much and its annual road tax is a paltry $518. To be fair, this is neither a conventional comparison test nor a dollars-and-sense dissection. It's a Torque "T 'n' T" test with a non-explosive conclusion: the Touareg 3.0 TDI and Tiguan 1.4 TSI are wildly different 'wagens.