We went on Stuttgart Auto's biggest-ever driveaway and found out what drives fans of this German marque.
We went on Stuttgart Auto's biggest-ever driveaway and found out what drives fans of this German marque.

TO mark its 30th anniversary (in 2015), Stuttgart Auto arranged a five-day, four-night driveaway.
Such long drives across the Causeway aren't new to the Porsche dealership, whose annual driveaways are hugely popular with its customers, who appreciate the well-organised driving/touring opportunities.
This one was its longest yet, with a 1700km route that followed Malaysia's coastline.
It was the biggest, too, with 50 cars and 91 drivers/co-drivers, all of whom would do lots of driving and bonding along the way.
The mix of twisty mountain roads, challenging dual carriageways and (at times) nearly empty highways was the perfect proving ground for the Porsches that took part – the owners' and those I "borrowed" for this story.
I switched between a Panamera, a Macan S and a Boxster GTS, and discovered why the participants, from first-time owners to longtime fanatics, had such an affinity with Porsche and Stuttgart Auto.
One of them told me: "Unlike those who own supercars, Porsche owners aren't flashy. We are drawn to the cars' engineering and dynamism."
The drivers and their Porsches were split into four convoys based on road trip experience, but all eyes (some of them misty) were on the last convoy.
Numbering just five, the aptly named "Air-cooled Convoy" was included for the first time to add a little nostalgia to the event. Despite lacking modern-day equipment and luxuries in their classic rides (a few had no air-con), the smiles on the faces of these old-school aficionados were often the widest at the end of a day's drive.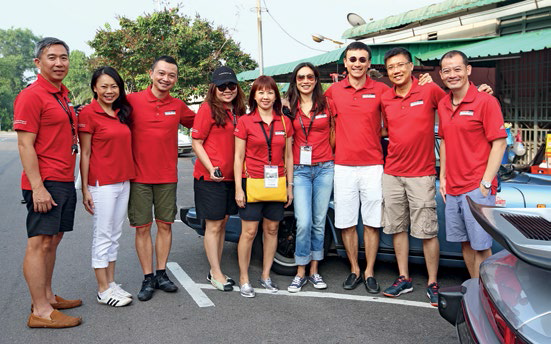 The journey's pit stops induced plenty of smiles, too. From a scrumptious seaside barbecue dinner at Tanjong Jara Resort in Terengganu to Chukai Town's famous stuff ed crab, good food was never far away.
The foodies' highlight was the two-night stay in Penang, where participants enjoyed the many sights and delights of the Malaysian island, culminating in a great hawker fest and a durian free-for-all for dessert.
On the fourth and last night, a gala dinner was held at the Grand Hyatt KL, where Karsono Kwee, boss of Eurokars Group, thanked everyone for their support.
In the morning, the participants happily set off for home, with many already looking forward to their next Porsche driveaway.
If the passion and loyalty of Porsche owners are anything to go by, I can expect an even more enjoyable Porsche road trip in the near future.