The new C-Class Cabriolet impresses drivers with its sporty yet cosseting character.
The new C-Class Cabriolet impresses drivers with its sporty yet cosseting character.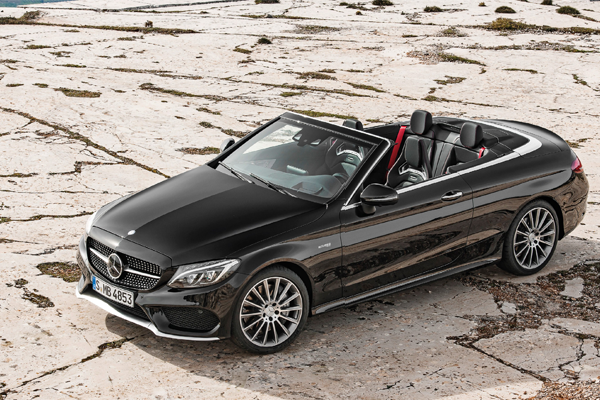 MERCEDES-AMG C43 CABRIOLET
LIFE, as they say, is full of compromises. You cannot have everything your way. But we always want to have it all anyway. Hence the saying: "Having your cake and eating it, too."
Cars are full of compromises as well. Most coupes, for instance, are fun to drive, but they tend to be impractical and have a bumpy ride.
Mercedes-Benz, however, seems to have eliminated the need for compromises with its new C-Class Cabriolet.
This is the first time that a topless model is joining the carmaker's C-Class range. The previous "C-Class Cabriolet" was actually the E-Class Cabriolet, which uses the platform of the last-gen C-Class.
The C-Class Cabrio has plenty of road presence. It has an athletic stance and an elegant face, but its rear end is somehow unappealing to me.
What is attractive, however, is the car's cabin. The swathes of metal trimmings and soft leather upholstery deliver the luxurious feel one would expect from a Mercedes.
Most four-seater convertibles are short on backseat space, but thanks to the car's 2840mm wheelbase, rear occupants – even those up to 1.8 metres tall – enjoy generous legroom. The only bugbear is that the backrests are too upright and cannot be reclined.
The use of a soft-top instead of a hard-top means the roof takes up less boot space. The C-Class Cabrio has a maximum luggage capacity of 360 litres with the rear seats up, and the backrests can be folded down to accommodate longer items.
Speaking of folding, it takes 20 seconds to turn the car from sexy to stunning by folding the roof away. This can be done while the car is being driven at up to 50km/h.
Thus far, this convertible has shown that it is both roomy and practical. But I was still sceptical about its performance.
Because the lack of a fixed roof weakens a car's structural integrity, the chassis and body require additional bracing. This also means added weight and a stiff er suspension setup.
But the moment I drove off in the car, I was impressed by how solid it felt. The dreaded scuttle shake never arrived and the ride remained pliant across a variety of road surfaces.
The car also didn't feel heavy, despite weighing 1795kg, or 135kg more than the C43 Coupe. The car's athletic performance is down to the motor under the bonnet – a turbocharged 3-litre V6 churning out 367bhp and 520Nm. These figures enable the car to demolish the century dash in 4.8 seconds.
Naturally, I had the most fun with Dynamic Select set to "Sport+". In this mode, the throttle pedal is at its most responsive setting and the gearbox's shift patterns are optimised to take advantage of the motor's powerband.
Said transmission is Mercedes' own 9-speed automatic, which is both seamless and rapid.
Plant your foot on the accelerator pedal and the C43 moves with authority, announcing its presence with its throaty exhaust. The gearbox will hold each forward ratio until the motor approaches 6000rpm.
"The c43 cabriolet moves with authority and announces its presence with its throaty exhaust."
"The only thing "wrong" with the c43 is that it isn't a true-blue amg model."
Brake late as you enter a corner and your rewards are titillating blips punctuating each downshift. The transmission can even perform three downshifts in quick succession. That I often found myself in the optimal gear for fast exits added to the feeling that the car and I were in sync.
I anticipated the C43's 4Matic (all-wheel-drive) system to reduce its agility, but going by the seat of my pants, I'm pretty sure this was unaff ected.
Interestingly, the 31:69 torque split ratio between front and rear axles is permanent, not variable.
My route through Trieste and over the border to Slovenia primarily consisted of twisty mountain roads. The C43 did not disappoint. It may not have the keenest turn-in, but it is obedient enough. Only when you carry too much speed into a corner will it begin to understeer.
I was so enamoured with the C43's performance that if it weren't for time constraints, I would've retraced my route from Slovenia back to Italy to do it all over again.
At this point, the only thing "wrong" with the C43 is that it isn't a true-blue AMG model.
As Mercedes' tuning division, AMG is known for producing models with extreme performance and having each engine put together by just one engineer.
The C43 has the AMG badge, but its performance isn't as extreme as you'd expect and its motor isn't assembled by a single person. But that's a discussion for another day.
If you've fallen for this car, then you're probably in a dilemma, with your heart saying "yes", but your mind saying "no".
Inevitably, both must come to an understanding before a decision can be made.
Life, as they say, is full of compromises.