HERE ARE FIVE REASONS WHY THE BMW 330e iPERFORMANCE IS EVEN MORE COMPELLING THAN THE ALREADY ATHLETIC BMW 3 SERIES.
HERE ARE FIVE REASONS WHY THE BMW 330e iPERFORMANCE IS EVEN MORE COMPELLING THAN THE ALREADY ATHLETIC BMW 3 SERIES.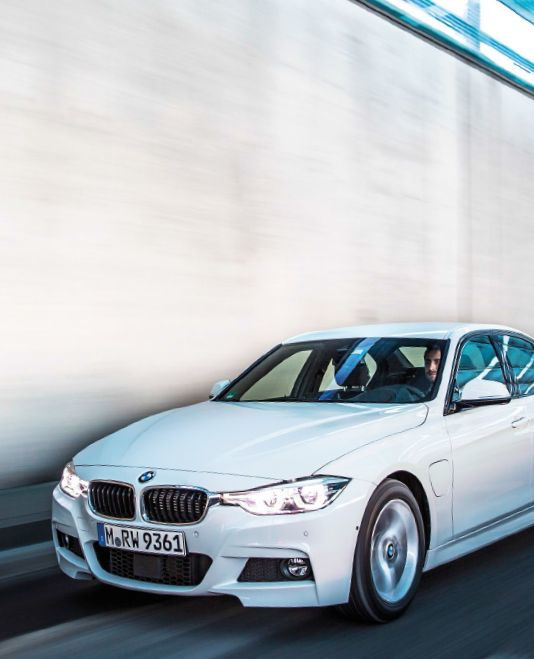 Since its introduction, the BMW 3 Series has been the benchmark of the junior executive segment. It is the model that immediately comes to mind when people hear the term "driver's car".
This distinction didn't come about by luck. The BMW 3 Series' chassis and suspension are engineered to deliver sublime handling, with elements such as perfectly balanced weight distribution, precise steering and potent powertrains. Inside, there is no shortage of high-tech features, covering everything from connectivity to safety.
It's no surprise then, that the BMW 3 Series' keenest rival is actually the BMW 330e iPerformance, a plug-in petrolelectric hybrid. Here are five reasons that make this model even more compelling than its non-electrified brethren.
IT'S POWERED BY TWO HEARTS.
The BMW 330e iPerformance has a petroldriven turbocharged 2-litre engine, which delivers 184hp and 290Nm. This powerplant is paired with an electric motor that produces 88hp and 250Nm. Their combined output is an exhilarating 252hp and 420Nm.
IT EASILY KEEPS UP WITH A BMW 340i.
The BMW 340i packs a turbocharged 3-litre inline-6 under its bonnet, which kicks out 326hp and 450Nm of torque. It is not for the faint-hearted.
Your heart needs to be "green" and strong in the BMW 330e iPerformance, too. Pin the accelerator pedal to the floor and it'll go from rest to 100km/h in 6.1 seconds. That's a mere second off the pace of the more powerful BMW 340i.
IT KEEPS GOING WHEN OTHERS STOP.
The BMW 330e iPerformance has a pure electric (meaning zero emissions) range of 40km. So, depending on your commuting pattern and driving conditions, you may not even consume a single drop of petrol on the way to the office.
With both its petrol- and voltage-driven powerplants running, the BMW 330e iPerformance averages between 1.9 to 2.1 litres per 100km. So, while other junior executive saloons have to continually stop for fuel, you'll still be experiencing sheer driving pleasure.
THERE ARE DRIVING MODES TO SUIT DIFFERENT MOODS.
BMWs are known for being driver-focussed, and the same is true for the BMW 330e iPerformance, which has three driving modes.
If you want both power and efficiency, choose AUTO e-DRIVE. If you're feeling ecoconscious, select MAX e-DRIVE for pureelectric, zero-emissions motoring. If you want to conserve the lithium-ion battery for later use, the SAVE BATTERY setting ensures you'll have enough volts when the time comes.
THE BMW 330e iPERFORMANCE REALLY IS THE BEST OF BOTH WORLDS.
Is it possible for a car to be both athletic and efficient? Isn't it supposed to be one or the other?
The BMW 330e iPerformance proves that both characteristics aren't mutually exclusive. You can have power while still being eco-friendly. You can have a hybrid that's fun to drive.
Indeed, the BMW 330e iPerformance embodies BMW's commitment to both sustainability and the joy of driving.