What does it mean to be a hands-on father? LYNN WEE fi nds out from two dads who have gone to great measures to be involved their children's lives.
What does it mean to be a hands-on father? LYNN WEE fi nds out from two dads who have gone to great measures to be involved their children's lives.
Tan Meng Wei
CEO, Star Learners Group
MAKE THE MOST OUT OF IT
Just like many parents, Tan Meng Wei longed for worklife balance. But that goal was near impossible in one of his previous jobs.
Then a management consultant at Boston Consulting Group, he had to fly out of Singapore every Monday and catch the last flight home on Friday.
"I was travelling way too much and I wanted to spend more time with my eldest son who was 1.5 years old then," recalls the 45-year-old, who has a brood of four – Matthian, 16; Danelle, 13; Merrick, 11; and Deborah, eight.
So, he quit his job and joined Standard Chartered Bank, where he was only required to travel once a month.
During a business flight, he decided to branch out into the preschool industry and bought over his first Star Learners childcare centre in Eunos in 2003. The business existed on the sideline for seven years – he had acquired five more childcare centres during that span of time – before he quit his bank job to manage it.
"People told me I was crazy to give up my job, which paid well," he recounts.
"It wasn't so much about the business opportunities – it paid a little bit of the bills – but it was primarily driven because I wanted to have more time with the kids."
Even with a saner work schedule, he was spending 10 hours in the office and reaching home at 8pm daily.
And the only time he had left with his kids were after dinner and before their bed time at 9pm.
"At the end of the day, I asked myself, what is it that I want out of life? And to me, the kids are of utmost importance," he adds.
WALKING THE TALK
His decision has certainly paid off.
Today, Star Learners is a multi-million company with 34 childcare centres and counting all over the island. The group believes in building confident, creative children with character, and Meng Wei applies the same philosophy when it comes to his own kids.
All four have tried their hand at a myriad of sports and activities, ranging from chess to soccer and horse riding. Danelle and Merrick were also national chess champions, and Danelle is now training with the under-16 Singapore national team for soccer.
The doting dad ferries them to their various classes – spending more than three hours in his car daily – and sees this as an opportunity to have protected time with each child.
He also makes it a point to be there for all of their training and matches, and credits his staffers for running the company well, allowing him flexible hours.
Meng Wei is not hung up about their studies, either. By his own confession, the only tuition the kids have is Mandarin because they are "just beyond bad" in the subject. Otherwise, they are very disciplined and motivated, and are coping well in school.
He explains: "Studies will only help to increase their focus and determination but sports will build their character – there are so many rich lessons to take away, such as teamwork, resilience, and handling failure."
NO SPOILT BRATS
While the vivacious dad is laidback about grades, he takes on a different approach when it comes to raising and disciplining his kids. He reckons that parents should not portray themselves as their child's best friend, neither should they lord it over them.
"Children should be respected but not treated like Gods," he opines.
He also subscribes to the theory of corporal punishment: "I don't want to raise a generation of spoilt brats. The faster they learn how to deal with authority and punishment, the better it is.
"But I hardly ever smack them because I've established authority in the house and my word is enough. Besides, my voice is very loud, too, so it helps," he adds.
Lest you think Meng Wei has nailed this parenting gig effortlessly, he gamely admits to many hits and misses, whether it was that one time he forgot to pick young Merrick up from the childcare centre, or the recent blunder of turning up in school one week early for Matthian's parentteacher conference.
Of course, managing a teenager is not the easiest task for him and his wife, Dawn Tan, 43, who is the curriculum advisor at Star Learners.
"Every stage has its own challenges – it doesn't get easier. And we are by no means the perfect parents. There are days when we wake up and ask ourselves: 'Why did we have four kids?'
"But the joys they bring will always weigh over," he gushes.
So whether you're an entrepreneur, stay-at-home or working parent, the effervescent dad's tip is to "make the most out of it".
"There is always room to make mistakes and things will not be that bad. Nobody is going to give you a grade. And if you fail, simply pick yourself up from the fall. Just do your best and enjoy the parenting journey."
PHOTO ANGELA GUO ASSISTED BY PHYLLICIA WANG ART DIRECTION JOYCELYN KOH STYLING AMANDA MIKAYLA LIM GROOMING ZEEVY TEE USING KEVINMURPHY HAIR PRODUCTS & NARS MAKEUP CLOTHES UNIQLO 
PHOTOS BEN YEO
Ben Yeo
Artiste and entrepreneur
MY COOKBOOKS ARE MY GIFT TO THEM
To many parents, cooking at home may be just a time consuming chore. But celebrity dad Ben Yeo treasures this time.
"It's something that words cannot describe," he says. The 40-year-old points out that his two children – Javier, nine; and Jarius, six – might not appreciate it now, but he hopes that they can look back when they are older and remember that their father loved cooking for them.
The actor-host-restaurateur dad also believes that kids develop an affinity to certain flavours and tastes based on home-cooked meals, and this will bring back memories later on.
Naturally, his kids are the reason behind his two cookbooks – Cooking for Kids, which offers recipes for babies from five months and five years old; and Healthy Meals for Kids, which has recipes and tips on how to create a well-balanced diet for picky eaters aged five to 12.
"The whole idea of publishing these cookbooks is for them. It's my gift to them, and I hope they will use them for reference when they cook for their own children one day," adds Ben, who will be speaking at The Little Skool House's parent-child bonding workshop, presented by Young Parents, in August.
But as much as the devoted dad loves cooking for his tykes, his hectic schedule prevents him from hitting the kitchen occasionally. This explains why he tries to involve them in the filming of his online cooking show, Play Kitchen, as much as possible.
"My sons love helping out on the show. But filming takes place every Thursday and they have school on Friday, so it's quite difficult for them to come every week.
"However I'm planning to shift this to the weekends so they can help out more often," he adds.
Scroll through his social media musings, and you'll spot his sons helping out, too – from wrapping dumplings to helping add the ingredients. These cooking sessions are precious opportunities to build a strong relationship with them, he feels.
MAKING LEARNING FUN
Besides cooking, the funloving dad bonds with his boys over various sports like swimming and soccer, and playing video games on Playstation and Wii, as well.
At times, he will also help them with their school work, even though, he confesses, he's "not a good teacher".
"I'll try to teach them Mandarin because I'm better in this subject than my wife (Claudia Cheong, 40). But I can't teach because I don't have the patience – and I'm still working hard on that."
Unlike Tiger parents who focus on their kids' academic success, Ben is not an advocate of the paper chase.
"I always tell my children, as long as they've worked hard, it's okay to get bad results, Daddy won't be angry. But if they are lazy and they attain bad results, then they have to accept the consequences," he explains.
As much as he wants to let his children grow up in a stress-free academic environment, the change in learning standards and growing prevalence of tuition leave him with no choice but to send them for extra classes.
"Only Mandarin and English", he emphasises. In fact, it was his wife who insisted on it, so the couple settled for classes that support meaningful learning, as opposed to the traditional rote learning.
Not only does he want to make learning fun for his kids, he also fiercely protects their childhood by not rehashing his bad day at work when he's home. This is the toughest part about being a dad, he admits. While fatherhood has changed his life profoundly, his tip for dads is simple: To "have fun, enjoy the journey, and communicate with your kids more".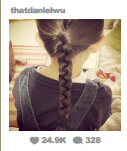 more devoted daddies
DANIEL WU
The actor, who recently starred in the Lara Croft movie remake, Tomb Raider, says fatherhood has changed his worldview. He told The Star newspaper: "Before, I would just take on jobs just to keep busy. Now, family is my number 1 priority and work has taken second place to that."
He also won #dadgoal points when he shared a photo of his daughter's braided hair on Instagram (@thatdanielwu). "Big win for 2018! I braided my daughter's hair. Elsa ain't got nothin' on this!" he wrote in the caption.
ANDIE CHEN
The 33-year-old dad has no qualms about looking after his two kids – kids – Aden, four, and Avery, two. Whether it's showering, feeding, putting them to bed or changing their diapers, he has done it all.
He and actresswife, Kate Pang are now focusing on their Youtube channel, Kandie Family, where they cover parenting topics. As he has shared, the arrival of his little ones allowed Andie Chen to discover more about himself and taught him to live life again. And when asked what advice he would give to parents whose children wouldn't listen, he said, "Start taking responsibility that you are directly and solely responsible for your child's behaviour. Start reading, researching, talking and accompanying your angels. Yes, every child is different but they all want the same thing – love and a sense of security." 
SIMON HOOPER

How many dads can say they have plaited their daughters' hair and painted their nails? This 35-year-old British dad can.
Simon, more popularly known as @father_of_ daughters, is dad to not one, but four girls – Anya, 10; Marnie, seven; and twins Ottilie and Delilah; two – and he is making the most of it.
Scroll through his social media musings and you'll get a realistic view of what parenting is like from a dad's perspective – he's not only the one who helps open jars and carries shopping bags, he reads bedtime stories to the little ones, showers them, ferries them to school, and even helps with school projects.
Looking after all four girls by himself is not hard work because he enjoys spending time with them. After all, parenting is a team sport and he says his wife deserves a social life, too.
JOSHUA TAN
The 45-year-old is known for being a supportive husband to popular influencer Ang Chiew Ting (better known as Bong Qiuqiu), from standing by her during her lawsuit with a social-media advertising network to giving her the occasional leg massage during her pregnancies.
But did you know that he's also a doting father to three-year-old Meredith and one-year-old Amelia?
Describing him as a "very, very hands-on dad", Qiuqiu shared in an interview that Joshua takes on the role as the primary caregiver for the younger one, while she tends to the needs of their older daughter.
And when she was busy with the launch of her new cafe, Cereal Citizen in January this year, the active dad not only looked after both kids instinctively, he would drop by the shop to help with cleaning as well. He also goes the extra mile to delight his little ones by dressing up as various characters such as a dinosaur and Santa Claus.
GEORGE YOUNG
Take a look at the BritishChinese actor and host's Instagram account, @instageorgey, and you'll understand why he's a very involved dad.
Since the birth of his baby boy, Egan, the 38-year-old has been actively recording the growth and development of his little one – from the time he learnt how to kick and push with his legs at seven weeks old to his umbilical cord falling off at one-month-old.
The new dad even knows every minute details of his tyke, from his exact weight and height, the babbles and sounds he makes, the amount of breastmilk he drinks.
George even joked that Egan prefers the warm baths he gives rather than those prepared by his wife, Taiwanese host Janet Hsieh.
DANIEL ONG
It's a well-known fact that ex-radio DJ Daniel Ong is one devoted father. Despite his split from former beauty queen and artiste Jaime Teo, he still makes the conscientious effort to spend time with their eight-year-old daughter, Renee Ong.
From overseas holidays and staycations to baking, swimming and date nights, the 42-year-old dad has documented it all on his Instagram account, @ daniel_ong_singapore, each detailing the amazing time they had together.
In one post, Daniel also shared that he never had a dad, so he's "trying to be the best dad he can be, and will spend the rest of his life doing this". He ended the post by thanking his daughter for teaching him how to love.