A new book Deep Human argues that staying relevant in an AI-powered future lies in tapping the innate qualities that make us human.
Feelings were the last thing clinical psychologist Gregor Lim-Lange wanted to discuss when, in 2012, he joined a mindfulness retreat in Bali. Intrigued by early whispers about mindfulness at his private practice, Lim-Lange had signed up for the five-day retreat, which he thought would be a relaxing beach holiday.
"I thought I'd be swimming with dolphins and getting massages," says Lim-Lange, chuckling. "I arrived, and there were 40 women – and me. I thought: 'Oh my god, what have I done?' Within 20 minutes they start crying and talking about personal stuff and I'm thinking: 'This isn't for me, I'm a guy, I don't talk about emotions!'"
During a group activity a few days later, however, LimLange unexpectedly found that something "kind of broke open" within him amidst a flood of relieved tears, in what he describes as "a big turning point". Upon returning home, he started researching mindfulness in earnest, so that he could share its benefits with his clients and students at the National University of Singapore's Department of Psychology. It was here that the future (and his future wife and co-author of Deep Human) came knocking a few years later. Crystal Lim, a former investment banker and CEO retreat organiser, was then heading the university's new Centre for Future-Ready Graduates and looking for collaborators. Since then – together with a team of 52 staff and $10 million of funding – the duo has coached over 15,000 NUS students, helping them to build essential qualities such as self-awareness, mindfulness, empathy, social emotional intelligence, resilience and personal leadership.
"Our local education system has been training students for ages to be like robots. To be obedient, disciplined, compliant, follow the rules. But that's going to lead to planned obsolescence," says Crystal, who also writes extensively on the topic for CNA.
The Lim-Langes quickly found that their students' challenges – such as struggling to feel relevant, feeling isolated and disconnected, and being unable to focus in a sea of distractions – were symptomatic of the Fourth Industrial Revolution, an era in which deep technology has caused the blurring of boundaries between the physical, digital and biological worlds.
The duo, who left NUS to launch Forest Wolf, a private practice that consults with large corporations such as Spotify, Amgen, investment banks and Singapore's biopharma sector, strongly believes that unique human qualities will distinguish successful business leaders in a future where AI and robots have replaced many traditional skills and practices.
Their recently launched book, Deep Human, makes a point of harnessing the latest neuroscience research and emphasises the five key human superskills – Focus and Mindfulness, SelfAwareness, Empathy, Complex Communication and Adaptive Resilience – that they say are key to confidently facing a radically uncertain future. They describe this state of flux as VUCA, using the acronym that was originally developed by the US military but has been coopted by the business world to describe volatility, uncertainty, complexity, and ambiguity.
"These four factors are growing exponentially," says Crystal, pointing out that modern technology has simultaneously advanced and eroded the quality of our lives, the way we think and how we connect with others. The pair, who cite mindfulness pioneers such as Rick Hanson, Jon Kabat-Zinn and Jack Kornfield as inspirations, advocate that leaders learn to combat distractions and sharpen their focus through regular mindfulness exercises, similar to working out at the gym. Other key strategies for leaders include naming and therefore "taming" business stressors, becoming emotionally literate (or aware of their emotional responses to daily events), giving their team regular, candid feedback and, crucially, encouraging true innovation through fostering a sense of psychological safety among staff, which Google research teams have found to be critical in high performance work cultures.
"Everyone says they want innovation, but innovation goes hand-in-hand with an appetite for failure," says Crystal, who adds that the days of the infallible, all-knowing CEO are long gone. As the boundaries between work and life become increasingly blurred, companies have become society's new tribes, headed by inspiring CEOs who aren't afraid to fail and lead by example. This is an approach the Lim-Langes take pains to emulate, in both business and life. Gregor raised many an eyebrow when he immediately changed his surname to incorporate his wife's after their wedding.
"He's rebelling against the patriarchal system," says Crystal, laughing. "We have to walk the talk. We don't just do the same things without questioning."
01 VULNERABILITY IS AN OPTION
Gregor and Crystal LimLange believe that successful future leaders are those who are not afraid to fail.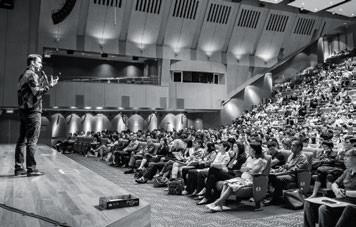 02 PREPPING THE FUTURE
The couple have coached over 15,000 NUS students on self- awareness, soft skills and leadership.
HOW LEADERS CAN CREATE A HIGH-PERFORMANCE WORK CULTURE
Destigmatise "failure" by sharing your setbacks and what you learned from them. If you want your employees to innovate and take risks, show them that it's ok if things don't always work out as expected.
Practise "beginner's mind" instead of "expert mind". When facing a problem, imagine you're an alien who has just arrived on earth and are new to the situation. Start from fi rst principles. In the future, things will change so rapidly that we cannot assume that we already know the solution.
Engage those who are quiet during discussions. Say: "I also want to hear from those who haven't spoken yet. What do you feel about the ideas raised so far?" Surround yourself with diverse perspectives: people from different ages, genders, working backgrounds, educations, cultures and so on. The wider the perspectives are, the more informed you will be.
Allow yourself and your teams to celebrate victories before moving on to the next thing – celebratory emotions can be very powerful in influencing culture and creating loyalty.
Create a culture of constant, informal feedback – particularly important with younger workers. Many believe (erroneously) that millennials and Gen Zs need constant validation, but what they actually want is regular feedback on their progress. This is a generation that has grown up in a statistic-rich world of live feedback (such as from social media likes, comments and real-time gaming rankings), and tend to perceive traditional annual performance reviews as outdated and ineffective.
 TEXT SHAMILEE VELLU