DESIGNED FOR PLE ASURE AND LEISURE, THESE VACATION SPOTS ARE PLUSH HOMES AWAY FROM HOME.
DESIGNED FOR PLE ASURE AND LEISURE, THESE VACATION SPOTS ARE PLUSH HOMES AWAY FROM HOME.
THE ACCIDENTAL HOTELIER
Andrew Dixon's island getaways make a case for merging work and play.
Some dream of owning a private island while others, well, live that dream. Australian Andrew Dixon has not one, but two such slices of elysium – Nikoi and Cempedak – to his name, both of which have become luxury retreats for travellers seeking quiet, beach holidays a few hours away from Singapore.
But Dixon never set out to found luxury resorts. For the ex-banker, those islands were initially intended to be "little slivers of paradise" that afforded a slower tempo from the hectic pace of life in Singapore. What started out as weekend family camping trips to Indonesia's Pulau Nikoi in 2003 eventually saw Dixon and three other friends-turnedfellow investors chipping in to secure the leasehold title for the island the following year.
"We started out by putting a couple of shacks on the beach, before deciding to open it up on weekends just to cover the cost. We weren't focused on making it a business but it became very popular," says the 53-year-old. Today, the 15ha island sited 8km off the east coast of Bintan, Indonesia, is a fully operational resort with 15 beachfront villas priced between $390 and $1,100 per night. Exclusive booking of the entire island can be made for $16,500 per day.
When news reached them that Cempedak Island, located 22km away from Nikoi, was up for sale, Dixon, together with his co-founders, paid a visit. They were blown away by the rock formations and "magnificent views of the neighbouring islands in the distance", and acquired the leasehold title for the 17ha space in 2011, with the intent to develop it into an adults-only resort. "One of the luxuries of being on a private island is the space. No one can build up around you," he says.
Today, the owner's villa sits atop the same vantage point from which Dixon first surveyed the land. Unlike the resort's 14 other villas, it is the only one without a pool. When construction work for Cempedak Island began in 2014, the owner's villa was used as a prototype for the ambitious all-bamboo structures they had in mind. "I don't mind that it doesn't have a pool. When I'm here, we're usually out and about, enjoying nature and sailing to neighbouring islands," says Dixon.
In keeping with Cempedak's commitment to sustainability, its villas, bar and main dining hall are fashioned from bamboo and local alang alang grass. Lead architect Miles Humphreys – the same man behind Mandapa, the Ritz-Carlton's luxury villas in Bali – worked with bamboo specialist architects Chiko Wirahadi and Ketut Indra Saptura to ship 30,000 pieces of bamboo from Java and Sumatra. They were treated to guard against termites, before work on the villas began. Crafted by hand, each villa took three months to construct. Even the ceiling fans are made from this surprisingly versatile material boasting a tensile strength greater than steel.
Since its opening last year, Cempedak has occupied prime spots in architecture and travel glossies, and enjoys the distinction of being the world's first private island resort to be constructed entirely from bamboo.
While Dixon left his banking job a decade ago to focus on running both properties, he still considers Nikoi and Cempedak his holiday homes. "It's a business for us, but it's somewhere I love going, and hanging out with friends and family. We get a lot of visitors coming through, including family from overseas and friends from Singapore. My son and daughter were four and six years old respectively when we used to camp at Nikoi. Now they're 18 and 21 and love to bring their friends. They know every square inch of the place. They've really grown up with it."
Reflecting on his childhood, he shares: "I grew up in Australia and we used to spend our holidays at the family's beach house located on the Central Coast, an hour north of Sydney. When I was a teenager, I used to think, oh we're going there again, while the other kids are heading elsewhere. But, when you get older, you realise that you grow a sentimental and emotional attachment to the place. You know the seasons, people, and all the fun things to do that not nearly everyone knows."
On turning a private retreat into a business, the nature lover says with a laugh: "When I head over (to Nikoi and Cempedak), my greatest regret is not having more time to just sit back and relax."
When work took designer Nikki Hunt to the ski town of Hakuba, Japan, building her own holiday retreat was the last thing on her mind. However, while converting a small hotel into a luxury ski chalet for a local client, Hunt found herself increasing enamoured with the area. "I like that it is relatively close to Tokyo and so easy to get to. The skiing is fantastic and the food is out of this world," she says. A 100-minute journey on the Shinkansen followed by an hour's drive is all it takes to transport visitors from Tokyo to one of Japan's most popular ski areas, one which played host to the 1998 Nagano Winter Olympics.
"What I like most about the area is that it retains a Japanese feel, unlike some resorts that have become so touristy," says Hunt. So, when a rundown bed and breakfast came on the market in 2010, the founder and principal of Singapore-based interior design firm Design Intervention seized the chance to transform it into a winter retreat.
Renovation work to convert the 8,000 sqft 13-room property luxury chalet began in April that year and concluded by November. "Japan is very efficient and the builders work very fast. As the snowfall in the area averages 11m annually, the workers have to complete their work in one summer season before the snow arrives," says Hunt, who designed the new home with family and friends in mind. While the property features spacious common areas such as a living room, dining room and games area, the five bedrooms with ensuite bathrooms allow guests to retreat into their own quiet spaces.
When designing the chalet, she paid special attention to spaces that would allow friends and family to relax and unwind after a day of hitting the slopes. In the cinema room, plush, custom-made sofas arranged in tiers allow guests to lounge in comfort, while enjoying unblocked views of the screen. A Japanese-style bathroom, decked out in warm-hued timber, is anchored by two cedar bathtubs – designed with headrests – for long, languid soaks.
While the space offers all the modern creature comforts of a 21st century ski lodge, ranging from fur throws to luxurious deep-pile carpets, it co-exists with elements of Japanese interior architecture. The existing wood floor was retained, polished and revarnished to restore it to its former glory. Shoji screens, traditionally featuring translucent paper mounted on wooden frames, dress the windows.
While the property is structurally sound, its traditional Japanese construction proved to be a challenge. For instance, the building is held up by a network of wooden posts and beams. As such, knocking down walls to achieve a more open floor plan would leave structures standing awkwardly in the middle of the new rooms. Instead of removing the posts and compromising the building's structural integrity, Hunt disguised them as aesthetic features by staining the wood black and highlighting it with spotlights.
For Hunt, who returns here with family and friends four times a year, this mountain abode has grown into more than just a home away from home. "When we walk through the door and find ourselves surrounded by treasured mementos and family photos, it does feel like we're coming home. However, we are a million miles away from work, school, meetings and traffic. We come here to be with one another without distraction, and when we are, we find ourselves truly together in the real sense of the word."
"ONE OF THE LUXURIES OF BEING ON A PRIVATE ISLAND IS THE SPACE. NO ONE CAN BUILD UP AROUND YOU."
Andrew Dixon, owner and co - founder, Nikoi and Cempedak islands
01 NATURE'S BEST
Located 9km off East Bintan, Indonesia, Cempedak boasts sandy beaches and white granite boulders.
02 QUIETUDE
Andrew Dixon at the owner's villa on Cempedak Island.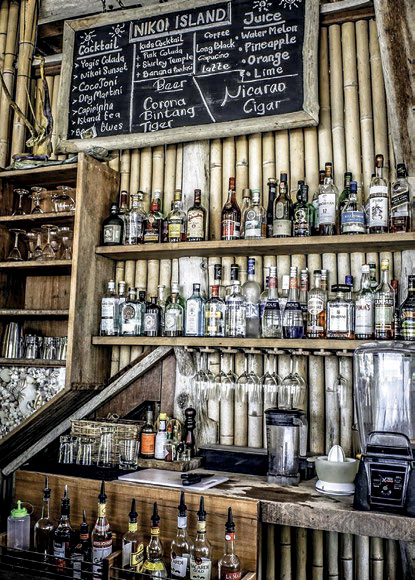 03, 04 SLOW LIFE
Breezy villas and the bar on Pulau Nikoi.
05 AU NATUREL
Cempedak Island is the world's first private island resort to be constructed entirely from bamboo.
OFF-PISTE PLEASURES
A designer's luxurious winter retreat melds 21st century comforts with traditional Japanese architecture. 
06 STEAMY AFFAIR
Japanese-style bathrooms with cedar bathtubs.
07 KEEN EYE
Nikki Hunt, founder and principal of Design Intervention.
08 ZEN ELEMENTS
Shoji screens, traditionally featuring translucent paper mounted on wooden frames, dress the windows.
09 LUXE COCOON
Deep-pile carpets, lush throws, and accents of polished steel in the master bedroom.
10 PLUSH RETREATS
Hunt designed her vacation home – it has a cinema room featuring customised sofas – with friends and family in mind.
"WE COME HERE TO BE WITH ONE ANOTHER WITHOUT DISTRACTION, AND WHEN WE ARE, WE FIND OURSELVES TRULY TOGETHER IN THE REAL SENSE OF THE WORD."
Nikki Hunt, founder and principal of Design Intervention