This hotel offers breathtaking views of the California desert.
Celebrities from far and wide, as well as Southern California locals, know that Palm Springs is the perfect destination to spend a relaxing or festive weekend. Design, nature and culture meet in this area of the US where, every year, events like the Coachella Valley Music and Arts Festival, Modernism Week, and the Palm Springs International Film Festival – just to name a few – take place.
There are many hotels in the city but one in particular catches visitors' attention. Kimpton Rowan Palm Springs is the only hospitality project that has a swimming pool on its rooftop – which was designed by Chris Pardo from Elemental Architecture. Inspired by its desert surroundings, the hotel features an outdoor terrace to provide beautiful views in a glamorous environment. Six cabanas and several lounge chairs invite visitors to rest in this unique setting.
As for the exterior, the seven-storey building is composed of concrete blocks that are punctuated with pop-out boxes and balconies, providing a sense of movement and dynamism. A perforated metal screen filters the sunlight and adds texture.
Inside, the airy and bright spaces are characterised by an urban and minimalist style, with references to the desert. Its interiors span 153 rooms decorated in blue, green and cream tones, two restaurants (Mediterranean cafe Juniper Table on the ground floor; and rooftop bar and restaurant 4 Saints), and two bars (Window Bar and High Bar), all of which feature artworks and furniture with pure lines. Spread over 232 sqm, the presidential suite occupies the top floor, offering an exceptional panorama. The hotel also has spaces for guests to hold events, meetings and weddings.
Awbrey Cook Rogers McGill Architects + Interiors, architects Dion McCarthy and Mark Kirkhart from DesignARC, Powerstrip Studio, Chris Pardo and the design team at Kimpton all contributed towards shaping an architecturally striking project that pays tribute to the Mid-century legacy and modernism of Palm Springs, with a contemporary twist.
Also inspired by the beautiful natural light and surrounding environment, Kimpton Rowan Palm Springs encourages visitors to enjoy nature with its easy access to hiking trails. Shops and restaurants are just around the corner, allowing guests to discover the vibrant cultural scene of Palm Springs.
Visit www.rowanpalmsprings.com to learn more about Kimpton Rowan Palm Springs.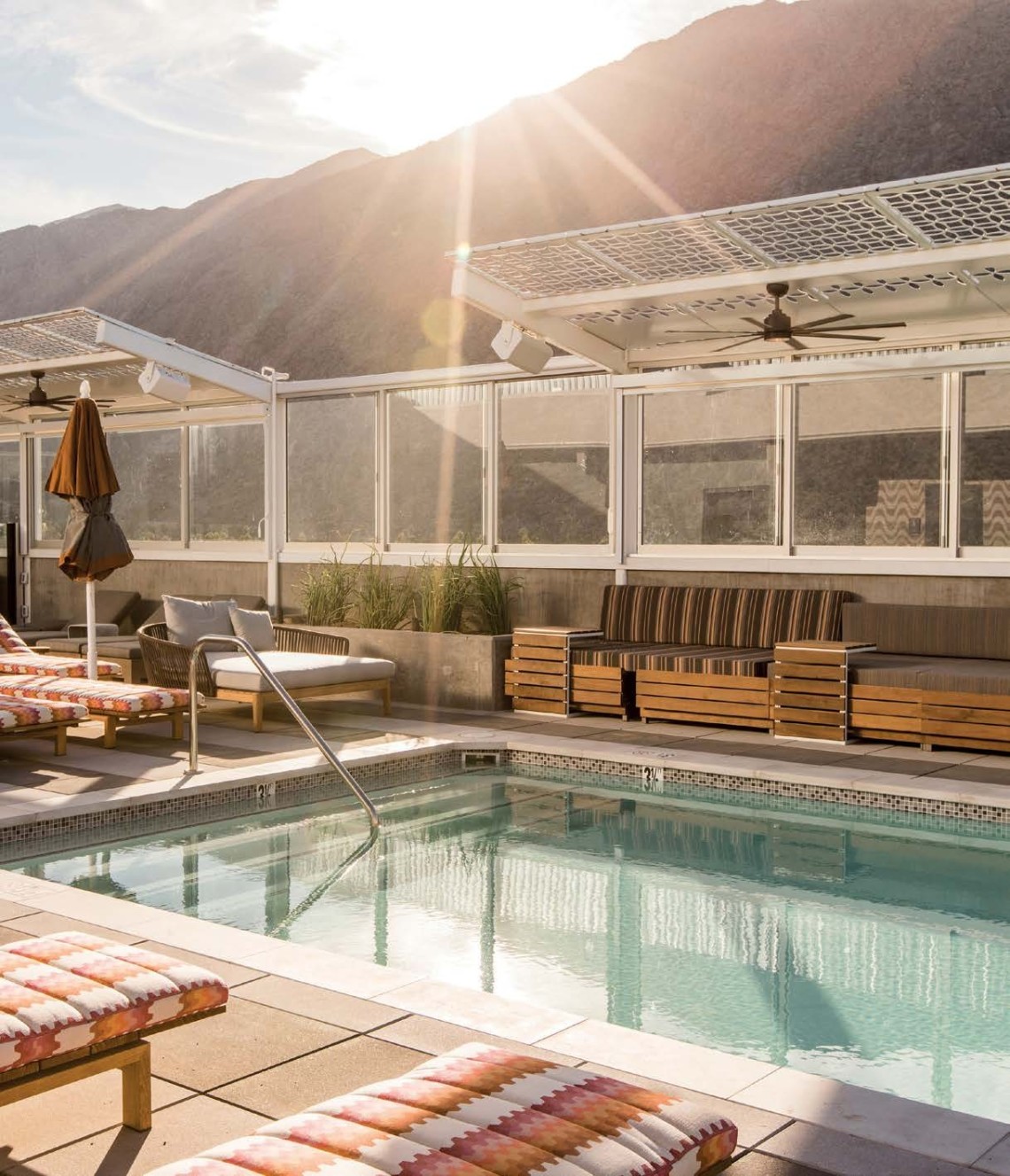 Good to know
Kimpton Rowan is located at the foot of the San Jacinto mountains, with easy access to the sandy desert flats nearby.
TEXT KARINE MONIE