We'll all grow old – so it's never too early to explore how to make our homes safe and comfortable for ageing in place
We'll all grow old – so it's never too early to explore how to make our homes safe and comfortable for ageing in place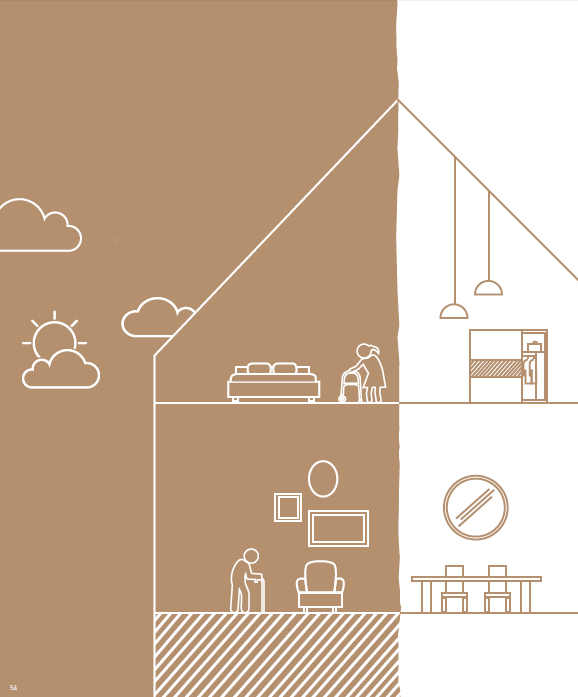 You'll know age is creeping up on you when you find that doing simple chores, such as bending down to clear the wastebasket, isn't as easy anymore. As you age, your needs will change. Whether it is due to poorer vision from cataracts, or decreased energy and endurance because of changes in heart function, you'll find that a few adjustments in the home are in order. Cai Shu Qi, an occupational therapist at Khoo Teck Puat Hospital (KTPH), says it is all about implementing changes that allow older folk to carry out their daily activities independently and safely.
Meeting your needs
Common tweaks to the home include adding motion sensor lights to aid vision during nightly toilet trips, as well as easy-to-use fittings such as large handles on faucets. "When planning these changes, consider potential risk zones; one third of falls occur in the toilet due to slippery floors, so using anti-slip tiles will lower these risks," says Shu Qi, who conducts visits to patients' homes to identify potential barriers in the environment, as well as recommend modifications. KTPH also works hand in hand with the Housing Board (HDB) on the Enhancement for Active Seniors (Ease) programme, which offers improvement items, such as ramps for wheelchair users, to be installed to make the home elderly-friendly and improve the mobility and comfort of older residents.
"KTPH conducts training for HDB contractors on the abilities of the elderly, as well as guidelines to follow, such as where and how high to install grab bars in the home," says Edmund Lee from The Able Studio at KTPH, a retail pharmacy for elderly-friendly retrofits which features a mock-up of what makes an elderlyfriendly kitchen, toilet and bedroom. Interior designer Arjan Twilhaar from Aiden T says ease of access is a key consideration. For instance, light-coloured floors work better for people with poor vision as it is harder to gauge depth on dark-hued floors. "Height also matters. Lower kitchen counters are preferred for wheelchair users, so they can prepare food comfortably, but low seats should be avoided as getting in and out of the seat will be more strenuous," he advises.
INTERIOR DESIGNER ARJAN TWILHAAR FROM AIDEN T OFFERS TIPS FOR DESIGNING ELDERLY-FRIENDLY SPACES:
When designing a kitchen, make sure that the oven or microwave is not located too high up – this lowers the chance of hot items spilling over. Avoid loose items or knickknacks. Instead, create display niches in the wall or display items in a cabinet. Homes can be stylish while being functional; find out what is needed from each space, and apply these requirements to the overall design. For instance, a large faucet need not be only of a utilitarian design, there are other stylish ranges that serve this purpose, too. The elderly are generally fond of brighter lights. You could opt for the LED three-colour light, which you can switch between warm, white and daylight.
Follow a universal design Does it all sound like a lot of work?
Not quite. Most elderly-friendly features are useful to have at home, even if you are not a senior citizen (yet) or living with one. Instead of designing your space to cater only to your current needs, think ahead. One way is to apply the Universal Design (UD) guidelines, which encourages products and spaces to be usable for people of various backgrounds and abilities. However, this was created more for commercial spaces; and not all designs translate well to a domestic setting, says Arjan. UD guidelines include low physical effort, which ensures a product can be used with minimal fatigue, as well as tolerance for error, which encourages designs to minimise potential hazards, such as using an induction cooker instead of a gas stove. "Designing a home with these features in mind, and in an elegant manner, will not only be useful in a multigenerational home, but will also help to diminish the stigma of elderly-focused designs being aesthetically unappealing," says Shu Qi. For instance, towel racks can double as grab bars for balance, as long as they are sturdy and provide a good grip. Additionally, pull-out or Lazy Susan shelving will maximise space and make it easier to reach inside deep cabinets – a feature people of all ages will appreciate.
To see a mock-up of an elderly-friendly home and speak to trained staff about the needs of older citizens, visit The Able Studio at Khoo Teck Puat Hospital, 90 Yishun Central, tel: 6602-2253. You may also purchase useful products, designed to aid the elderly in their daily activities, there.
10 ELDERLYFRIENDLY FEATURES A HOME SHOULD HAVE
SLIDING WARDROBE DOORS
Not only do these save space, but those with weak grips will also need to exert less force and grip to open the doors.
2 PULL- OUT WARDROBE RACKS
Designed at an accessible height, racks that slide outwards will require less stretching and rummaging through clothes.
3 BUILT - I N BATHROOM BENCH
Older folks need more rest breaks between tasks, such as during showers or cooking. Caregivers can also shower their patients easily if there is a place for the elderly to sit on.
4 BRIGHT SPACES
Natural lighting is good. Complement this with lightcoloured walls, and bulbs that emit white light at high luminosity – these are ideal for reading and working.
5 WIDER BATHROOMS
Wheelchair users generally require more space to move around, such as in getting from wheelchair to shower area in the bathroom. This space should also be able to fit more than one person, so caregivers can help their patients with ease.
6 SEE - THROUGH CABINETS
Save energy and time looking for things when you can see what's inside the cabinets.
7 LIGHT SWITCHES
The bigger the better. For instance, rocker switch panels are big enough to see, and require little effort to push – ideal for those with arthritis.
8 SPACE UNDER THE SINK
Wheelchair users can move themselves closer to the sink, making it easier to wash dishes and reach for the tap.
9 LOOSE FURNITURE
These are easy to move around when needed. Ensure that they are not too heavy.
10 LEVER HANDLES
Consider how the person manages knobs. Levers or handles, for both doors and taps, that need only be pushed up and down are preferred over knobs that have to be turned.