Green architectural feats don't need to present themselves on a large, impressive scale. The ideal can materialise in a three-storey bungalow, a shack, or even a primary school. These architectural wonders are green to the core, from the use of materials to the build and design, which encourages greener habits without compromising on style, comfort and luxury. These projects, local and abroad, are designed according to the needs of their users.
Sarah Wigglesworth Architects
Project: Mellor Primary School, the United Kingdom
The goal, for Sarah Wigglesworth Architects, was to bring nature even closer to the pupils of Mellor Primary School. It was extremely crucial for the firm to create a conducive learning environment at the school, which is not just about computers and endless days spent toiling behind desks. The school considers learning and playing outdoors extremely important, as part of its pupils' curricula. Extension and remodelling works were required to complement the school's natural surroundings, as well.
The updated school sports features such as new toilets and a library, an additional classroom with a great view, an extended hall for performances, a raised deck for outdoor lessons, tree canopies, and outdoor facilities to accommodate the ever-growing number of pupils.
The community of parents and their children played a crucial role in the design of the school's extension project. The pupils were involved in the design aspect of the habitat wall (below), which was made from salvaged materials. With the habitat wall, Mellor today could be described as a school that doubles as a habitat for plants – with the addition of planting pockets, birds that live in bird boxes designed by the school's caretaker, and bugs. A trellis screens off the area below deck. Apart from water-saving and low-energy light fittings, locally sourced and natural materials were used in this award-winning project, which was completed in 2015. These include tyres, straw bale (for insulation), as well as FSC and PEFC-certified timber.
For more information, visit www.swarch.co.uk.
The project was a winner at the RIBA North West Awards 2016. It also clinched the honour of being named the Judges' Choice and Best Education Project, at the Structural Timber Awards 2016. 
Austin Maynard Architects
Formerly Andrew Maynard Architects
Project: Dorman House, Australia
You can bet your mansions that Austin Maynard Architects won't be demolishing any charming old shack any time soon. But it's more than happy to take on extension works – sustainably, while staying true to the existing building.
During the post-war period, many Australians built their homes in the style of beach shacks. These homes were built "to weather, go grey, age, and sink back into the landscape, back into the bush".
In the case of the Dorman House project, clients Kate and Grant requested that the team provide them with "a clear and elevated view of the ocean". Like the team behind Austin Maynard Architects, the homeowners were also not keen on sacrificing the unique characteristics of their beloved shack in order to gain a view. The homeowners also wanted their new living space to be practical, wellconsidered and detailed, necessitating an elevated extension. The team gave them a living space that responds to the seasonal changes and hours of the day, while adding character to the interior, with Silvertop Ash hardwood portals and beams.
Accessible via a spiral staircase are the kitchen, dining room and living room, which are supported by a heavy timber structure. The old kitchen was transformed into a second bathroom and laundry area, while the original beach shack was only tidied up and repainted to retain its post-war charm.
The team at Austin Maynard believes there is nothing to be gained by trading Australian heritage – with its unique individualities and social personalities reflected in humble shacks – for mansions and duplicated suburban homes. Even more so, when one considers that it takes more than a decade to repay the carbon debt of a demolished house.
The Dorman House is one of a kind, in the midst of its neighbours. The team describes it as a "finely crafted timber box, independently constructed to hover over an existing beach shack in Lorne, Victoria". The project was completed in 2015.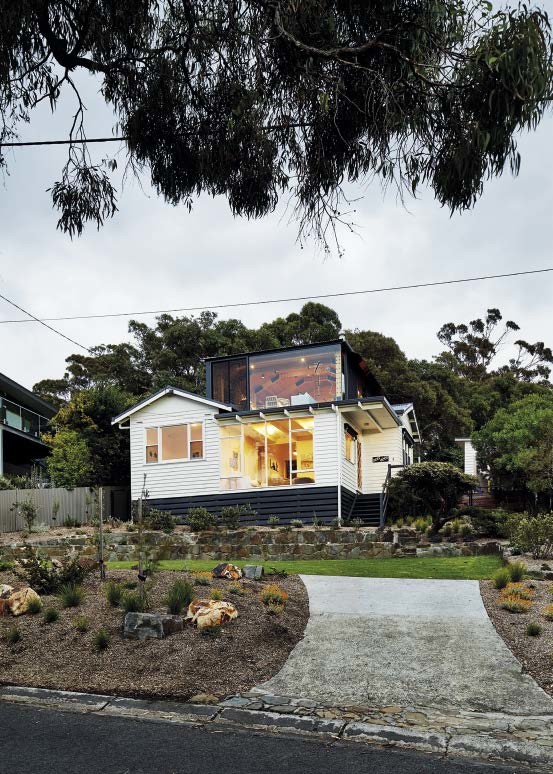 NB Tropics 
Project: 
The Manor, Malaysia
With only three units, the Manor project comprises three-storey bungalows with stylish aerofoil roofs and eco-friendly features, including beautiful green landscaping, energy-saving solar panels, and large glass panels for natural lighting and ventilation. Each bungalow is furnished with a luxurious kitchen, and high quality materials were imported to reflect an exclusive lifestyle at Codrington Avenue on Penang Island.
NB Tropics, a subsidiary company of the New Bob Group, had it all thought out. These bungalows are equipped with energy- and water-saving fittings, which encourage green practices on a daily basis to reduce carbon footprint. Rainwater harvesting, for example, takes place on the roof garden located on the second floor. The roof garden provides natural insulation; as a result, it reduces the homeowners' dependence on and long-hour usage of home utilities, including heaters and air-conditioners. Homeowners are able to enjoy better air quality in a safe environment. The bungalows are also equipped with alarms and CCTV systems.
Design-wise, the open-concept bungalows feature unique double-height living rooms, and ultra-modern, streamlined kitchens.
Green certified materials were used in the construction. Completed in 2013, the project was awarded the first GreenRE Platinum project certification in Malaysia. It also received a BCA Green Mark Gold Plus Award from the Singapore Ministry of National Development.
For more information, check out www.nbtropics.com/projects/the-manor.
Text Ng Yi Xiang