Large-format tile gallery.
Step into Florim's newly opened flagship store and its elegant range of ceramic and porcelain tiles will impress you. The double-storey showroom offers sufficient floor space to showcase large slabs that boast intricate and elaboratedesigns, including those from renowned brands like Floor Gres,Rex, Casa dolce case, Cerim, Florim Stone and Cedit.
Explore the extensive possibilities you can create in your home, with a selection of tiles that'll help you achieve textural effects like cement, wood, marble, fabric and even metal. Browse the collection for inspirations on application options too, including for use as wall and floor coverings, cladding for furniture, surfaces for kitchen countertops and even in outdoor spaces.
Specialising in large-format tiles that reach up to a size of 160 by 320cm, Florim offers the versatility for architects and engineers alike to experiment with new design ideas. These tiles also come with just 6mm thickness so they are lightweight and flexible for various application types.
Like its other flagships in Milan, New York and Moscow, the interiors of this store are created by Florim's in-house design department, and the space can easily be converted to accommodate meetings and dialogues with industry professionals, events, training and also serve as a co-working area.
Florim flagship store is located at #01-14 Sultan Link, 63 Mohamed Sultan Road, florim.com.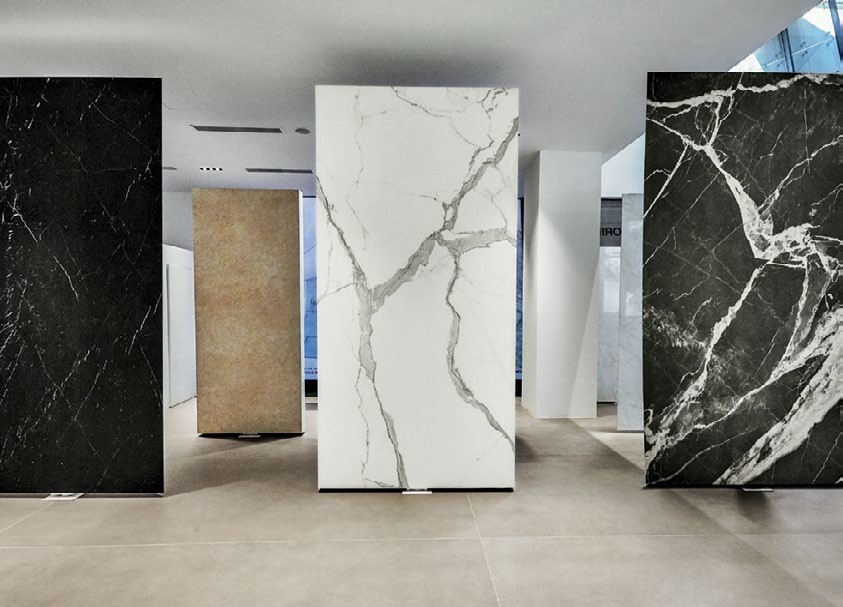 ABOVE
Presented in large slabs, Florim's tiles can be used for various application types.
TOP
The newly opened showroom is expansive and exudes a luxurious vibe.
TEXT DOMENICA TAN