This family home is a light-filled apartment that utilises colour, spatial flow and texture to convey a decidedly calm space with pops of personality. MICHELLE LEE takes a tour.
"The layout was conceived to create a large communal space for familial bonding and entertaining. Decor elements like the world map add a personal touch."
Clean-lined and with just enough eclectic details to embody warmth and character, this 27-year-old HDB executive flat is both beautiful and pragmatic. Its residents, a family of five and a domestic helper, connected with interior designer Rey Tan of Erstudio to craft a home that is modern and bright, while playing a practical role in day-to-day living. Their top priority: plenty of storage, especially multipurpose units as well as a bookcase.
The $128,000 redesign involved demolishing several walls to allow more natural light inside and an open-plan living zone for dining, cooking and hosting loved ones, and plenty of room for the kids to play.
The living room is clad in a predominantly subdued palette while rich wood tones and grey marbled floor tiles with a matte finish lend warmth. Textured details, including an upholstered sofa, armchair and rug in varying shades of grey, further imbue the contemporary space with a sense of hominess. A world map gracing the wall reflects the family's love for travelling and family trips.
Taking centre stage is a Vicostone quartz-topped kitchen island that connects visually to an elegant wood dining table from Second Charm. It also forms part of the dry kitchen and provides ample workspace to cater to the owners' love for baking. Venture into the wet kitchen and you'll find a crisp white space. A backsplash of grey and textured Italian porcelain tiles adds nuance to the otherwise monotonous area.
For the master bedroom, Rey applied retro aesthetics, blending earthy tones with rattan. The headboard and bedside tables pair rattan with a solid dark nyatoh wood, providing a stark contrast against the lighter tones of the wood cabinetry and flooring. In the en suite bathroom, the same rattan as well as decorative lantern-shaped tiles up the retro feel.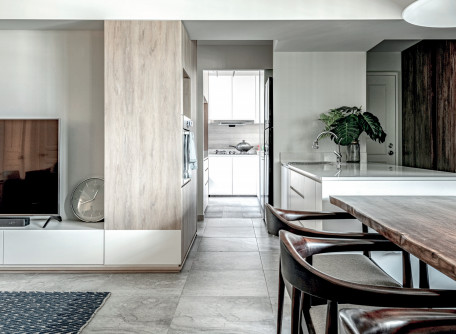 WHO LIVES HERE
A couple with their three children and a domestic helper HOME Four-room HDB executive flat in Serangoon SIZE 1,650 sq ft
TOP
Combining the kitchen island with the dining table saved room and created an uninterrupted surface for food prep, dining and gatherings.
BOTTOM, LEFT
The entryway, flanked by a multipurpose cabinet, opens onto the kitchen and dining area.
BOTTOM, RIGHT
The cabinet features built-in light that illuminates the entryway.
OPPOSITE
Textures, varying grey tones and subtle patterns complement and elevate the restrained palette.
LEFT
The mainly wood-themed decor transitions into an all-white kitchen.
BELOW
Lantern-shaped white tiles and rattan accents punch up the bathroom.
OPPOSITE
The headboard and matching bedside tables are incorporated with rattan, playing up the retro charm the designer was going for.
"SPACE PLANNING STRATEGIES INCLUDE CREATING STORAGE UNITS THAT ENHANCE THE INTERIORS." – REY TAN, DESIGNER AT ERSTUDIO
photos ERSTUDIO