THE TRENDY OFFICE OF AN AWARD-WINNING INTERIOR DESIGN FIRM.
THE TRENDY OFFICE OF AN AWARD-WINNING INTERIOR DESIGN FIRM.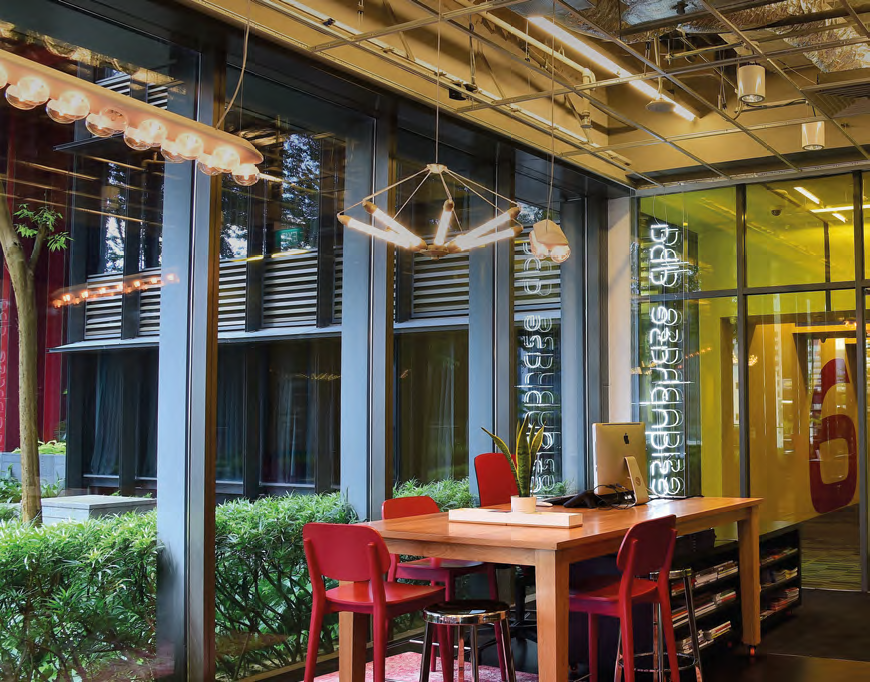 Turning 36 this year, award-winning interior design firm Designphase Dba has recently moved into a new office space. Stepping out into the lift lobby, we are immediately greeted by the unit's bright yellow entrance facade and neon lit branding. "This represents our sunny outlook on life," quips creative director Joris Angevaare.
Specialising in residential, hospitality and commercial interior projects, as well as branding and graphics, the office was designed to combine all aspects of the firm's work. This way, the space is unlike conventional offices, as it also doubles as a showroom for fixtures and finishes for clients to better visualise aesthetics, textures and colours in a fully functional space. Strategically situated right next to a garden — of which the unit boasts views, thanks to fullheight glass windows — the interiors enjoy natural light and greenery, and city views in the distance.
"Many passers-by have popped into our office to ask if we're a cafe and that's really the idea we're going for. We want to create a different type of work environment where informal discussions can happen; the creative process should not be a formal, regimented process, so the design of this space makes perfect sense," Joris explains.
LEFT
A neon signage and yellow filmclad glass create the outstanding entrance at Designphase Dba's office.
ABOVE
Furniture pieces and accessories in bright colours like red and pink add a cheerful vibe to the space.
RIGHT
The ceiling in the meeting room features geometric patterns in vibrant hues.
The meeting room is far from dreary, with its ceiling clad in colourful, graphical artwork, and spotted with Tom Dixon light bulbs in gold accents. Flexible furniture, from tables to the pantry set, is a must here as the space is made to be easily transformed, in order to suit different purposes. It has even been used to host various designrelated events since its opening.
Of course, storage is a key feature to ensure the office remains free of clutter, as the firm requires lots of space for its library of material samples and tools. Joris and managing director Derek Mackenzie decided on incorporating double-layer storage systems in the form of sliding cabinets that run the length of one wall. Clad in a black laminate finish, it is camouflaged and blends seamlessly with the overall design.
With the bold and striking choice of colours, and a selection of quirky art pieces, Designphase Dba's office exudes a youthful character and a fun, cheerful vibe.
TOP
There is no need to rely on artificial lighting in the day, as the office enjoys lots of natural light.
ABOVE
Designphase Dba even has its very own blend of coffee, which they worked with Jewel Coffee to create.
LEFT
Creative director Joris Angevaare.
LEFT, ABOVE
Managing director Derek Mackenzie.