Wonder how the revolutionary Lighting Wallpaper works? The 0.5mm-thin laminated foil, by Elon Technologies, uses electroluminescent technology to "highlight" styled patterns.
See The Light
Wonder how the revolutionary Lighting Wallpaper works? The 0.5mm-thin laminated foil, by Elon Technologies, uses electroluminescent technology to "highlight" styled patterns. The 50cm by 50cm tiles are applied to the walls with stickers, and operated with a special power source that uses only 80 watts per metre square of the lighting area. Your walls will never be boring again!
The seven Lighting Wallpaper designs available are by Tomas Rousek of London Xtend Design. Visit www.lighting-wallpaper.eu for more information.
BIO
Necessity is indeed the mother of invention. Irish furniture designer and architect Eileen Gray needed both a table that could be used over her knees and a bedside accessory – so she designed the heightadjustable E1027! When it debuted in 1927, this game-changer was lauded for its ingenuity. It also looked exquisitely modern for its time.
TRIVIA
The name E1027 isn't just a random product number; the table is named after a summer house which Eileen built for herself and her collaborator, the Romanian architect Jean Badovici. E is for Eileen, 10 for Jean (as J is the 10th letter of the alphabet), 2 for Badovici, and 7 for Gray.
MANUFACTURED BY CLASSICON, THE E1027 TABLE IS AVAILABLE AT SPACE.
LEFT
The interiors of Cafe Melba exude a cosy feel, with wood tones and pops of vibrant colours for contrast.
BELOW
A feature wall, spanning the width of the restaurant, is created with sculptural concrete blocks in varying grey and pink tones.
BOTTOM, LEFT
The fabrics used for upholstery are recycled wool felt made from salvaged yarns from Prato, Italy, while furniture is made using reclaimed oak.
CHECK OUT
CAFE MELBA AT MEDIAPOLIS
Set against an open green, Cafe Melba at Mediapolis is the second outlet of the popular restaurant at Goodman Arts Centre. Designed by award-winning Australian designer Emma Maxwell, this outlet looks distinctly different from the first one – it has a casual feel for relaxed brunches, but is also chic enough for dinner or post-work drinks.
Dressed in warm wood finishes, cosy wool upholstery, and attractive colours, the interiors comprise a mix of geometric and rounded forms. Emma also designed the loose furniture and lighting with sustainability in mind. Chair backs are upholstered with Leaf recycled wool felt by Kirkby Design, while reclaimed solid oak slabs were used to create the tables.
Other structural design features of the space include the layered copper-tone ceiling, fashioned out of recycled aluminium plates and curved to a specific 30-degree angle. This helps to control the acoustics in the space, for a pleasant dining experience without the disturbance of background noise.
As a backdrop, Hungarian brand Kaza's hexagonal concrete blocks in grey and pink make up a striking textured feature wall.
The family-friendly restaurant serves up a variety of tasty offerings, from all-day breakfast, such as mozzarella-stuffed potato rosti, and caraway dark rye bread and avocado, to refreshing salads, hearty mains and even a weekend roast. Combined with its stylish and relaxing atmosphere, the cafe makes for a great refuelling spot any time of the day!
FIND IT AT #03-01 MEDIAPOLIS, 1 STARS AVENUE, TEL: 6352-2721.
NEW SHOP
K+ CURATORIAL SPACE
You hardly know where to look when you step into the new K+ Curatorial Space at Scotts Square – but that's not necessarily a bad thing. This permanent retail space by K+ showcases a multitude of products from six main collaborators – Books Actually, Goodstuph, Kinetic, Pomelo, Supermama and Tofu, in a cavernous 4,300sqf space. One thing the items have in common, though, is that they're all well-designed, and from homegrown companies.
"People think everything international is special. Here, we put local and international brands together, and you can't tell the difference," says Ngauw Cui Qin of Kinetic Singapore, of which K+ is a part of. The furniture, whimsical furnishings, stationery, and Singaporeinspired goods from more well-known names are complemented with products from new-to-market brands, such as Still Wares with its handmade pottery pieces, and Chubby Bunny, which churns out whimsical fabric creatures.
The space was conceived to help local creatives market their products, and will in time feature workshops and bazaars in an effort to engage with more of the art and design community. "We want to make sure good art and good design survive," says Cui Qin.
The K+ Gallery next door will feature a new exhibition every six weeks, which is when new products will come in.
THE K+ CURA TORIAL SPACE IS AT #03-11 SCOTTS SQUARE. VISIT WWW.FACEBOOK.COM/KPLUSSG.
ABOVE
These Old School notebooks by Goodstuph ($8) will resonate with people of a certain age!
LEFT
Ubiquitous plastic kopitiam chairs ($12.90 for three) in miniature form, by Supermama.
TOP
The huge sunlit space of K+ is filled with purpose-built mint green shelving to best display its wares.
BOTTOM LEFT
Local firm Tofu's notebooks ($18-$24) let you customise the cover with elastic string, which can hold small items, too.
MY PICKS
WHAT WE SAW AND LIKED THIS MONTH
Yrozz Sison Editorial intern
Not only will it look cool on my wall, but this decor-cumstorage from Paper Market is great for storing knickknacks, too.
Candies, fruits, nuts? This charming heart-shaped platter was seen at Robinsons.
Handcrafted to resemble an angel wing, this platter is stunning as a standalone ornament. Seen at D&A.
Precious Thots has beautiful mugs with biblical verses on them, and this has my favourite verse printed on it!
Interesting shape for a side table, seen at Crate & Barrel.
Spotted at Monoyono – I never knew quotes from Steve Jobs could be my daily dose of inspiration.
Past Meets Present
They look vintage, but make no mistake, the Heritage II Connect and Heritage II Portable speakers deliver present-day high-quality audio. Their built-in Wi-Fi and Bluetooth functions enable multiroom audio playback; and the free Undok app allows you to control the speakers via Wi-Fi, store your favourite songs, select radio stations, and much more, all from your handheld device.
THE HERITAGE II CONNECT AND HERIT AGE II PORTABLE SPEAKERS RETAIL AT $699 AND $599 RESPEC TIVELY, AND ARE AVAILABLE AT #02-K5 VIVOCITY, TEL: 6250-6818.
Virtual Vintage
If you have been searching high and low for that rare designer vintage piece, check out Design Market, which is said to be the largest online marketplace for vintage furniture. It offers a vast selection of furniture and accessories from the 1930s to the 1980s, sourced from galleries and antique shops worldwide. Offerings include iconic designs by Charles Eames, Arne Jacobsen, Eero Saarinen, Le Corbusier and Hans Wegner. The pieces have been appraised and authenticated by professionals, too.
DESIGN MARKET SHIPS INTERNA TIONALLY; SHOP ONLINE AT WWW.DESIGN-MKT.COM.
Leather Everywhere
Studioart's unique Ricamo collection is made of premium leather that has been embroidered with fashion-influenced designs. The leather pieces can be used for upholstery, wallcoverings, and even padded wall tiles. The geometric, abstract, and floral patterns are sure to add tactility to any space. These leathers are available in a wide range of sizes and colours.
SEE THE STUDIO ART COLLEC TION AT THE TATUM SHO WROOM, 29B KEONG SAIK ROAD, TEL: 6221-2524. VISIT WWW.TATUMCOMPANY.COM FOR MORE INF ORMATION.
An Intelligent Eegance
Osim introduces its latest massage chair – uLove – which comes with an audio system to accompany your massage experience. Its V-Hand 3D Massage feature is said to emulate the hand-grip of a professional masseuse, one that is adept at extracting deep-seated knots; and the extended massage track reaches every inch of your body, from the head down to the backside. You can also download a whole suite of various massage programmes.
THE OSIM ULOVE IS A VAILABLE FOR $5,999, AND IN FIVE HUES, AT SELECTED OSIM OUTLETS, AND AT WWW.OSIM.COM.
Deceptively Simple
Using handcrafted techniques as well as tech know-how, the designers at local design studio Artless Goods have created two product lines that are stunning in their simplicity. Functional Landscapes is a series of small concrete objects, which were each inspired by a geographical feature. The concrete Patterned Coasters (above) take their motifs from traditional Japanese patterns, and have been sealed to resist stains.
BUY THEM AT WWW.ARTLESSGOODS.COM.
Soap It In
Known for its botanical-inspired fragrances and body-care products, Crabtree & Evelyn has launched new packaging designs for its soap collection. The newly updated and resized Heritage soap bars include citron, honey and coriander; pear and pink magnolia; and pomegranate, argan and grapeseed. A special process creates firm, textured bars that evenly distribute the fragrance.
RETAILING FOR $15 EACH, THE SOAP BARS ARE AVAILABLE AT CRABTREE & EVELYN OUTLETS ISLANDWIDE. VISIT CRABTREEEVELYN.COM.SG FOR MORE INF ORMATION.
Beautiful Synergy
Now, there are more choices to feed our insatiable appetite for Scandinavian-inspired designs. The Modernica Originals series from Born in Colour combines whitepainted and wood veneer surfaces, with tapered legs. The collection includes a coffee table, a bed frame, and a cabinet.
THE MODERNICA ORIGINALS RANGE IS AVAILABLE AT BORN IN COLOUR AT #02-31, 1024 YISHUN INDUSTRIAL PARK A, TEL: 6257-2501.
Faded Grandeur
Love the luxe feel of velvet, and also the trendy rustic vintage look? Timothy Oulton's Faded & Degraded collection of sectional sofas and dining chairs are upholstered in four attractive and exotic fabrics that draw inspiration from Victorian damask wallpaper, splattered ink, crumbling plaster ceilings, vintage Persian carpets and more. The collection is designed in collaboration with Australian fabric designer Kerrie Brown.
FADED & DEGRADED BY TIMOTHY OULTON IS AVAILABLE AT CURIO, 14C DEMPSEY ROAD, TEL: 6479-7619.
Bookends: Cafe SG
Cafe SG is a guidebook to the local cafe and coffee scene. Written by a team of award-winning, coffee-loving journalists from The Straits Times' newsroom, the 128-page book features 50 cafes, and is filled with photos and useful information such as price ranges and walking directions from the nearest MRT station.

CAFE SG , $16, IS AVAILABLE AT ALL MAJOR BOOKSHOPS AND AT WWW.STPRESSBOOKS.COM.SG.
Curved Beauty
With its curved seat and backrest, the Avi sofa – designed by Jai Jalan from Gruppo Euromobil – allows for better interaction between its users. Its upholstered wrap-around shape is elegant and perfect for contemporary style homes.
THE AVI SOFA IS EXCLUSIVELY AVAILABLE AT XZQT, #01-05, 8 PANDAN CRESCENT, TEL: 6774-8031.
TREND
MixIt Up
Furniture legs don't get the attention that they deserve, although they affect the furniture piece's overall design. Now, there are replaceable furniture legs to help you customise the look of your sofa, cabinet, table or bed, and add individuality to generic furniture pieces.
Pretty Pegs (pictured below, www.blafink.com/legs) and Pimp Republic (pictured bottom, www.pimprepublic.com) offer a wide range of furniture legs to help you personalise your favourite piece of furniture. Handcrafted from high-quality materials such as brass and wood, the unique designs available include colour pencils and shoe-clad "feet" which are great for a kid's room, round balls of rope and even lion paws for that royal finish.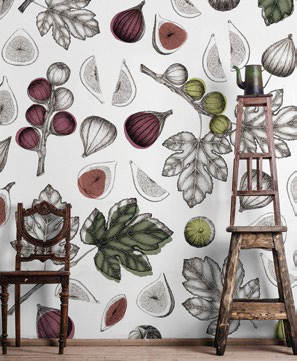 Wall Of Art
Not your usual florals or predictable patterns, the wallpaper selections from Italy-based Wallpepper will turn heads with their striking designs, such as adorable nature-inspired prints, and tile patterns. With a wide variety of designs, they can be customised to the size of your wall, too.
ORDER ONLINE AT WWW.WALLPEPPER.IT.
Thing To Watch
The Loewe One TV by premium German brand Loewe combines excellent picture quality with sophisticated looks — in an affordably priced package! Its features allow you to stream movies (with the integrated Amazon Video App) and songs from your smartphone, as well as record and watch different TV shows simultaneously. With a minimalist frameless screen and concealed speakers, your TV set might just be the focal point of your living room.
THE LOEWE ONE TV, $3,999, IS AVAILABLE AT ATLAS SOUND & VISION, #01-18 BLOCK D, 10 WINSTEDT ROAD, TEL: 6334-9320. VISIT WWW.ATLAS-SV.COM.
Clean Designs
Need an air purifier, but find it difficult to get one that looks sleek and stylish? Japanese brand Cado has launched three high-performance models, with streamlined contemporary designs and metallic finishes. Cado's air purifiers feature a self-renewing filter that is able to maintain both a clean quality of air inside the room, and within the unit itself.
CADO'S NEW AIR PURIFIERS, FROM $599, ARE AVAILABLE AT SELECTED GAIN CITY STORES, AND MEGA DISCOUNT STORE (KALLANG BRANCH). VISIT HTTP://EN.CADO.CO.JP.
Industrial Rustic
Wood and metal make a great combination, and furniture store Journey East has ushered in a new D-Bodhi collection in that style. This includes the Celebes shelves (pictured, left), which are made of weathered, reclaimed teak from Indonesia. Want something more fun? Opt for the Madison coffee table, which features a painted iron frame base.
SEE THE NEW D-BODHI COLLECTION AT JOURNEY EAST, #03-02 TAN BOON LIAT BUILDING, TEL: 6473-1693.
Authentically Italian
The Cubo Rosso collection of full leather sofas is made by expert Italian craftsmen, who carefully select the raw materials, as well as the sofa's component mechanisms. For greater convenience, the sofas with reclining options have electronic as well as manual controls.
CUBO ROSSO IS EXCLUSIVELY AVAILABLE AT THE HARVEY NORMAN MILLENIA WALK FLAGSHIP SUPERSTORE, #01-59 T O 63, TEL: 6311-9988. VISIT WWW.HARVEYNORMAN.COM.SG.
NEW SHOP
Naiiseat The Cathay
Design and lifestyle retailer Naiise has launched its first flagship (and its biggest) store in Singapore. The outlet at The Cathay spans 8,500sqf and showcases products from a large network of local designers, across diverse product categories such as home decor, furniture, kitchenware, food, fashion, and stationery. The store features a workshop space, as well as a DIY corner where shoppers can personalise their purchases. Upcoming workshops include bookbinding, and Japanese incense-making. Naiise has also partnered with laminate specialist Lamitak to showcase a range of laminates suitable for a variety of surfaces at home.
VISIT NAIISE AT #B1-08 THE CATHAY, 2 HANDY ROAD. CHECK OUT WWW.NAIISE.COM FOR MORE INFORMATION.