To get everything they wanted for their petite home, this couple turned to out-of-the-box ideas.
HOME
One-room condominium apartment in Geylang
WHO
A young couple
RIGHT
The couple went to great lengths to find a sofa which matches the dimensions of their kitchen countertop.They eventually found this one at OM. Tableware on dining table, and cushions on sofa, all from Galanga Living.
Good design is key to making small spaces work and, for their new condominium apartment, Chen Ting Ping and her husband enlisted the help of interior designer Andrew Ching from D5 Studio Image to tailor the 646sqf unit to their lifestyle.
Although they wanted a Scandinavian look, Andrew advised against using muted colours such as grey, white and cream as they might make the home look bland, so they agreed to adding texture and utilising bold, dark colours. The designer chose black glass for the kitchen backsplash to make a strong stylistic impact in the interiors, as the living, kitchen, and dining areas are all part of one big open-concept space.
The kitchen island doubles as a work space, with electrical lift mechanisms which allow their computer monitors to be stowed within the countertop when not in use. Another versatile feature is the customised platform in the dining area. As the homeowners often entertain up to 10 guests at a time, part of the platform can be raised to create a dining table. When lowered, it becomes a cosy corner for reading and relaxing. Drawers below provide storage space.
Due to space constraints, they opted to go without a TV console in the living room, and concealed the home entertainment system within a false wall. They also chose touch-sensitive switches, and Amazon Echo, a voice-recognition home automation system which controls the curtains, water heater, air-conditioning and lights through an app. "I set a timer to close the curtains or switch on the lights when we are travelling, so it makes the home look occupied, and this acts as an added security feature," says Ting Ping.
The $45,000 renovation included work done to the only bathroom in the home, such as adding storage space behind the mirror, and creating a knee-height bath enclosure which can be used as a shower area, or a bathtub when filled. To prevent water seepage, Andrew added three layers of waterproofing.
"Before we found Andrew, we went to approximately 12 interior design firms and they were deterred by the small space and our request for storage mechanisms!" says Ting Ping.
WHERE TO GO
D5 Studio Image, TEL: 6659-5877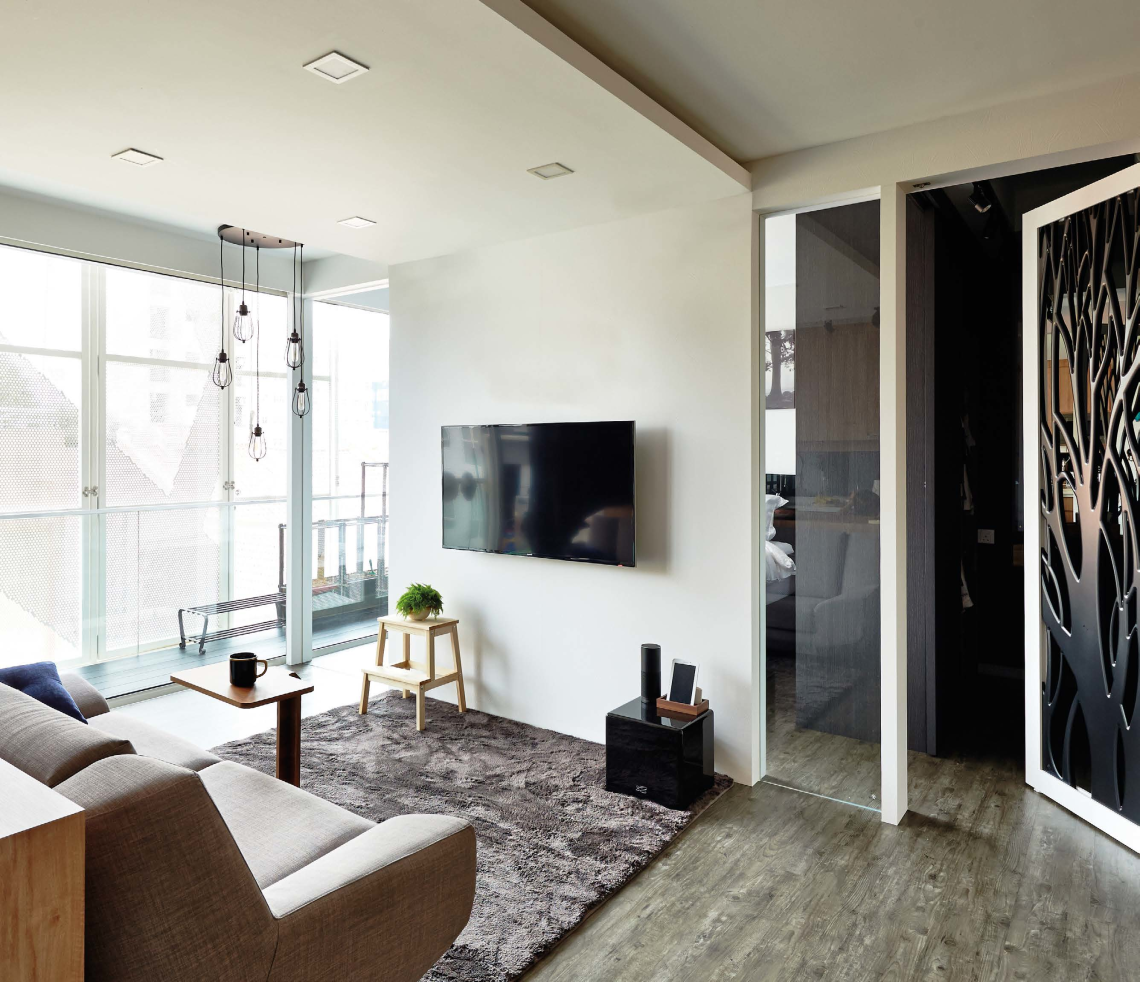 BELOW
The partition between the living and bedroom space is made partly of glass, and a see-through wooden screen to lighten its look. Tableware, from Galanga Living.
OPPOSITE
Nippon Momento special-effect paint adds texture and dimension to the flat walls of this cosy corner.
LEFT
The balcony extends the full length of the home, allowing natural light in.
RIGHT
Andrew incorporated electrical lift mechanisms within the kitchen-cumwork countertop, which allow computer monitors to be lowered and hidden when not in use. Wooden tray, from Galanga Living.
RIGHT , BOTTOM
The black glass backsplash goes well with the wood-look laminate of the cabinets, and the white quartz countertop from Iquartz. Carving board, from Galanga Living.
LEFT
Darker furniture colours were chosen for the bedroom to create a relaxing ambience.
BOTTOM
Andrew changed the original glass shower enclosure to a knee-height bath enclosure, which can be used as a bathtub.
SMALL - SPACES TRATEGY
They didn't stick to conventional designs, and went with clever structures that serve multiple functions!