SINGAPORE'S MOST NOTABLE INTERIOR DESIGN FIRMS OF 2019 AND THEIR OUTSTANDING PROJECTS.
SINGAPORE'S MOST NOTABLE INTERIOR DESIGN FIRMS OF 2019 AND THEIR OUTSTANDING PROJECTS.
GOLD CATEGORY
COLLECTIVE DESIGNS
With over two decades in the interior design industry and now heading her own firm, Selina Tay places great emphasis on the flow of light, air and energy, and maximising all the elements to create a liveable home.
PRINCIPAL DESIGNER 
Selina Tay 
Contact
#01-21 Vertex Building 33 Ubi Avenue 3 
Tel: 6280-6161
www.collectivedesigns.com.sg
FOUR-BEDROOM CONDO APARTMENT IN ORCHARD
BUDGET: $200K-PLUS
An open concept visually expands the space and allows natural light to pass through this home. In the kitchen, Selina made sure the owners had plenty of storage space for their cooking needs, and a large kitchen island perfect for preparing and serving food. In the equally expansive bathroom, she upped the luxe factor with his-and-hers basins and a dressing area clad in the same soothing dark tones used throughout the home.
TERRACE HOUSE IN OPERA ESTATE
BUDGET: $200K-PLUS
This single-storey home is flooded with natural sunlight, thanks to a skylight in the dining area and glass-louvered windows between the bedroom and living area. The modernity of the sleek monochromatic palette is balanced out by nostalgic elements such as decorative ventilation bricks reminiscent of the 1970s and the mosaic-tiled flooring in the dining area. Wall space is also maximised, with a designated area for the homeowner's two bicycles, and a vertical garden that breathes life into the home. 
CUBE ASSOCIATE DESIGN PTE LTD
A veteran in the interior design industry, Sarah Tham is known for her highly creative yet practical design solutions, customised to each of her clients' requirements. She has achieved a reputation as a leading interior designer who creates ultra luxurious interiors for residences, commercial spaces and hospitality. She prides herself on pushing the envelope in terms of creativity, culminating in design masterpieces her clients can reside in.
PRINCIPAL DESIGNER 

Sarah Tham
Contact  
22B Ann Siang Road
Tel: 6538-8918
www.cubeassociatedesign.com
FOUR-BEDROOM CONDO APARTMENT WITH A POOL IN RIVER VALLEY
BUDGET: $200K AND ABOVE
With the entrance to this apartment situated in the middle of the home's layout, Sarah was able to divide up the house into two main areas: the private wing on the left which comprises the family's bedrooms, and a public space for entertaining on the right. This recreational space was designed with a luxe-resort feel and an open concept for a seamless flow and an unrestricted view of the spectacular city skyline. While the home's design offers plenty of storage space, it is all tucked out of sight – the wardrobes in the master bedroom, for example, are concealed by motif wall paneling, while the TV console is hidden behind a sliding art piece on the wall.
CO-LIVING HOME IN PASIR PANJANG
BUDGET: $200k AND ABOVE
Sarah was tasked to inject new life into this 12-storey conservation building, repurposing the spaces into serviced apartments with a co-living element. To keep the focus on the natural greenery outside, the colour palette in the lobby was kept neutral. Inside, a cement floor runs throughout the spacious home, lending an industrial look complemented by the exposed pipes along the walls and ceilings. To energise the space and create a playful atmosphere, Sarah added punches of bright colour in the form of cushions and beanbags. Typographic wall installations also lend a tongue-in-cheek flavour.
DESIGN INTERVENTION 
Helmed by design duo Nikki Hunt and Andrea Savage, Design Intervention has earned a name for creating truly bespoke homes. Over the past several years, the team has garnered a multitude of accolades at the national, regional and inter national levels, across the full spectrum of the design field, including architecture, commercial, and residential design.
PRINCIPAL DESIGNERS 
Nikki Hunt (right) Andrea Savage (left) 
Contact
75E Loewen Road, Tanglin Village
Tel: 6506-0920
www.designintervention.com.sg
PENTHOUSE AT NASSIM ROAD
BUDGET: $200K AND ABOVE
Home to a well-travelled, cosmopolitan couple approaching retirement, this apartment was designed to exude a welcoming and homely vibe. Warm, rich-hued walls and leather armchairs create a visually restful atmosphere in the living area, and provide a great backdrop for pops of colour that come in the form of flowers and art. As the homeowners were avid collectors who had built up an extensive collection of paintings, wine, and objet d'art, the home was also designed to be a canvas that showcased these personal treasures. 
PRIVATE APARTMENT IN ORCHARD ROAD
BUDGET: $200K AND ABOVE
Bright pops of colour infuse this stylish home with a vibrant energy that brings a smile to guests when they enter. Design Intervention used neutrals in the rest of the decor to set the stage for the bolder hues, allowing them to command attention as the focal point of the living room. Metallic accents, like the copper chandelier, add glamour to the space, while the colourful florals and gallery wall bring cheer to the room. 
PENTHOUSE IN ORCHARD ROAD 
BUDGET: $200K AND ABOVE
A Japanese aesthetic permeates this apartment – though the look is far from austere. Design Intervention injected personality into the space with details that add a touch of luxe, such as classic Chinese fretwork designs on the back of the bar stools and a rug which is a fresh interpretation of a classic Japanese motif. Against the neutral palette, bold shots of colour were introduced to add vitality to the space. Although the home is naturally bright and airy, it also manages to be cosy, thanks to a dropped ceiling above the seating area that creates an intimate atmosphere.
EIGHTYTWO
Eightytwo prides itself on unconventionality. Defying labels, debunking conventions, and bucking trends are some of the principles the design studio espouses in its work. Led by founder Terence Neo, the team strives to create design that expresses the distilled essence of people and how they live.
DESIGN DIRECTOR
Terence Neo
Contact 
685A East Coast Rd, Frankel Estate
Tel: 6698-7987
www.eightytwo.sg
CONDOMINIUM APARTMENT AT MEYER ROAD 
BUDGET: $80K-$130K
Inspired by the whimsical colour charts of Wes Anderson's movies, this home features warm pastels set against cool greys and whites. Buttercup-yellow barstools pop against the soft blush of the kitchen cabinetry, while a peach-toned ceiling draws the eye to the dining area. Arches and curves are also a prominent feature, with the open-concept dry kitchen delineated by pink micro-cement flooring outlined with a rounded corner. The ceiling rose and classic cornices, as well as the terrazzo flooring, are subtle nostalgic elements that set off the modernity in the rest of the house. 
CONDOMINIUM APARTMENT AT HOLLAND ROAD 
BUDGET: $130-$200K
A dramatic modern interior was created with the feature wall in the living room displaying an array of framed minimalist artworks hung above wall moulding painted in a contrasting navy. This contemporary aesthetic is also reflected in the organic shape of the sofa and armchair, as well as the geometric coffee table. Plants dotted throughout the living area breathe life into the room and soften the overall look.
CONDOMINIUM APARTMENT IN YISHUN
BUDGET: $30K-$80K
The homeowners' storage needs were met by full-height cabinetry in the living area of this apartment, which houses a recessed space for a TV and display shelves. The narrow rectangular tiles, inspired by their travels to Japan, create a subtle feature wall. The pattern is also echoed in the subtle stripes of the coffee table, lending a sense of uniformity to the apartment. Here, botanicals inject colour and life into the space, balancing out the monochromatic lines.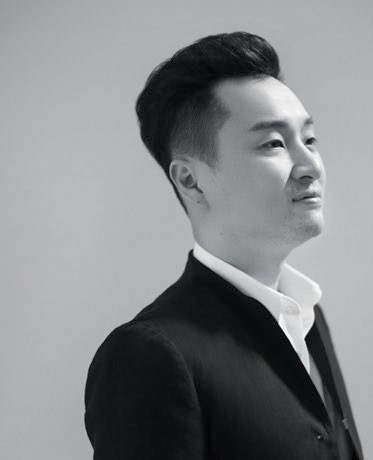 ENOCH ID PTE LTD
A self-professed perfectionist, Eddy Kuswandi has been in the industry since 1999. Known for his passion for creating beautifully plush interiors, he is fastidious with details. As a result, many clients entrust their home renovation projects to him, from start to finish. Under his direction, Enoch has gone inter national, taking on projects from Sydney to Manila.
PRINCIPAL DESIGNER
Eddy Kuswandi
Contact
417A River Valley road
Tel: 6225-8005
Instagram: @Enoch.ID 
THREE-BEDROOM CONDO APARTMENT IN KEPPEL BAY
BUDGET: $200K AND ABOVE
Situated by the sea, this apartment is a mix of the glamourous and pragmatic. Crystal chandeliers in the living and dining area draw the eye toward the ceiling, while the full-length mirror serves to simultaneously reflect their sparkle and conceal the entrance to the master bedroom. In the living room, a roll-up painting camouflages the recessed TV when not in use. Out in the balcony, a clear glass bar table and chairs provide a recreational space without being a visual distraction.
SEMI-DETACHED HOUSE IN JAKARTA, INDONESIA
BUDGET: $200K AND ABOVE
Fit for a king, this semi-detached house was redesigned to very particular standards for the homeowner's lifestyle. As entertaining guests was a priority, the first floor was extended to include two guest bedrooms, while the second floor was reconfigured to include a larger, open-plan living space for guests to move around during parties. The third floor was redesigned as the homeowner's private domain, including a large walk-in wardrobe to house his sartorial collection. With full wainscoting and gilded touches throughout, the home is reminiscent of a Parisian mansion.
JOEY KHU INTERIOR DESIGN
Founded five years a go, Joey Khu's eponymous firm has big ideas on making luxe work even in small spaces. He has been in the industry for over 20 years and has a penchant for introducing sophisticated touches in a contemporary way. He is also fond of design that plays on contrasts and textures.
PRINCIPAL DESIGNER

Joey Khu
Contact
1 Jalan Pisang #02-01
Tel: 6440-7920
www.joeykhu-id.com
3-BEDROOM CONDO APARTMENT IN THE EAST
BUDGET: $130K-$200K
Even though the colours for this bachelor's pad focus mainly on dark masculine tones, the home remains spacious and visually uncluttered, thanks to the remodelled open layout. Joey created interest with different textures, including a marbled floor and soft furnishings with a pop of colour, to balance out the largely monochromatic palette. The living room features a TV on a tripod stand instead of the usual console, while the wall behind it conceals electronics. Between the bedroom and living space, a sliding barn door featuring custom artwork creates a talking point for guests. 
FOUR-ROOM HDB APARTMENT AT MCNAIR TOWERS 
BUDGET: $130K-$200K
The modern profile of this BTO flat sets it apart from the rest with a feature wall half-clad in stone, and the other half featuring an oversized abstract art piece. This contemporary aesthetic is echoed in the structured lines of the soft furnishings and sculptural coffee table, creating an urban statement worthy of a design museum. In the dining area, a full-height cabinet provides both storage and a shelf for the homeowners' cherished knick-knacks. 
PRE-WAR SHOPHOUSE IN THE EAST
BUDGET: $200K AND ABOVE
Once a pre-war shophouse, this is now a large and airy, loft-style home for both entertainment and relaxation. Natural light floods the house, thanks to a central skylight, and even the master bedroom receives some of the sunlight via a bay window overlooking the living area below. Joey also decided to give a freestanding bathtub pride of place in the spacious bathroom at the rear of the house for a bathtime experience worthy of a spa. 
PARENTGHESIS
Parenthesis explores the relationship of space, materials and objects in immersive interiors while mixing the cultural and the modern to create a unique perspective. Creative thinking and functionality are the pillars of its philosophy to create an ever-evolving articulation of experiential spaces.
DESIGN DIRECTOR
Sujono Lim (left)
DESIGN DIRECTOR
Molina Hun (centre)
DESIGN DIRECTOR
Yanika Gunawan (right) 
Contact
Apex@Henderson 201 Henderson Road #06-15 
Tel: 6803-8753
www.parenthesis.studio
TWO-BEDROOM CONDO APARTMENT IN ORCHARD
BUDGET: $160k
As the homeowners aren't into heavy-duty cooking, Parenthesis proposed open-concept living that merges the kitchen, dining, and living rooms. A teardrop island functions both as a transitional area and a useful foyer counter. A dedicated space for serving drinks sits in the dining area, and features fluted glass and a mirror backing. In the living room, marble-clad drawers create a soft contrast with the ash tones of the wood. 
THREE-BEDROOM HDB APARTMENT IN MARINE PARADE 
BUDGET: $120K
Parenthesis blended the modern and classic in its interpretation of the traditional shaker-style kitchen with a freestanding oven and farmhouse sink. However, the overall design still appears contemporary with cabinets painted in muted Dartmouth green and set off with brass handles. For visual interest, hand-painted tiles from CeramicaBardelli form part of the backsplash, creating a dramatic focal point against the dark paint. 
THREE-BEDROOM CONDO APARTMENT IN PASIR PANJANG
BUDGET: $120K
Overlooking lush foliage over the hill, this apartment reflects the tranquil greenery on the inside too. A resort-like atmosphere runs through it, with natural materials like rattan taking precedence in the living and dining areas. The tropical theme continues in the bathrooms, both of which have feature walls echoing the green of the forest outside. In the master bathroom, the owners opted to replace the bathtub with spacious dresser, enhancing the luxe resort feel. 
RENAISSANCE PLANNERS & DESIGNERS
Established in 1994, Renaissance Planners & Designera' dynamic team delivers what it calls "360-degree design and building solutions". Be it a luxe home or a cosy apartment, it has the necessary expertise and experience related to a creative interior business.
PRINCIPAL DESIGNER AND DESIGN DIRECTOR
Kelvin Bing
Contact 
#01-02 469 Macpherson Road
Tel: 6291-1545
www.renaidesigngroup.com
STUDIO APARTMENT IN MACPHERSON
BUDGET: $200K-PLUS
The young couple wanted a space where they could entertain family and friends, so Kelvin designed a cosy interior, featuring a calming dark palette and walnut veneers throughout, with a focus on the living and dining areas. The open kitchen with an island flows into the dining area, so they can entertain while whipping up a meal. The height of the living room has also been visually enhanced with a double-storey shelf that holds their books, drinks and cherished mementos. 
SEMI-DETACHED HOUSE IN YUK TONG AVENUE
BUDGET: $200K-PLUS
Over nine months, Kelvin transformed this space into the bright and airy home it is today for a family of four. He added a third storey and made the stairs – the backbone of the home – a focal point. The main staircase houses a spectacular bookcase that's three-and-a-half storeys high, with the family's beloved books displayed on open shelves so they can simply reach for them as they walk past. The other staircase is no less eye-catching. The sculptural curve leads everyone to the roof, where the family can entertain and relax.
SPACE SENSE STUDIO
Established in 2003, Space Sense Studio is a boutique interior design fir m founded by Kelvin Teo. Practicality counts alongside creativity in his designs, so clients can expect thoughtful layouts and space planning.
CREATIVE DIRECTOR 
Kelvin Teo
Contact
11 Jalan Wangi
Tel: 8200-8777
www.spacesensestudio.com.sg
ONE-BEDROOM DUPLEX CONDO IN TANJONG RHU 
BUDGET: $80K
Natural materials like wood, leather, and stone dominate this home, which is made cosy and intimate by a dark colour palette. As space was a concern, Kelvin created a loft extension for a study area and plenty of concealed storage in unexpected areas such as behind the vertical garden. Inside, a double-storey stone wall feature draws the eye upwards and enhances the height of the space. 
2-BEDROOM CONDO APARTMENT IN BUKIT BATOK
BUDGET: $130K
Kelvin created an airy, light-filled loft according to the homeowner's specifications, and used white to visually expand the space. The use of translucent elements, like the Kartell Ghost chairs, allows the natural light in the room to pass through, while statement pieces like the iconic Marc Newson chair focus the eye and create a talking point. For texture, he used different materials for the surfaces, like an epoxy floor instead of conventional tiles or vinyl.
THREE-D CONCEPTWERKE
Be it a home or commercial space, Three-D Conceptwerke seeks to seamlessly integrate design into the daily lives of its occupants. Interested in edgy interior architecture, the team constantly pushes and rethinks design boundaries.
Contact
24 Eng Hoon Street
Tel: 6293-8001
www.three-d-conceptwerke.com
FOUR-ROOM HDB APARTMENT IN FERNVALE, SENGKANG 
BUDGET: $30K-$80K
A haven from the bustle of the neighbourhood, the black and white palette of this bachelor pad is easy on the eye and creates a relaxed atmosphere. It also provides a great backdrop for the homeowner's extensive book collection, with shelf upon tome-laden shelf the centrepiece of the living room. To ensure the home remained spacious and visually uncluttered, the walls between the living area and one of the bedrooms were removed. Three-D Conceptwerke also suggested a black epoxy flooring instead of tiling or screed, so that the black reflected the light back into the space.
FOUR-ROOM HDB APARTMENT IN BUKIT BATOK 
BUDGET: $80K-$130K
Three-D Conceptwerke worked hand-in-hand with the client to conceptualise this one-of-a-kind space. The walls of the dining and living area, painted in peacock blue, play off the warm tones of the furniture and contrast with the chocolate of the sofa and the standalone wooden cabinet from Grafrunkt. In the dining area, chairs upholstered in green leather and a visually arresting gold chandelier create a dramatic tableau reminiscent of a Great Gatsby film set.
FIVE-ROOM WALK-UP APARTMENT IN TIONG BAHRU
BUDGET: $80K-$130K 
The structure of this corner walk-up included a long hallway separating the bathroom from the other rooms of the house, so Three-D Conceptwerke utilised this space to fulfil the homeowner's dream of a walk-in closet. The design itself is a blend of modern-eclectic and rustic, reflecting the character of the iconic Tiong Bahru neighbourhood. A neon sign takes centre stage in the living area where the homeowners entertain, while an archway constructed with bricks lends a homely touch. To pay homage to the heritage of the apartment, Three-D Conceptwerke added nostalgic touches such as a column of ventilation blocks at the entrance, and a mosaic of glass blocks on the bathroom wall. 
W5A DESIGN
W5A Design was founded in 2014 by Patrick Siah and Barry Lim, both architecturally trained. Their vision: deliver unparalleled design solutions and distinctive, exceptional service.
MANAGING DIRECTOR
Patrick Siah (right)
PRINCIPAL DESIGNER
Barry Lim (centre)
DESIGNER 
Aslam (left)
Contact
279 Balestier Road #02-20
Tel: 9047-7462
www.w5a.com.sg
SEMI-DETACHED HOME IN SENGKANG
BUDGET: $80K-$130K
Minimalist and airy was the request for this home. To achieve this, it was redone from top to bottom, including the ceilings and electrical works, so all the trunking and pipes could be rerouted and concealed. The open-plan kitchen includes an island that extends into the dining space. W5A also introduced lots of neatly organised storage options. For example, veneer panels form a streamlined look that conceals a refrigerator and a larder beneath the staircase. 
FIVE-ROOM HDB APARTMENT IN BEDOK
BUDGET: $30K-$80K
W5A breathed new life into the kitchen of this 40-year old spot with a look that juxtaposes the contemporary monochrome of the cabinets with the retro floor tiles. During the process, W5A made meticulous adjustments to correct the old slanted walls and crooked beams, levelling them out to ensure they were straight. An overall cool colour palette was balanced with warm elements such as the standalone wooden cabinet. 
FIVE-BEDROOM CONDO APARTMENT IN JURONG
BUDGET: $30K-$80K
The oak timber laminate in the living area creates a brighter atmosphere, while the mood is distinctly more relaxed in the privacy of the bedrooms, thanks to the soothing, deeper tones of walnut laminate. The dark palette is echoed by the tinted glass of the wardrobe, which helps to partially conceal the items and reduce visual clutter. Pocket sliding panels were also incorporated between the master bedroom and study, providing privacy when needed while blending seamlessly into the wall when not in use.
WOLF WOOF
A boutique design studio founded by Car men Tang, Wolf Woof constantly pushes the envelope to redefine and breathe fresh air into interiors, transforming them into spaces with plenty of character that are as unique as their owners.
DESIGN DIRECTOR
Carmen Tang
Contact
#08-74 Midview City 22 Sin Ming Lane
Tel: 9842-1730
www.wolfwoof.com.sg
FOUR-ROOM HDB APARTMENT IN JURONG EAST  
BUDGET: $30K-$80K
Once rather dingy, this space underwent a major transformation to become the bright, contemporary home that it is today. Designed around the clients' lifestyle, it includes a walk-in wardrobe and plenty of room to display their cherished posters and toy figurines. While keeping the Scandinavian feel the clients wanted, Wolf Woo also injected more character with retro touches and black accents. Cinder blocks clad the entrance wall, serving as a dramatic visual highlight, while boldly-patterned soft furnishings echo the style. 
THREE-BEDROOM CONDO APARTMENT IN UPPER SERANGOON
BUDGE: $30K-$80K
Wolf Woof went above and beyond the design brief by adding punches of playfulness and character to this Scandi-styled abode. The TV sits within a retro TV box while cabinets feature artificial greenery and wooden birds just inside the handles. This tongue-in-cheek approach is reflected throughout the space. Even the his-and-hers wardrobes are jazzed up with decals.
THREE-BEDROOM CONDO APARTMENT IN UPPER SERANGOON
BUDGET: $30K-$80K
Wolf Woof worked well to incorporate the feng shui requirements from the geomancer while creating a stylish home centred around a black and maple palette. They included making the entrance stand out from the rest of the house, so Wolf Woof created a shoe cabinet with black wood-grain laminate, contrasting maple sides and round handles – a definite talking point for guests. The home also features quirky typographic installations in the form of life tips, enlivening the space with their tongue-in-cheek style.
SILVER CATEGORY
ARCHITOLOGY INTERIORS
Architology delivers creative prowess and dynamism in every project it undertakes. Whether it's a small apartment or a large house, the staff pride themselves on being rigorous in their approach, seeing to each client's needs and preferences.
MANAGING DIRECTOR
Bu Shukun
DESIGN STYLE 
Architology is known for its thoughtful spatial planning in both residential and commercial spaces. They create spaces that suit the owner's needs perfectly, be it an area for entertaining or a place with plenty of hidden storage. Their mindful use of colours and materials creates clean-lined apartments that are both understated and luxurious. 
TYPES OF PROJECTS: Residential, Commercial
KNOWN FOR
Commercial designs for Fort Canning Hotel, Millenia Walk Art Gallery, and Madmen Bar
DWELL INTERIOR
Founded in 2005, Dwell is a full-service interior design studio. Aside from its versatility in handling different projects, Dwell is known for delivering exceptional quality, craftsmanship, competitive costing, and timely completion.
CREATIVE DIRECTOR
Ed Ong (not pictured)
SENIOR DESIGNER
Suwei (right)
INTERIOR DESIGNER
Sherman (left)
DESIGN STYLE 
Dwell designs spaces that are pragmatic and cater to the homeowner's personality and lifestyle, taking into consideration the user experience and flow of the space. They work closely with a dedicated team of craftsmen and suppliers to ensure top quality. 
TYPES OF PROJECTS: Residential, Commercial
KNOWN FOR
Residences in The Sail and Leedon ResidenceCommercial designs for Blum Showroom
KNQ ASSOCIATES
Since 2004, the boutique interior design studio has been passionate about transforming living spaces into "emotive" homes that "engage the owners on a much deeper level". For homes looking for a major makeover, KNQ Associates is focused on turning them into stylish and cosy abodes.
PRINCIPAL DESIGNERS 
Stanley Tham (pictured)
Kusnin Tan
DESIGN STYLE 
KNQ Associates prides itself on complete makeovers of living spaces, which they call Home Rejuvenation. Working with homeowners' budgets, they create chic homes full of personality, be it a sophisticated New York-style apartment or a spacious botanical-themed house. 
TYPES OF PROJECTS: Residential, Commercial
KNOWN FOR
Residences in Vertex and Ocean Drive
METAPHOR STUDIO
Founded by two architecture graduates, Metaphor Studio has expanded to include more interior designers with an architectural background. T he team is inspired by Asian design elements, and boasts a strong portfolio that includes residential and hospitality projects in South-east Asia.
PRINCIPAL DESIGNER  
Angela Tantry
DESIGN STYLE 
Metaphor creates airy, spacious homes with distinct Asian influences. Organic elements feature strongly in their work, injecting life and colour into the spaces. They also pay close attention to detail, ensuring that the homes reflect nuances of the owners' personality. 
TYPES OF P ROJECTS: Residential, Commercial
KNOWN FOR
Residences in Paterson, Pinnacle, and Trillium Commercial designs for Avis
ONE-STOP CONCEPT
Nor man Yeo has been in the interior design industry for over two decades. He prefers to keep his firm small to focus on what he does best: engaging personally with his clients (many of whom include local celebrities and socialites) and designing with passion.
PRINCIPAL DESIGNER
Norman Yeo
DESIGN STYLE 
Designer to the stars, One-Stop Concept is renowned for creating palatial homes that celebrate timeless style. As their name suggests, they are an all-encompassing solution for homeowners' needs, from carpentry to detailing. Their comprehensive services help them to ensure top quality in all that they deliver. 
TYPES OF PROJECTS: Residential, Commercial
KNOWN FOR
Residences in St. Regis Residences and Sentosa Ocean Front Commercial designs for Palais Renaissance
SPACE MATTERS
T his interior design firm is helmed by founder Ken Lee, who combines architectural and design flair in all his projects. He's not one to subscribe to a particular style, and his forte is in creating unique and personalised home interiors that bring out the personality of the client.
PRINCIPAL DESIGNER
Ken Lee
DESIGN STYLE 
Space Matters specialises in creating unique homes that are tailored to the owners' needs and personality. They work with a variety of budgets and client preferences to transform interiors from bland to breathtaking, and their careful consideration of the architectural aspect enables them to utilise space well. 
TYPES OF P ROJECTS: Residential, Commercial
KNOWN FOR
Commercial designs for Antoinette, Pique Niche, and Delifrance
UP STAIRS_
UPSTAIRS_ delights in pushing boundaries in traditional craft and material innovation for all its projects. Under the leadership of architecturally-trained Dennis Cheok, the spatial design studio has garnered regional and inter national accolades for its bespoke approach.
PRINCIPAL DESIGNER AND CREATIVE DIRECTOR
Dennis Cheok (middle)
CHIEF FINANCIAL OFFICER
Bertrand Koh (left)
CHIEF EXECUTIVE OFFICER
Eric Lee (right) 
DESIGN STYLE 
Known for their award-winning designs, Upstairs_ creates lush, dramatic spaces that are works of art. Whether it's a room masquerading as a giant wooden crate in the centre of the apartment, or a sprawling home featuring 100-year-old clay bricks reclaimed from demolished Chinese villages, their style definitely creates a talking point. 
TYPES OF PROJECTS:
Residential, Commercial
KNOWN FOR
Commercial designs for The Belmont Clubhouse, Dylan & Son, and N Tyler Flagship
WEE STUDIO
Wee Studio, established in 2011, has built a diversified portfolio ranging from residentail homes to commercial and retail spaces locally and abroad. T he team prefers minimalist design and living, and prides themselves on a holistic interior design experience, from conceptualisation to completion.
PRINCIPAL DESIGNER  
Yeo See Wee (left)
PRINCIPAL DESIGNER 
JJ Yip (right)
DESIGN STYLE 
Clean lines dominate Wee Studio's work, creating spacious minimalist homes that offer sanctuary to their owners. Their mindful delineation of spaces allows them to create areas of work and play that can be separated for privacy, or opened up for better flow.
TYPES OF PROJECTS: Residential, Commercial
KNOWN FOR
Residences in Marina One Residences and Duo Residences Commercial designs for Greendot@Northpoint