With Lucyna Kolodziejska's design flair, almost every spot in this Polish home carries memories and has become a place worthy of its owners, as LYNN TAN discovers.
Vignettes of the intimate spaces within the abode, filled with plenty of detail.
Located in the Polish city of Gdynia, an important seaport on the south coast of the Baltic Sea, this home comprising two storeys and a basement is the residence of a Polish couple, who own an IT company, and their teenage daughter. The 3,606sqf property is situated in a very exclusive residential neighbourhood close to the city centre and is also near a forested area.
The project got off to a very good start as the homeowners approached interior architect Lucyna Kolodziejska very early on in the project. "We had an optimum amount of time to design the interior, and we were able to agree on elements such as the colours of the facade and where the roof windows should be located, for instance," says Lucyna.
"I also learnt about the clients' amazing interests, what they do for leisure and the places that they like to travel to," she adds.
Through these initial interactions, Lucyna was able to pin down the interior design style for the home. "We knew that the house would be classic, stylish and elegant. I drew inspiration from the now fashionable, then not very popular, Hamptons style," she shares.
As a nod towards the home's location, Lucyna contrasted the Hamptons style – typically characterised by a white or neutral palette, complemented by natural materials such as timber, and accents of oceaninspired blue or turquoise – with dark or even black elements to align it with its Baltic identity. The result is a home that has a refined yet relaxed seaside ambience, and an air of sophistication befitting an interior style inspired by the summer playground of wealthy New Yorkers, with its beaches, bars, restaurants and luxury vacation homes.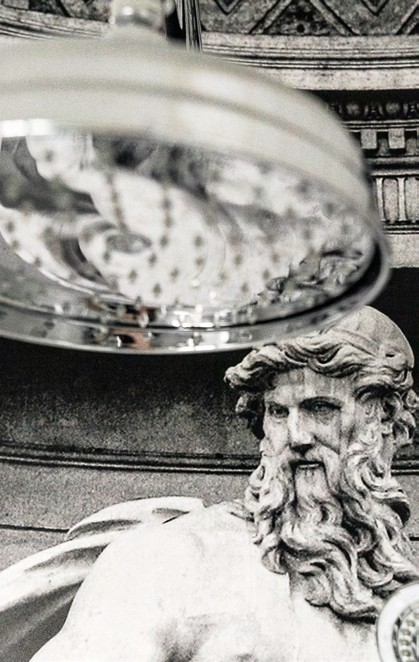 One of the highlights of the home is a music room that was specially designed to cater to the clients' love for music. They own many pieces of high-end audio equipment, as well as an extensive collection of CDs, vinyls and concert edition collectibles, so Lucyna wanted them to have a separate room to indulge in their passion for music.
As for the family's holiday memorabilia from almost every continent, apart from Antarctica, she approached them in the same methodological way she did their music collection. "I made an inventory and arranged them thematically, so you have gorgeous Venetian masks decorating the hallway on the second storey and a chess corner in another room dedicated to India, for example," she elaborates.
Most of the light fixtures in the home are from Delightfull and they were carefully selected to complement the interior style that is a mix of classic and modern. The Galliano wall lamp, in particular, is one of Lucyna's favourites.
"I really love the lamp and I use it often in my projects. It has a modern exterior while the gold finish on the inside makes it more classic," she explains.
The project took two years, one of the longest that she has worked on. It is also one of the most memorable because there were many positive aspects. "I had great rapport with the client and the project has a nice connection between classical style and modern design. It is a big house with a big heart. That is what I like most about it," she says. 
They own many pieces of high-end audio equipment, as well as an extensive collection of CDs, vinyls and concert edition collectibles.