DESIGN NEWS, PLACES TO VISIT, THINGS TO BUY
STELLAR SENSATION
Luxury lighting brand Lasvit continues to push the boundaries of Bohemian artisanal glass-making with its 2020 collection. Inspired by the beauty of nature, the collection comprises five series designed in collaboration with international creatives. Czech designer Luka Novak's Spacey was created using a centuries-old glass-making technique called lithyalin, which yields a marbled pattern akin to precious stones. The Spacey family comprises two variations - Eclipse (above) and Supermoon (right), each features three perfect spheres and a unique marbling finish to turn your home into a scene of planetary wonders.
Spacey is available to order from W. Atelier for $4,060 (Supermoon) and $4,400(Eclipse). Visit
www
.
watelier
.
com
for more information.
TRENDING
RETHINK RATTAN
Traditionally associated with outdoor furniture, rattan has made its way indoors. With a slew of chic options today, it lends a casual, organic vibe and is perfect for a variety of interiors, whether you're gunning for a Hamptons-style feel or a contemporary resort-inspired space.
1. Bungalow Headboard, from $395, from Island Living by Cocoon.
2. Bistro Rattan Sideboard, $1,299, from Born In Colour.
3. Art Deco Cane Tray with Lid (medium), $59, from Scene Shang.
4. The Botanist Cane Chair, $630, from Scene Shang.
FABULOUS LIVING
With its thin glass top and sculptural base, the Skorpio table from Cattelan Italia is both a functional piece of furniture and an artwork. This year, the brand has updated the Skorpio family with new top finishes called Keramik with exquisite marbled patterns on glass surfaces. Love Carrara marble? Go for Breccia, featuring a white base with dark veins.
Available from www.xzqt.com.sg.Price upon request.
WOODEN CROCKERY
Billing itself as Singapore's first online store specialising in wooden crockery exquisitely hand-crafted by artisans, Kraton Home seeks to bring the beauty and warmth of Indonesian craftsmanship at affordable prices into homes. Objects range from bowls, large platter trays and utensils to plates made with ethically sourced wood from Java to vibrant handwoven rugs from the village of Troso in Central Java.
Prices range from $8 to $60 for bowls and $3 to $20 for cutlery and utensils. Visit www.kratonhome.com.
TAKE FLIGHT
To celebrate the 20th anniversary of its creation, British manufacturer Very Good & Proper (VG&P) has reissued its iconic Pigeon Light. Originally created in 2000 by company director and designer Ed Carpenter, it has been given a modern revamp. Eschewing the original Perspex shell on a wooden perch, attached to a ready-made clothes peg foot, the new Pigeon Light is crafted from fully recyclable, high-quality plastic with a wooden European FSC beech base and a powder-coated metal weight stand. Available in both black and white, it can stand freely or be mounted on the wall.
The Pigeon Light is priced £95 (S$166) and available exclusively on the VG&P website, www. verygoodandproper.shop.
ARTIST OF THE MONTH 
WU QIONG
Both a sculptor and a painter, 39-year-old Beijingbased artist Wu Qiong creates touching and amusing artworks that draw on his personal experiences, childhood and memorable anecdotes. Not bound by a fixed narrative, they let viewers form an emotional bond with an artwork based on their experiences. Wu Qiong held his first solo exhibition at Ode to Art gallery, which was showcased on its digital platform.
Visit www.odetoart.com to see more of his works.
ALL CLEAN
Have your clothes and accessories sanitised without a dry-cleaning cycle or wash with the Ozone Cabinet by Ludovica Mascheroni. Controlled via a touchscreen panel, the wardrobe solution uses ozone to eliminate 99 per cent of the bacteria on your clothes in a few minutes. It comes with double or single door with material options ranging from Canaletto walnut to leather.
For more information, visit www.ludovicamascheroni.eu.
TILE OF THE MONTH
OPTICAL ILLUSION
Geometric shapes have made a strong return and the Rhombus tile collection by Realonda is one that has sparked our interest. Make it the star of your bathroom, create an eye-catching backsplash in your kitchen, concoct a bright, happy space with a multitude of colours or go for a crisp interior with a black and white palette.
The Rhombus tile collection retails at Hafary, 105 Eunos Avenue 3; www.hafary.com.sg.
EXHIBITION OF THE MONTH
14-days Stay-Home Notice
WHAT Online exhibition
WHEN Now till Aug 26, 2020
WHERE www.artsy.net/show/instinc-14-days-stay-home-notice
Local artist-run institution INSTINC presents online exhibition 14-days Stay Home Notice, bringing together the emotional perspectives, stories, and explorations of 14 isolated local and international artists. The artworks, created in their home studios, touch on the themes of physical isolation, solidarity during the current crisis and the impact of Covid-19. Twenty-five per cent of the sales proceeds will be donated to the Covid-19 Solidarity Response Fund for the World Health Organisation.
PROTECT WITH PAINT
Not just for prettying up your interiors, wall paint now plays the role of keeping your home safe, too. We're talking Singapore-based start-up Gush's air-purifying Cair paint. The plant-based formula has minimal chemical additives, is free of VOCs and cleans the air by breaking down indoor pollutants into harmless substances with a proprietary catalyst. It is also odourless, non-toxic, has anti-moulding and anti-bacterial properties, and regulates indoor humidity. According to the brand, tests have shown that the paint retains its air-purifying abilities for at least five to eight years.
Cair interior paint retails from $25 for a litre at www.gowithgush.com or the Gush store at #01-35 Nordcom II, 2 Gambas Crescent
EDITOR'S CHOICE
WEAR WHATEVER
This prolonged period of working from home and travel restrictions may have made you reconsider your wardrobe. Some days, a pair of slacks may even be optional because nobody will see what you're wearing beyond what's visible on the screen anyway. Japanese design studio Whatever Inc, in collaboration with fashion brand Lokitho, has designed WFH Jammies, a shirt that is a respectable button-down from the chest up that continues into comfy jersey jammies for everywhere else, "making it a stress-free solution for wake-up presentations and client meetings before bedtime," says the studio.
Available in several neutral colourways, WFH Jammies was initially a Kickstarter project that will soon be available to order from www.whatever.co. Prices start from ¥9,000 (S$117.23, worldwide shipping included).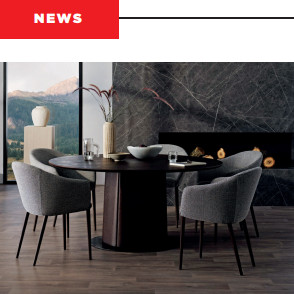 Sleek and Contemporary
Fans of Australian design brand King Living can now look forward to three new highly anticipated products in its reopened Kallang showroom. The modular Hugo sofa offers flexibility and smart storage solutions. The slim legs of the Bellaire sofa create the illusion of hovering above the ground while the Issho Dining Table's sculptural aesthetic adds elegance to any dining room. These new products can also be viewed in King Living's virtual showroom.
For more information, visit www.kingliving.com.sg.
Technology Meets Art
LG Signature has teamed up with rising digital artists Santi Zoraidez, Peter Tarka and Andreas Wannerstedt to reinterpret the elegance of its luxury products in their visual language that should echo the brand's core philosophy of "Art Inspires Technology, Technology Completes Art". Each has produced exclusive artworks, from immersive illustrations with realistic interiors to digitally generated revolving rings that represent the two drums of the LG Signature Washing Machine.
Visit www.lgsignature.com to view the artworks.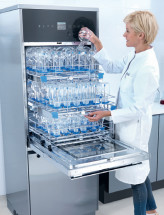 Triple Win
German brand Miele has won the Red Dot Award for Product Design 2020 for three of its products: the full-surface Induction Hob KM 7897 FL, the SlimLine Professional freestanding lab washers and a confidential, soon-to-be launched appliance.
Visit www.miele.com.sg to find out more.
Local Sensibilities
A brainchild of designer David Tham of StudioNorm and local furniture brand Starchie, The Naughton Table is a sleek coffee table that can be expanded to twice its size to suit compact spaces. The squircle table recently won an award in the home furniture category from Taiwan's prestigious Golden Pin Design Award and one more internationally recognised design from Singapore.
The Naughton Table retails at $599 at www.starchie.net.
GOING THE DISTANCE
Practise safe distancing even during home gatherings with The Distance by Blafink, a modular seating element that blends the trendy and the practical. Each comes with a curved movable divider and side table-cum-stool. The upholstery has also been reinforced with a treatment that's ISO-certified in the UK for its ability to reduce more than 90 per cent of viruses, so you can sit back with peace of mind.
The Distance retails from $3,090 at www.blafink.com.
CITRUS RUSH
Nothing instantly uplifts your mood like the crisp smell of citrus. And if you've been imagining what Aesop could do with citrus, you're in for a treat. The skincare brand's new Citrus Melange Body Cleanser features a purifying blend of essential oils, including petitgrain, jasmine and lemon, and grapefruit rind, that presents a citrusy sensory pleasure like no other. This low-foaming cleanser is suitable for all skin types and ideal for everyday use.
Available in two sizes,500ml ($60 for pump bottle and $59 for the screwcap) and 100ml ($23 for flip-top cap bottle), at Aesop stores and www.aesop.com.
SUNNY TIME
Want to clean an area without hassle? The Sunwave Light Bar Steriliser by We The People is a quick, fuss-free solution for eliminating germs and mould. Unlike other sterilisers which use UV light, the Sunwave uses a safe patented blend of violet blue LEDs and infrared rays. It's perfect in the bathroom, near the shoe cabinet, above your drying rack and anywhere else that needs a quick and thorough disinfection.
POSSIBILITY OF LIGHT
On the lookout for intelligent lighting? Get the Nanoleaf Shapes – Hexagons modular LED light panels that double as wall art. They can be assembled individually to form a myriad designs. They are touch-sensitive and react to sound or music with smooth colour transitions. Control them via the app or remote or voice control with Google Assistant, Amazon Alexa and Apple Homekit.
Retails from $229 at Epicentre Ion Orchard, iStudio Paragon and Synced by District Plaza Singapura, as well as at Lazada, Shopee and Amazon.
text MICHELLE LEE, MELODY BAY AND ASIH JENIE