Featuring a wide range of indoor greenery products, Noah Garden Centre is a great place to stop by if you're searching for gifts or stylish additions to your home.
Going Green
Featuring a wide range of indoor greenery products, Noah Garden Centre is a great place to stop by if you're searching for gifts or stylish additions to your home. Exclusive to the Noah Garden Centre store is the Hydroponic Bonsai series, which is perfect for your home or office, and requires watering only once every two to three months.
THE HYDROPONIC BONSAI SERIES IS A VAILABLE AT NO AH GARDEN CENTRE RET AIL STORE, #01-32 DO WNTOWN GALLERY, PRICES RANGE FROM $20 TO $400. CALL 8374-6156 OR VISIT
WWW.NOAHGARDENCENTRE.COM.SG.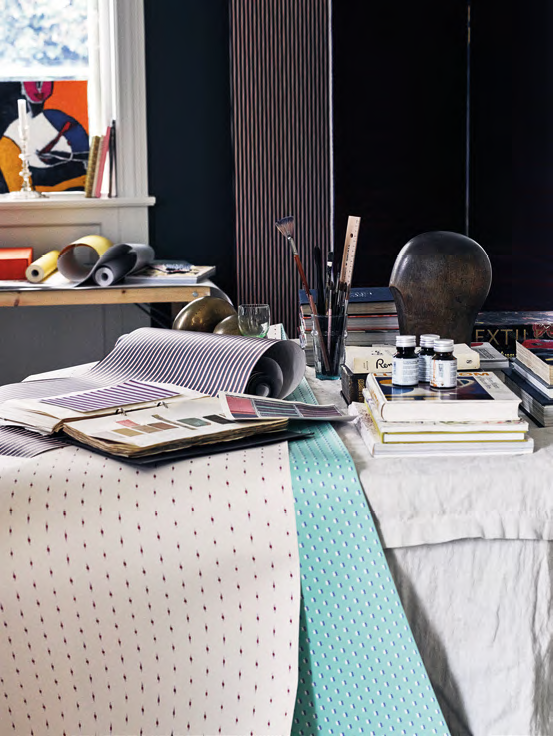 Wonder Wall
Tapet Cafe has released a new collection of three wallpapers, Painted Papers, designed by Helene Blanche, a textile designer and the creative director at Tapet Cafe. The Cubism pattern is an elegant and beautifully articulated design that will give your space a playful and lively vibe. It is available in shades such as Peacock, Charcoal and Blue Porcelain (pictured).
TAPET C AFE'S PAINTED PAPERS, PRICE A VAILABLE UPON REQUEST, ARE 
 AVAILABLE AT TATUM SINGAPORE, 29B KEONG SAIK ROAD. VISIT WWW.TATUMCOMPANY.COM.
BOOK REVIEW
TITLE Feng Shui & Chinese Astrology for 2018
PUBLISHER Mastery Academy of Chinese Metaphysics
PRICE $19 each
REVIEW The effect of fengshui on houses is fascinating – it can bring harmony and balance to your surroundings, as well as enhance your life.
Meanwhile, reading up on Chinese astrology prepares you for what lies ahead. This 548-page series is filled with detailed tips on not only what to expect in 2018, but also what you can do to improve your life.
Feng Shui for 2018 also includes a comprehensive 12-month room-by-room guide, while Chinesent-sizeAstrology for 2018 covers an elaborate forecast for the 12 animal signs, as well as a personalised forecast based on your date of birth. Written by renowned fengshui consultant Joey Yap, who is known for his easy-to-understand teaching methods, the series is suitable for fengshui newbies and experts alike.
Cubed Up
The wireless, high-fidelity loudspeaker La Boite Concept Cube is both powerful and compact. Its elegant coffee-table design allows for the loudspeaker to blend seamlessly into home interiors, while its aluminium cone speakers provide incomparable sound stability.
LA BOITE CONCEPT'S CUBE LOUDSPEAKER, PRICE UNAVAILABLE, CAN BE FOUND AT LISTED DISTRIBUT ORS.FIND OUT MORE AT
WWW.LABOITECONCEPT.COM.
Smells Fresh
A good scent is what completes gorgeous interiors, so it is no surprise that Hong Kong-based architect Andre Fu has launched his first scented candle, Onyx. The blend of olive verbena and cedar wood, which has a fragrance concentration of 8 per cent, comes in a glass container with bronze inlay. Onyx is part of AFL (Andre Fu Living), the architect's lifestyle brand that celebrates modern artisanship. Other products include the Tactile Lighting collection, which is a collaboration with Lasvit.
THE ONYX SCENTED CANDLE IS A VAILABLE AT ANDAZ SINGAPORE, THE UPPER HOUSE HOTEL HONG KONG, AND
OUR PICKS Red accessories
photo 123RF.COM
Red Hot
Look no further for an appliance that allows you to cook faster, with less fat, salt and calories. Hitachi's latest Superheated steam microwave oven is designed with five cooking methods — microwave, oven, steam, bake and superheated steam, and grill — and an Auto Bakery mode. When these methods are combined, the result is better texture and flavours in your food. Fat and salt is removed when the microwave oven reheats food using 100 deg C steam, which penetrates meats and melts fat. This appliance also comes with 232 recipes!
Rise Above The Rest
Designed by Italian designer Paola Navone, the Inout 629 daybed is yet another unique piece added to Italian furniture brand Gervasoni's collection. Made of handwoven Kubu rattan, it has an organic look that complements the rounded form. Perfect for intimate gatherings in private gardens or balconies, this piece comes with removable, washable covers and can withstand outdoor environments. For a rustic touch to your home, it's a great sofa option in the living room, too!
The Bean Shop
Get your coffee bean fix at Singapore's first coffee bean retail store, The Bean Shop! Situated at the heart of Singapore, the coffee bean-only store carries a carefully curated selection of roasted coffee beans from over 20 popular cafes and roasters around the world, including Melbourne's Market Lane Coffee, Canberra's Ona Coffee and Tokyo's Fuglen Coffee. Have we also mentioned how picturesque the store is?
VISIT THE BEAN SHOP BY CAFEBOND.COM AT #01-52 MILLENIA WALK. CHECK OUT
WWW.CAFEBOND.COM.
EXHIBITION
Lands cape's Legacies: Visualizing A lam Minangkabau Jan 25 to Feb 18 #03-04 Gajah Gallery, 39 Keppel Road Admission is free.
Featuring works by 15 artists from West Sumatra, Landscape's Legacies: Visualizing Alam Minangkabau is a contemporary reading of Minangkabau visual art. Moving beyond standard definitions of landscape, the exhibition will showcase a fresh relationship to the natural world. Visit www.gajahgallery.com for more details.
text YOUNG LIM, DOMENICA TAN, ELIZA HAMIZAH & MARIE QUEK