Sacha Walckhoff, creative director of Maison Christian Lacroix, talks to KARINE MONIE about the inspiration behind the bold look of the apartment he shares with partner Pascal.
The apartment's architectural shell dates back to the 1840s. The eclectic artworks and furniture are from around the world. 
We often associate Paris with classical style. Nestled in an 1840s building in the 10th arrondissement, this 1,453 sq ft apartment could have been a testament to that notion if it weren't for the very different story that unfolds inside. Designer and decorator Sacha Walckhoff, creative director of Maison Christian Lacroix since 2010, opens the doors to the home he shares with partner Pascal Ferrero, an internationally known wig and hair designer for the film and theatre industry.
"We moved in just after a famous young French actor left. He'd done such a great job that we did not have much to do!" confesses Sacha. "We both work from home a lot and wanted a place where we could also invite clients for a drink so we could share our ideas and style."
The entrance immediately reveals the unique ambience of this creative place where audacity rules. The dark vestibule, painted in Railings – a soft black with blue undertones by Farrow & Ball – contrasts with the rest of the bright rooms.
The space features an antique stove in ceramic and brass from the end of the 19th century, a Michael Anastassiades IC Ceiling Light for Flos and a pair of bronze Pulcinella wall lamps made in 1987 for the Lacroix Haute Couture Salons by Elizabeth Garouste and Mattia Bonetti. Other statement pieces include a folding screen embellished with 17th-century Dutch embossed leather panels that was designed by Sacha and manufactured by Karen Mourra, as well as a Fur Play armchair in brass and steel, another Sacha creation in collaboration with French ornamental metalworking firm Pouenat for Galerie Gosserez. 
Various knickknacks are unified by the monochromatic colour palette.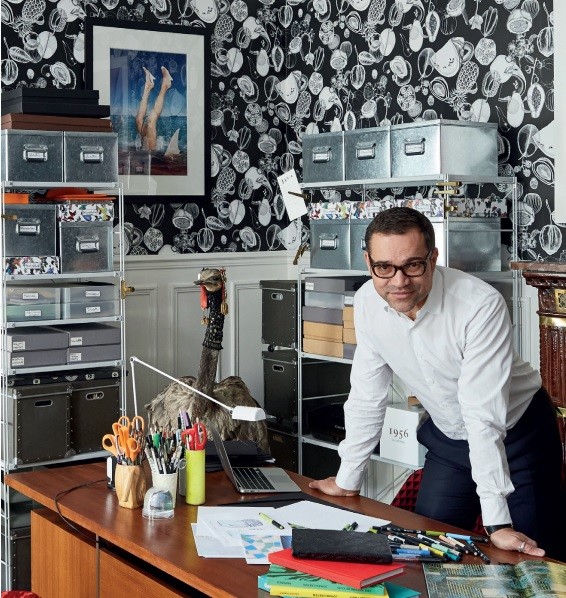 Sacha in his home office. 
The mirrored finish of the stools emboldens the graphic black and white curtains, wallpaper and rug. 
The dining room juxtaposes minimalist pieces, like Michael Anastassiades' IC Ceiling Light for Flos, with maximalist ones such as the rug and taxidermied zebra. 
"Pieces of art and design are placed here and there and might be moved from time to time to keep the energy vivid," Sacha says. "Moving furniture is great therapy!"
The square living room, which has 19th-century architectural details and a French fireplace in Carrara marble, features a mix and match of antiques, modernist and contemporary pieces of art and designs that pop against the white background.
A Knotted Chair by Marcel Wanders, a vintage Model 498 beige tweed armchair by Pierre Paulin, a burnt oak and copper console table by Valentin Loellmann for Galerie Gosserez, a Janette Laverriere brass floor lamp from the late 1940s, a steel bench – an original piece made for Air France's first-class salons in the 1970s – by Maria Pergay, a three-legged Charlotte Perriand chair, Mathieu Mategot 1950s side tables and shelves, and a green chair by Maarten Baas are some of the many furniture pieces in Sacha and Pascal's collection. "This contrasting mix is our signature and typical of the French decor tradition that goes from Madeleine Castaing to Henri Samuel and even Jacques Grange," Sacha notes.
The designer also custom-made some items, like the Riviera rug and the sofa – a unique piece using Maison Christian Lacroix fabric that he designed with Rodrigo Almeida. Several artworks adorn the walls and corners of the room, including ceramics by Picasso and Marlene Mocquet, as well as photographs by Thierry Fontaine, Mohamed Bourouissa and Veronique Ellena, among others. 
The bedroom, which Sacha and Pascal say reminds them of being in a library, is also not short of statement-making pieces. 
The bathroom's soft green – Cooking Apple Green from Farrow & Ball – references a colour popular in 18th-century boudoirs. 
The surprises continue in the dining room. A taxidermied zebra from the Paul Bert Serpette market in Paris sits on a trolley. Elsewhere, you'll find Agua Parati wallpaper, black and white striped Cabanon curtains and a Pantigre rug by Christian Lacroix Designers Guild. "Everything is black and white with splashes of red and blue," says Sacha.
Vintage pieces such as the large table with ebony inlays by Hans Bellmann and the black table on wheels by Jacques Adnet create a dialogue with the contemporary Aim ceiling lights by Ronan & Erwan Bouroullec for Flos and a blue Fan sculpture by Maarten Baas.
Facing the dining room, the studio has a desk by French designer Alain Richard, a red chair by Christian Lacroix Designers Guild, and One to Three side tables by Sacha Walckhoff for Verreum. "Surrounded by shelves and archive boxes, the studio can be extended into the dining room table for big meetings and projects," explains Sacha.
In the bedroom, the couple wanted the feeling of being in a library. "We both love to spend hours in bed while in the middle of our books and documentation, looking for inspiration and exchanging ideas," he adds.
A light green hue – a nod to 18th-century boudoirs – was chosen for the bathroom. "Pascal was specific about this. We finally found this Cooking Apple Green at Farrow & Ball," says Sacha. "It is an amazing colour to start the day with. The bathroom is facing south, so the colour is truly radiant. Its style is rather simple but sophisticated, like the easy luxury of small Swedish castles."
Conceptualised as a multifunctional space, the apartment highlights Sacha and Pascal's extensive collection of art and design objects that are "displayed in our way", according to the designer. "It is eclectic and unique but with a strong Parisian flavour and a little bit of humour." 
A wall of curiosities – ranging from a vintage anatomical sculpture to artisanal ceramics – awaits visitors. 
The herringbone timber floor, antique sideboard and screen add a golden hue to this corridor. 
photos FRANCIS AMIAND