The latest restaurant developed by design maven Andre Fu of AFSO.
The bevelled marble bar was carved from emerald Verde marble, originally from Brazil. 
Picture this: Louise is an eccentric French expatriate living in Hong Kong. She loves throwing gorgeous dinner parties and serving her guests the best food she can find. Sounds great? Hate to break it to you, but Louise is a fictional character. You can, however, still experience such a dinner party at Louise by Julien Royer. The Hong Kong restaurant came to be when Andre Fu of AFSO was tasked with designing it for Michelin-starred chef Julien Royer. Imaginatively conceptualised as a private home, it is the perfect stage for chef Julien's take on French comfort food.
Housed in a two-storeyed heritage property in the gardens of the former Police Married Quarters in Aberdeen Street, it has two main rooms: The Parlour with a long Brazilian marble bar, original Thonet chairs and rattan furniture, and The Drawing Room, a private space with tropical paradise-themed wallcovering and a sunny yellow palette.
The location, the vibrant tropical hues and the glam classical French interiors give it a nostalgic, intimate atmosphere. A collection of antiquities and art — all chosen to reflect "Louise's" quirky travel finds — also fill the restaurant. This elaborate design and concept may be a departure from Andre Fu's usually minimalist style, but we are so loving it. 
Visit www.louise.hk for more information. 
GOOD TO KNOW
Chef Julien co-owns Odette in Singapore, which topped the list of Asia's 50 Best Restaurants for 2019. 
Natural light streams through the picture windows overlooking the restaurant's tropical garden.
The Parlour features grey bespoke banquettes, antique sconces, and a modern ceiling.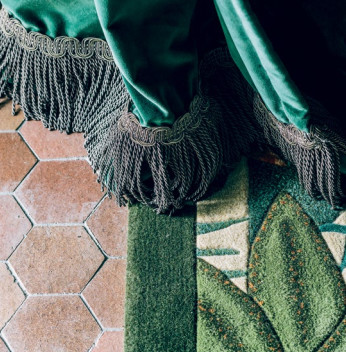 The tropical-printed carpet was a bespoke AFSO design.
This Cole & Son wallpaper creates a moody ambience. 
TEXT ELIZA HAMIZAH