Speak your style with these clever looks.
1 TEAL WE MEET
Would an all-black kitchen be too intense for you? Try introducing darker shades of other colours. A deep hue of teal works best with colours like black, deep blue and charcoal grey. The Alusplash backsplash is made of an aluminium substrate that presents a smooth, grout-free surface for ease of maintenance.
Available at Hafele.
2 LINE FRENZY
The human eye is drawn to patterns, and geometric designs like chevron patterns make a striking backsplash. Laying out the tiles so that the grout lines match softens the sharp edges.
Available at Rice.
3 DESERT STORM
With grey touted to be on the way out, sandy hues are set to take over interior trends. The Sandy Steps backsplash from Alusplash brings warmth and crispness to kitchens and is versatile enough to work with most colours.
Available at Hafele.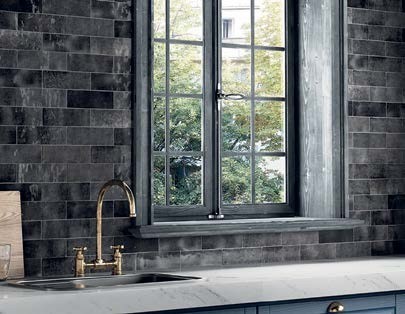 4 GLOSS IT OVER
While subway tiles continue to be loved, they are taking on a moody feel. This is in line with the trend towards dark kitchens. The variations on the Artisan Graphite tiles by Equipe Ceramicas bring visual texture that would make its smoky hues work even in compact kitchens.
Available at Hafary.
5 TEMPORARY EFFECT
If you're afraid that you will tire of the subway tile look quickly, consider these laminate panels that depict subway tiles! Installation is quick and, if your taste changes, replacing them is just as easy.
Available at Greenlam.
6 GET GRAPHIC
There's nothing like graphic patterns to give a space a youthful vibe. The Puzzle tiles by Mutina let you do just that – with its blocky geometric look. The matte finish gives them a retro air. Place them randomly for a dynamic space, or intersperse them with plain tiles. These are perfect for zoning areas too.
Available at Rice.
7 WONDER OF WOOD
The popularity of wood looks extends beyond panels to wood-like tiles as well, and they are being used on walls and backsplashes. These Chic Wood porcelain tiles from Panaria also feature an antibacterial shield that eliminates up to 99.9 per cent of surface bacteria.
Available at Rice.
8 JOIN THE NAVY
Blue is an arresting colour that will continue to steal the hearts of homeowners and designers, and kitchens in dark blue hues or navy will definitely make a statement. To rock this colour, pick appliances in bright colours like red or yellow, but go for cabinets in neutral colours like white or grey.
Available at Hafary.
9  WOOD PLANE
Made of layers of kraft paper treated with resins, Kompacpanel is designed to require minimal care and be capable of withstanding wet or high steam environments. With wood looks set to remain a big trend, Kompacplus' wood-like panels let you opt for this style yet enjoy ease of maintenance, with its hardwearing surface and minimal joint lines.
10 BRING IN WARMTH
As the cold industrial kitchen loses its allure, designers are looking to details that are inspired by traditional and classic kitchens. Consider stone-like quartz surfaces with a highly polished look like the Dekton Xgloss, for contrast.
Available at Cosentino.
11 ANGLED SOLUTION
Diagonal lines are great to visually expand the look of a backsplash, because it draws the eye up and across the wall. For an extra boost, add contrasting colours.
Available at GF+A Global.
12 NOT THE REGULAR JOE
With patterns, you can create a sense of symmetry and order in a space. But why not shake things up with tiles that eschew repetition? Add an element of surprise to neutral colours like black, white or grey with a splash of vibrant colour like yellow, red or green to make your backsplash a focal point. The Tex tiles from Mutina do just that with their varying designs.
Available at Rice.
13 A LIVED-IN QUALITY
No other style speaks welcome more than the country look. The toneon-tone patterns on these Heritage tiles from Aleluia Ceramicas exude a sense of relaxation. The final look is up to your creativity.
Available at Hafary.
14 MATTE KIND OF MOSAIC
If a sense of harmony is what you are looking for, you can't go wrong with matte mosaic tiles. The Panaria Horizon tiles, available at Rice, carry delicate stone patterns and warm undertones. The result is an inviting ambience even in allgrey kitchens.
Available at Rice.
15 IT'S A TALL ORDER
One major trend to note? Tall backsplashes. Ideal for homeowners that require minimal or no storage overhead, the extra wall space gives you more room to explore standout backsplash ideas. For example, you can create a border around the tiles for extra pizzazz. The Dec Scozzese tiles by Novabell feature contrasting patterns that are vibrant for the kitchen.
Available at Hafary.
16 GEOMETRIC DANCE
It's hip to be square. Or triangle. The simplicity of geometric patterns has a strong appeal. And the use of geometric patterns continues to flourish in interiors, thanks to their versatility. The Brick Delta collection from Spanish brand Gayafores takes it up a notch with a mix of texture on each tile. The result is a gorgeous surface, whether from afar or up close.
Available at Hafary.
"USUALLY WE RECOMMEND A GLASS BACKSPLASH FOR A CLEAN LOOK AND MINIMAL JOINT LINES. SMOOTH AND GLOSSY TILES ARE EASIEST TO MAINTAIN IF YOU DO FREQUENT COOKING. "
– TERRI TAN, DESIGN DIRECTOR OF DESIGNWORX INTERIOR CONSULTANT 
17 VARIED LIKE NATURE
Nature is a major source of inspiration for homeowners, and earthy brown hues make for a calming kitchen. JTW Yohen Border tiles from Japan are all about thin strips of mosaic tiles reminiscent of Japanese wooden blinds. No two tiles are the same. The firing process produces variations the way nature does to elements.
Available at GF+A Global.
18 GOING GREY
Grey might be making an exit, but the jury is still out on the wisdom of that. That said, ditch the soft, matte hues for glossy finishes like these glossy and textured tiles.
Available at Hafary.
"IF YOUR CABINETS ARE SIMPLE, I SUGGEST PICKING SOME BOLD COLOURS OR STRIKING DESIGN FOR YOUR BACKSPLASH TO CREATE A WOW FACTOR FOR THE KITCHEN. "
– MARC WONG, FOUNDER OF LINEAR SPACE CONCEPTS
19 EASY DOES IT
Here's another grey surface to consider for your backsplash! Silestone Brooklyn from Cosentino lets you have the rich visual texture of contrasts with the low maintenance of quartz.
20 KEEP IT INTERESTING
The Diarama collection by Mutina is about turning away from regular patterns and embracing the irregular instead. The Iron range presents shades of grey and injections of colour like pink and beige to break up the dark surfaces.
Available at Rice.
TEXT ROSSARA JAMIL