Suntec City's latest tenants include several achingly hip lifestyle brands and the final addition to their Eat at seven Japanese dining cluster
Suntec City's latest tenants include several achingly hip lifestyle brands and the final addition to their Eat at seven Japanese dining cluster
HIPVAN If you're obsessed with beautiful interiors, you'll love HipVan. The online furniture and decor store has a physical retail space at Suntec City, and its contemporary wares wouldn't look out of place in a hipster magazine spread – think Scandinavian-inspired wooden coffee tables and porcelain salad bowls with funky toothed edges.
TEA TREE CAFE This started off as a franchise from Taiwan but has since rebranded itself as a Singapore purveyor of premium teas. Its menu offers the usual range of milk and fruit teas, but instead of the standard black bubble tea pearls, there's the option of pretty pink roselle pearls made using an extract from the roselle plant.
BLOOM SELECTION This social enterprise sells hand-stitched cotton products, such as quilts and handbags, made by Japanese artisans. Thirty percent of sales proceeds go towards rebuilding the homes of elderly villagers that were devastated during the 2011 tsunami and earthquake in Japan. The Sunbonnet Sue Key Holder (from $12) also functions as a thumb-drive and bank token holder – you can customise the colours and have the recipient's name sewn on selected items.
MEGAFASH A launch pad for young indie brands in South-east Asia, this is a great place to pick up cool art, design, fashion and lifestyle accessories such as statement rings or quirky animal-shaped thumb drives. Check out the pop-up shop, SNUPPED, nestled within the store. You can fully customise items such as bags, laptop cases and phone sleeves on the spot.
EAT AT SEVEN KOHAKU This completes the Eat at Seven dining cluster – a group of seven Japanese eateries located on the third floor of the mall's North Wing. Kohaku specialises in tendon, which is short for tempura donburi. Choose either prawn or vegetable fritters, served with steamed rice, or swop the rice for udon noodles.
JUST DOUGH CAFÉ This cheerful space located at the Fountain Court stocks freshly made buns at pocket-friendly prices. Just Dough's bread is made on-site and features unusual flavours – the Vege bun ($1.90), for instance, has a tasty soon kueh-like filling with turnip and dried shrimp. We also like that their bread and dessert items are free of preservatives and artificial colouring (they use natural colouring from fruit and vegetable juices).
NAIISE This home-grown lifestyle store pulls together the best of designed products from Singapore and around the world, including household knick-knacks, stationery, accessories, tech gadgets and artisanal food items. We adore how it curates items with a quirky sense of humour, such as Kueh Tutu cushions, colourful nine-layer cake Jiu Ceng Gao doorstops, and congratulatory Durian badges for your foreign friends. Browsing the store is bound to elicit chuckles and squeals of delight.
OTHER NEW & NOTED BRANDS…
365 FRUIT JUICES & SMOOTHIES
Head here for fresh cut fruits, salad boxes, smoothies and fruit juices. Musttries: the avocado milkshake and freshly made coldpressed juices.
DRESSABELLE
The physical store of fashion e-tailer Dressabelle, its bestselling convertible dresses make great bridesmaids' outfits. One-day alteration services are available.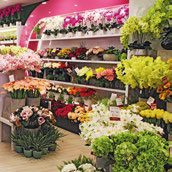 PETALS BY SF
Pick up fresh blooms from this florist, which also carries artificial plants – everything from flowers to Christmas trees.
LA TENDO
A treasure trove of anime-, filmand game-related merchandise – think collectibles from the Star Wars universe (yup, we spotted BB-8 droids), and Harley Quinn figurines from the recent Suicide Squad film.