THIS AUGUST, HER WORLD CELEBRATES THE PEEPS WHO ARE SHINING THE SPOTLIGHT ON OUR CULTURE AND HERITAGE WITH BAK CHANG BEANBAGS, SINGLISH POEMS AND ZI CHAR RECIPE VLOGS.
THIS AUGUST, HER WORLD CELEBRATES THE PEEPS WHO ARE SHINING THE SPOTLIGHT ON OUR CULTURE AND HERITAGE WITH BAK CHANG BEANBAGS, SINGLISH POEMS AND ZI CHAR RECIPE VLOGS.
THE CONTEMPORARY ASIAN DESIGNERS
JESSICA WONG (right), 32, and PAMELA TING, 32, founders of Scene Shang
While its wares boast a retro feel, Scene Shang is not a vintage shop. "We're not recreating pieces from the past. We take cultural elements of traditional items and add our touch to it to create something new and modern that won't look out of place in your living room," says Jessica, a trained architect and interior designer.
Just look at how their iconic (and most popular) range, the Shang System, blends traditional design with modern functionality. The Ming dynasty-inspired collection, featuring slanted and curved edges, comprises the Deng stool, He drawers and Pan tray. Multiple He drawers can be stacked atop one another like Lego blocks, which Jessica notes is "a very Singaporean way of utilising space".
Some designers can be precious about their creations, but Jessica and Pamela believe in being receptive to customer feedback. For instance, they were initially reluctant to offer the He drawer in bright red, fearing it was too "traditional", but did so in response to buyers' requests – and it did well.
They also offer the option of customised colours because "we want our customers to love what they have so they'll keep it as they move from home to home, pass it on and tell stories about it," Pamela says.
For their latest collection, Jia Ju (a play on the Chinese characters for furniture and gathering), the designers were curious about what items people pass down as heirlooms. The answer? "Objects that hold a story and connect them to someone else, like their parents, or their childhood memories," says Jessica. "One woman chose her grandmother's wooden washbasin stand that served as her play table when she was a little girl."
Inspired by that woman's childhood stories, they wove an element of play into ordinary household items like chairs. Our favourite is one that's a hybrid of a dining stool and the rattan rocking horses from our parents' childhood.
WE LOVE
Their retro-contemporary Asian/Singapore furniture designs.
THE ARTIST
DAWN NG, 34, artist
Who would have guessed that the inspiration for Walter – the huge inflatable bunny that popped up in our heartlands in 2010 – was the White Rabbit milk candies we used to chew as kids? Or that art could be created from photographing household items like plastic dustpans and fly swatters sold in neighbourhood shops, as Dawn did for her 2015 exhibition, A Thing of Beauty, which opened at the Art Paris Art Fair?
"There is infinite beauty to be found in the most common things. We instinctively understand that when we are young, but have difficulty holding on to that innocence as we get older. As adults, the things we're conditioned to see as beautiful become more elaborate, ornate or pegged to their value," says Dawn, who is expecting her first child.
The petite millennial is one of Singapore's most prolific installation artists. Her works have been exhibited in galleries as far away as in New York and Paris, yet retain a local flavour, reminding us that there's no place like home.
Walter, the piece she's best known for, shows the beauty of seemingly mundane landscapes, like the tapestry of HDB blocks and MRT lines, that we tend to overlook. A Thing of Beauty tells stories about the objects we keep, and the feelings and memories we store in something as ordinary as an eraser or a paper cup.
Funnily enough, Dawn reveals that it has never been a conscious effort on her part to showcase what is local, or to get Singaporeans to re-examine this place we call home. "I'm constantly telling stories that are true to me through my work. You know the saying that a piece of art is like a mirror. I think people take away what they want, or what they already possess in some unconscious way inside them," she says.
WE LOVE
That her pieces draw attention to the beauty of ordinary spaces and objects within our little red dot.
THE ZI CHAR VLOGGERS
THE MEATMEN, comprising (from left) TAN JUN JIE, 33, LENNARD LIM, 33, KIAT YINGDA, 33, CHRIS LIM, 34
Singaporeans like to eat way more than we like to cook, but more foodies are attempting to make local dishes like char kway teow and sambal stingray thanks to The Meatmen and their tantalising vlogs. Warning: Do not watch if you're on a diet.
The kitchen quartet met while going through national service, and started their cook-shoot-andeat project for fun in 2013. They shot to stardom after their Sio Bak tutorial video went viral on Facebook a year later. Last we checked, the two minute video of Jun Jie marinating and roasting a 4kg slab of pork belly – complete with the sound of crackling pork skin – had 112,180 views. "In one night we saw our Facebook followers jump from 3,000 to 10,000… and the numbers kept going up after that," says Chris, citing it as their most memorable recipe.
Currently, they have a foodie fan base of 177,000 Facebook followers and 60,000 Youtube followers. "Our fans are very engaged. They leave a lot of comments and ask a lot of questions. Some of them will even point out mistakes in our recipes, which we'll acknowledge," says Chris. And while most followers are Singaporeans in their mid-20s to late 30s, Chris shares that they've amassed a sizeable fan base in Malaysia, Australia and the United States. "It's especially heartening when Singaporeans overseas e-mail us saying that our recipes are good," he adds.
What's equally impressive is how they prep every ingredient in their recipes from scratch. When making chicken rice, they blend their own chilli sauce; when baking pineapple tarts, the pineapple paste and crust are homemade.
So, what's next after their Zichar and Jiak Simi (Hokkien for "What to eat?") series? Food heritage, street food and possibly a baking series. "The possibilities are endless," says Chris.
WE LOVE
Their beautiful recipe videos of hawker and zi char dishes… and how they're inspiring the next generation of Masterchefs.
THE MADE-IN-SG CHAMPS
DENNIS TAY, 31, and AMANDA ENG, 31, owners of Naiise
Do you or your friends own a Tutu Kueh cushion or a Merlion Chou Chou plushie from popular local design store Naiise? It's hard to believe that the store, which earned $1 million last year, started in 2013 with a mere $3,000 investment. Founder Dennis single-handedly launched the company with 20 designers and his passion for promoting local designs and products.
Now they have close to 100 staff , and stock products from nearly 1,000 designers (mostly local) online and in seven brickand- mortar stores across the island. In May this year, they launched their flagship store at The Cathay.
It was a risk when they began, as people were reluctant to support madein- Singapore design. Even Dennis' own mother had doubts! But he saw an opportunity to offer "people from all walks of life uniquely designed products that had a taste of home and could not be bought elsewhere". Thankfully, he had the support of his then-girlfriend, Amanda, now his wife and Naiise's marketing and buying director. The couple tied the knot in 2015.
Over the last three years, Naiise has helped kick-start many local design labels such as Ang Ku Kueh Girl. Aside from selling SG-designed items like Kan Cheong Spider watches and Stunned Vegetables T-shirts, Naiise also carries quirky items from other parts of the world such as Thailand, Indonesia, Europe, the US and Japan. "It stimulates local designers to think more innovatively and improve as their products are stocked alongside global ones," says Dennis. At the heart of it all, he believes that design is a universal language that "can cross borders and speak to an international audience".
As pioneers in an industry that "was once overshadowed by bigger and more established brands", the couple are determined to do all they can to support the local design scene. "It's a rewarding experience and it's Naiise for us to be able to do that," quips Amanda.
WE LOVE
How this local multi-label store champions Made-in- SG design and designers.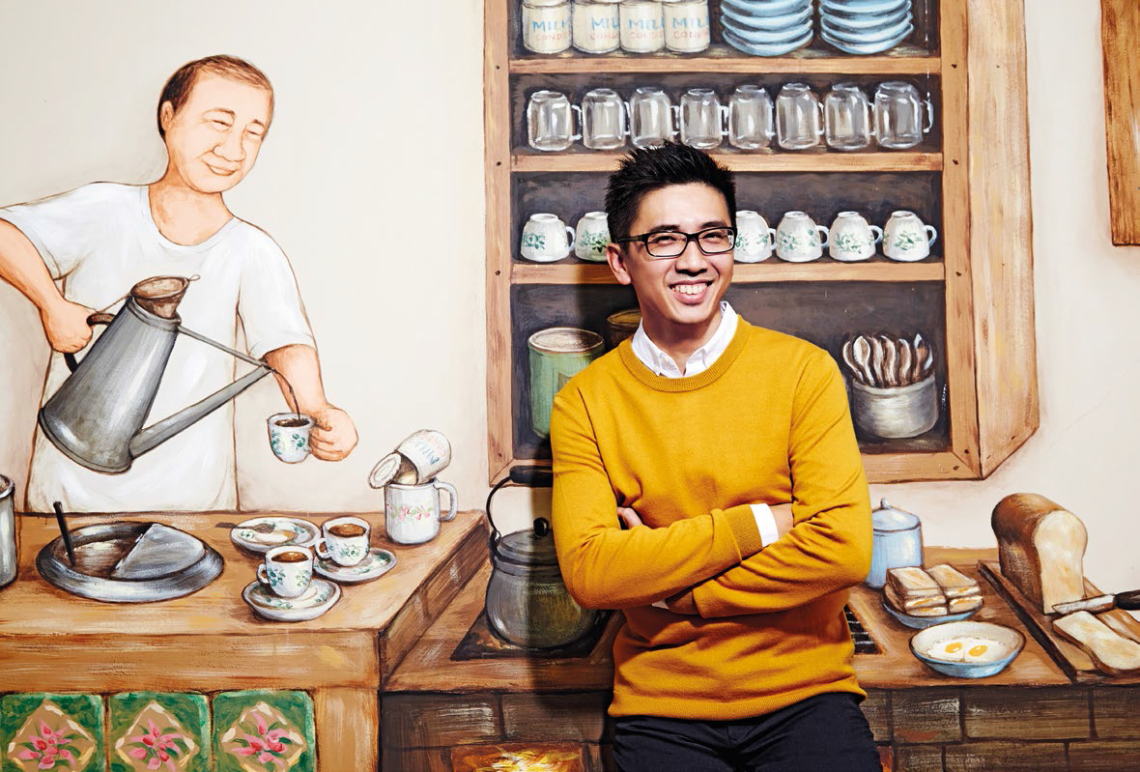 THE MURAL PAINTER
YIP YEW CHONG, 47, regional director in a multinational company
Nobody knew that Yew Chong had artistic flair – he never attended art classes or won drawing competitions at school. "For the past 20 years, my focus was on my full-time job, my family and other stuff ," says Yew Chong. But as a student, he used to help out with backdrops and props for his school's drama performances.
After a two-decade hiatus, Yew Chong and his paintbrushes are back in action. He's the creator of the beautiful, realistic murals in neighbourhoods such as Tiong Bahru, Tanah Merah and Balestier. They started to surface in the middle of last year, providing a throwback to the '70s when kampungs and provision shops were common sights in Singapore.
The self-taught artist was inspired by the works of Lithuanian street artist Ernest Zacharevic, who paints interactive murals of children with props such as trolleys and swings. Yew Chong had wanted to revisit his passion for painting for more than a year, but only got around to it when he quit his job in May 2015. Armed with a sketch and no portfolio, he somehow convinced the owner of a house in Everton Road to let him paint two murals, Amah and Barber, on his wall.
"I grew up in a shophouse in Chinatown and miss those days. Singapore is developing so fast and I hope to preserve local culture by recapturing disappearing local scenes through my murals," he says. "Older folks can look at them and reminisce about the past, while the younger generation get a glimpse of what life here used to look like."
His weekends are spent squatting in front of old cracked walls, drawing freehand with chalk before he proceeds to paint. On average, each mural takes him two to four days to complete, depending on its size – some measure up to 20m across and 3.5m high! Yew Chong charges more than $1,000 for each commissioned work, but also paints on a volunteer basis. "I tend to rush, but I still enjoy it because I get to relive the memory and mood of the scene when I am recreating it," he says.
His efforts have caught the attention of locals, tourists, the media, and celebrities like Taiwanese singer Vivian Hsu, and he feels heartened when snaps of his work appear in people's social-media posts as "it means they appreciate my art and reflect on those good old days".
WE LOVE
That he's immortalising Singapore's history on public walls for everyone to appreciate.
THE SINGLISH POET
JOSHUA IP, 34, who describes his day job as "office worker" and declines to reveal more
Poetry is for everyone, no matter who you are or how well you write – that's the message Joshua wants to get across. "There's this misconception that poetry is for the elite," says the author of Sonnets from the Singlish, which co-won the Singapore Literature Prize for English Poetry in 2014. His collection of 44 poems in English, Singlish and dialect (the upsized 2015 version has 88) pays homage to Singapore and all its quirks; even the miserable parking in Orchard Road is inspiration!
The Raffles Junior College alumnus shares that he used to write a lot in school, but stopped for a while after starting work. He got his poetry game back on in 2011 when his boss went on a month's leave, during which time Joshua forced himself to write a poem a day for 30 consecutive days. His takeaway? "Inspiration can be found in our daily lives – in HDB-dwelling aunties, kopitiams and even the burger on your tray," says Joshua. "A good poem is simply one that speaks to, or resonates with, its reader."
In a twist of fate, his one-poem-a-day project morphed into the local literary community initiative, Singapore Poetry Writing Month (Singpowrimo). Backstory: Joshua and his friends started a Facebook group to share and critique one another's poems, but accidentally made the group public instead of private in 2013. That night, 100 members of the public joined, so there was no turning back.
Singpowrimo encourages folks from all walks of life – teenagers, CEOs and grandparents have participated – to pen a poem every day for the month of April and share it on their Facebook page. Scroll through the page and you'll be delighted to find pieces about durians, kopi and taxi rides instead of the usual flowery, Shakespearean stuff we covered in our literature classes.
WE LOVE
How he's creating our own genre of poetry.