Take a walk on the wild side with these biodiversity-embracing retreats.
Take a walk on the wild side with these biodiversity-embracing retreats.
Perfect for spotting wildlife in the distance, Wild Coast Tented Lodge's breezy structures invite the lush outdoors in.
MIGHTY JUNGLE
The tropical paradise of Sri Lanka is fast growing into an A-list favourite. And tucked away in Yala National Park lies a quiet, albeit majestic, animal lover's retreat, Wild Coast Tented Lodge. Beyond the luxury comforts of 28 tented cocoon suites that all come with panoramic jungle views is the backtonature excitement of a wilderness safari camp—not only are you completely immersed in one of the country's richest biodiversity areas, expert naturalist guides are on hand to tour you through the flora and fauna, which includes wild elephants, sloth bears and Sri Lankan leopards.
Retreat to the glampingperfect abodes after swimming with marine life at Sal Salis Ningaloo Reef.
DEEP DIVING
A dune-flanked camp outside Exmouth in the remote Cape Range National Park on Australia's western coast, Sal Salis Ningaloo Reef is also surrounded by sugar-white beaches, azure shores and cloudless skies—and you'll only have to unzip your tent to see them, in addition to the odd kangaroo hopping past. Ningaloo Reef is the best place in the world to snorkel with whale sharks, shoals of which pass by between April and July. At dusk, sit with local conservation experts waiting for turtles to make landfall to hatch their eggs, or head south to Coral Bay to swim with manta rays.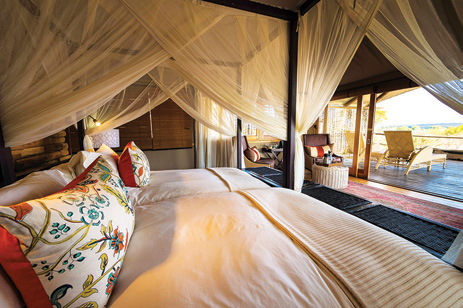 Bathe under rainbow-lit waterfalls and sleep amongst the wild at Toka Leya Camp.
WILD AND FREE
With Victoria Falls (and all its thrilling bungee jumps and zip wires) at its doorstep, Wilderness Safaris' Toka Leya Camp is a peaceful retreat on the banks of the Zambezi River. The 12 spacious tents are linked by wooden walkways, connecting them to the communal deck, fire pit and pizza oven, for restorative evenings out on the river bank. As well as spotting hippos, crocodiles and elephants, you can also try white-water rafting and fishing. Plus, meet the local rhinos—a nearby conservation area is a sanctuary for some of those left in Zambia's wild.