Thailand may be a nation of spas, but finding one that best suits you may not be so easy. Let us help.
Thailand may be a nation of spas, but finding one that best suits you may not be so easy. Let us help.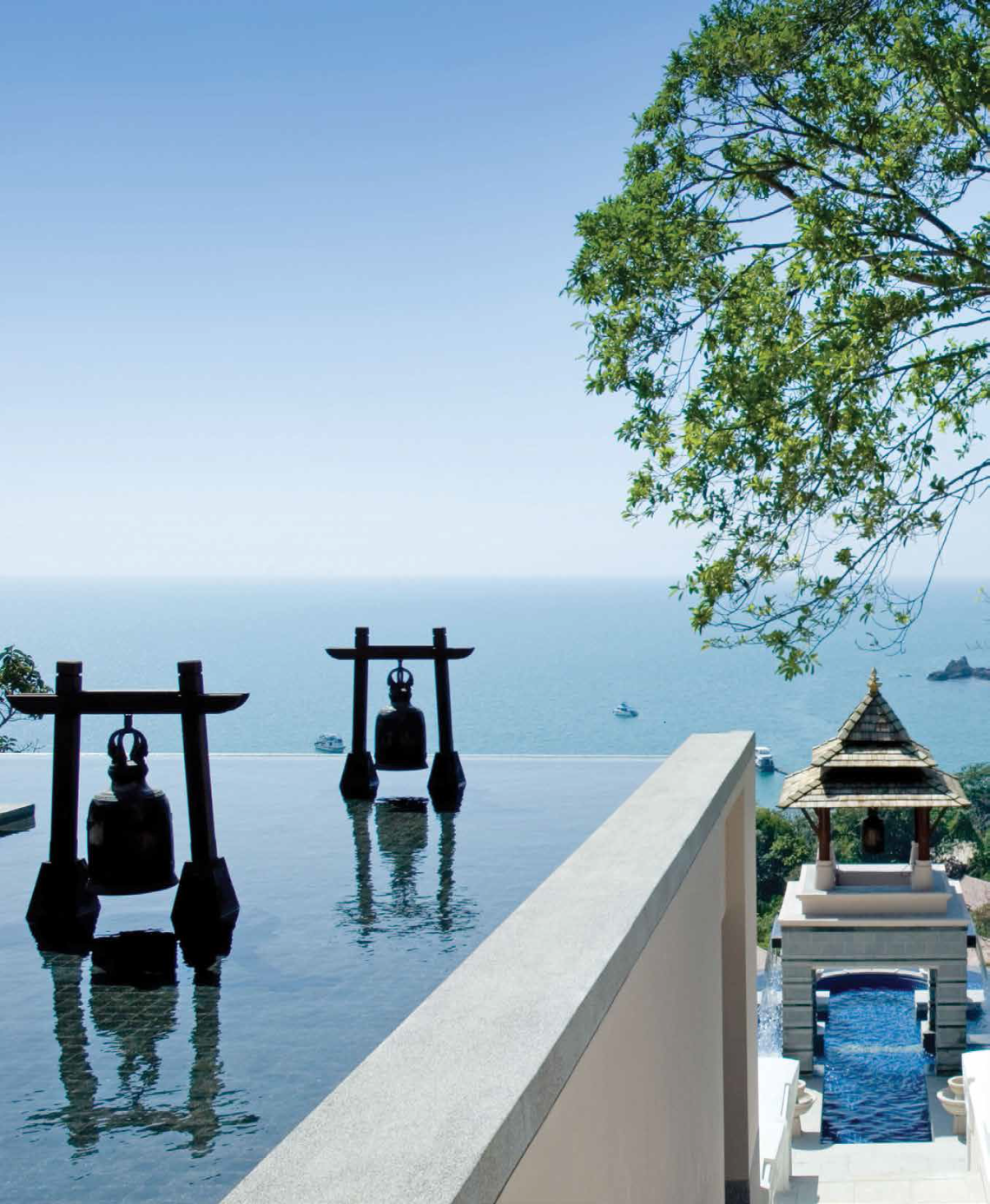 KOH LANTA
BEACHY SUNDAYS
Translating into 'a little patch of heaven' in ancient Sanskrit, Pimalai Resort & Spa is located near the southernmost tip of Koh Lanta with more than 900m of sandy beaches facing the pristine-blue Andaman Sea. The spa blends special Thai herbs and spices into its body scrubs and signature wraps to complement rejuvenating massages that can be experienced outdoors in the midst of chirping birds, buzzing cicadas and flowing water or under the cooling shade of a straw-roofed Thai sala. A dip in the circular Jacuzzi adorned by pebbles and rose petals, followed by a full-body mud mask and finishing with relaxing head and foot massages intended to replenish the body and soul.
Undisturbed tranquillity is the theme as the resort is accessible via an hour's ride by private speedboat from the Krabi mainland. The 121 villas and suites and plethora of infinity pools are surrounded by small canopies of leafy trees where nature is never far away. www.pimalai.com
HUA HIN
ROAD TO CAMBODIA
The ochre-red interior of The Barai Spa soothes and relaxes with its mysterious corridors inspired by the Angkor Wat temples and glowing lights as the pool and its pillars exude shades of deep orange. Eighteen treatment rooms welcome day visitors while eight luxurious suites are designed for overnight stays.
The signature Thai herbal compress massages group herbs together to represent the four elements – sweet basil and kaffir lime (water); coconut and sesame (air); clove, black pepper and root herbs (earth); and cinnamon and rosemary (fire). Wrapped in the traditional luk pra kob and steamed to release essential oils, the herbal compress ball is rolled onto acupoints in gentle, circular motions to relieve tension. Other massages place crystals on energy points or combine Thai and Swedish techniques with long flowing palm strokes and warm essential oils. www.thebarai.com
BANGKOK
LESS IS MORE
Conveniently located in the heart of Bangkok across from the picturesque Benjakiti Park, Rice Force Beauty Boutique boasts minimalist interiors with elegant white walls adorned with beautiful wooden panels, sliding doors and comfortable almond-grey couches.
The boutique is operated by Unicorn Hospitality and doubles as a place for experiencing facials that use Rice Force's moisturising products, such as steam treatments and massages. Developed in Kagawa, Rice Force harnesses the rejuvenating powers of fermented rice, a staple in the process of brewing sake, in the form of rice extracts. The product line includes deeply hydrating masks, creams and essences. www.riceforce.net
THAI OASIS
The Anantara Spa at Anantara Siam Bangkok Hotel is an oasis in central Bangkok where the power of natural ingredients are harnessed for massage. Exclusive to this Anantara Spa is the Ancient Siam Massage that incorporates bamboo stick and herbal compress massages, as well as herbal oil massages including ones inspired by foot reflexology and a mindfulness ritual. Meanwhile, volcanic stones are warmed to a soothing temperature and used in a full-body massage as small stones are placed on key energy points to release muscle tension. Cooling lime, ginger or green tea scrubs replenish and moisturise after traditional Thai massages. www.siam-bangkok.anantara.com
OPENING PAGE: Beautiful infinity pool in Pimalai Resort & Spa. CLOCKWISE FROM LEFT: Indulge in some 'me' time at The Barai Spa; enjoy holistic treatments at The Peninsula Spa; a moment of quiet at Cheeva Spa.
RIVER'S BEND

The Peninsula Spa is housed in an elegant three-storey building complete with gorgeous Juliet balconies. Just like the bustling Chao Phraya River it overlooks, one of the spa's signature treatments has its roots in Thai history.
That treatment features massage techniques traditionally used for Thai royalty and passed down through the generations. Thumbs, palms, elbows and knees are used to apply strong pressure to specific areas of the body. This treatment can be used in combination with warm herbal compresses filled with Thai herbs, lemongrass and ginger.
Indian-influenced massages include Ayurvedic head massages, marma-point face and body massages using blends such as Indian rose, tuberose and mogra oils, and body scrubs that incorporate Himalayan crystal salts.
Another treatment where two therapists work in tandem to deliver soft to medium pressure massages takes pampering to a whole new level. bangkok.peninsula.com
KOH SAMUI
HEALTH HAVEN
Kamalaya Koh Samui provides a refuge for health junkies, away from the hustle and bustle of the metropolitan lifestyle. It offers 10 holistic wellness programmes with different goals such as detox, fitness, practicing yoga and combating sleeplessness, stress and burnouts.
Complementing the progammes' healthy eating, exercise, acupuncture and personal guidance regimes are spa treatments that are made more effective with visits to the steam cavern and plunge pools.
For detoxing, the Taoist Abdominal Massage promotes circulation while the Lymphatic Drainage Massage features gentle motions focusing on the lymph nodes located just under the skin. The Indian Head Massage draws from Ayurvedic medicine, starting with the pouring of warm oil over the forehead and followed by strong pressure applied by the thumbs and fingers to relieve tension from the shoulders, neck, back and scalp. www.kamalaya.com
KRABI
TRANQUIL RECLUSE
The Spa at Phulay Bay is located at Phulay Bay, A Ritz-Carlton Reserve that offers breathtaking views of the magnificent limestone mountains surrounded by the tranquil Andaman Sea.
The ESPA-operated venue has 11 treatment rooms with calming bamboo and wooden interiors, and a vitality pool and outdoor space that serve as areas of rejuvenating relaxation. Complementing the tailored treatments are quality ESPA products such as ESPA pink mud, body cream and moisturising balms to revitalise sun-kissed skin and facials that combine cleansers with cool compress techniques.
Aromatherapy massages unleash the healing powers of essential oils – from detoxifying grapefruit and juniper berry to energising peppermint, rosemary and eucalyptus to sweet orange, myrrh and palmarosa, which cleanse and tone.
Also on offer are hot volcanic stone rituals that aim to unblock energy centres in the body, and full-body exfoliation, shiatsu and Swedish massages, back and scalp massages, and oil-free yoga massages that feature acupressure and stretching. www.phulay-bay.com
CHIANG MAI
SLOW & STEADY
Aptly located in Chiang Mai, which was historically part of the Lanna Kingdom, Cheeva Spa exemplifies the best of Northern Thai massaging techniques. In line with the laid-back and picturesque city that surrounds the spa, treatments are about taking your time and can span three hours of pampering including a foot massage, a cleansing body scrub and a rejuvenating full-body hot oil massage. A six-step facial completes the treatment that uses traditional herbs and natural ingredients. The beautiful wooden interior soothes and relaxes as you take a dip in a milk bath laden with rose petals. A delicious mango and sticky rice dessert marks the end of a revitalising series of massages and skin-nourishing treatments. www.cheevaspa.com