A country steeped in history and heritage, Thailand captivates mind and spirit with ancient sites, temples and even secret tunnels. Writer Angela Goh
1 Hua Hin Railway Station
This train station, one of the oldest in Thailand, was constructed in the 1920s. The building is largely made of wood and designed in a Victorian style, the biggest draw being the ornate red and beige royal waiting room that used to welcome the king and his court. The pavilion—built during the reign of King Rama VI (1910-1925) and once located at Sanam Chandra Palace, the king's country residence in Nakhon Pathom— was rebuilt at its present location in the 1960s. Trains still chug through this relic today taking passengers to Surat in the south, and Bangkok, about four hours away.
2 Chiang Saen, Golden Triangle
Chiang Saen is Thailand's oldest city. According to the Thai Fine Arts Department, the earliest confirmed records revealed that the city was constructed by King Saen Phu under the instructions of his grandfather Mengrai in 1328. The city contained 76 temples within its walls and a further 63 outside. Today, ruins of this empire are scattered throughout town, including a partially restored city wall and several chedi, Buddha images, pillars and earthen ramparts. Besides the ruins, you can also browse markets, the local museum or travel up to Sop Ruak for opium museums and the Golden Triangle.
3 Ban Chiang Archaeological Site, Udon Thani
This UNESCO heritage site is considered by scholars to be the most important prehistoric settlement discovered in Southeast Asia so far, providing evidence of the development of the wet-rice culture typical of the region. The site has been dated by scientific chronometric means, establishing it as continuously occupied from 1495BC until circa 900BC, making it the earliest scientifically dated prehistoric farming and habitation site in Southeast Asia. It has the richest collection of recovered artefacts, such as ceramic and metal grave implements.
4 Phu Phra Bat Historical Park, Udon Thani
Explore the nooks and crannies of boulders and natural rock formations. Said to have been submerged in water millions of years ago, little is known of their history, except that they were used as shelters and temples in the early days of Buddhism. Painted pictures of animals, humans and geometric designs were discovered on the grotto walls dating back three to four millennia. It is also believed that animist, Hindu and Buddhist rites were performed at this ancient site. Just beyond the park's borders, a 1.5 metre-long carved footprint, known as Phra Phutthabat Bua Bok, is said to have been magically imprinted into the rock by Buddha himself. It's this legend that Phu Phra Bat, or 'Buddha Footprint Mountain' was named after.
5 Khao Nam Khang Historical Tunnel, Songkhla
This network of secret tunnels deep in the jungles of Khao Nam Khang National Park was built in the 1970s as a hideout for Communist insurgents. Extending over a kilometre through three separate corridors and levels, this is the largest, longest man-made tunnel in Thailand. With the capacity to accommodate up to 200 people, it has a conference room, sick bay, radio transmission room, kitchen, firing range and more. Visitors follow colourcoded arrows on the walls to visit the chambers, which were manually carved into the mountain.
6 Historic City of Ayutthaya
Founded in 1350, Ayutthaya—now a UNESCO site—succeeded Sukhothai thanks to its strategic location, equidistant between India and China, as the capital of Siam in the 15th century. The architecture at Ayutthaya retains exquisite murals that combine traditional styles from Sukhothai, which were inherited from Angkor, with the 17th and 18th century art styles of Japan, China, India, Persia and Europe. This decor helped to lay the foundation for a fusion of art and architecture in the succeeding Rattanakosin era.
7 Mandarin Oriental, Bangkok
In 1876, this grand dame, then named The Oriental Hotel, was the country's first luxury hotel, regaling an endless stream of literary greats, from Somerset Maugham to Graham Greene. "The Oriental is the most glamorous hotel in the world," declared author and frequent long-staying guest Barbara Cartland in 1965. Louis Thomas Leonowens, son of Anna Leonowens (Anna and the King of Siam) was once the hotel's proprietor. This ownership was soon transferred to Thai silk tycoon Jim Thompson and other joint partners. This October sees the most extensive renovation in the hotel's 143-year history, when the River Wing re-opens, along with a new Japanese restaurant, Kinu by Takagi. All rooms and suites feature teak floors, wood panelling, textured linen drapes and silk fabrics from Jim Thompson.
8 Jim Thompson House, Bangkok
Completed in 1959, the house belonging to the owner of the eponymous Jim Thompson Thai Silk Company is a treasure trove of eclectic artefacts from his collection, including Chinese Ming pieces, Belgian glass, intricate Cambodian carvings, Victorian-era chandeliers, Benjarong earthenware and a dining table once used by King Rama V of Thailand. The house is a sight in itself, a product of six traditional Thai teakwood houses transported from Ayutthaya and Bangkok's Ban Krua community, with his own eccentric add-ons.
9 Khmer ruins of Phanom Rung, Muang Tam and Phimai
More than 1,000 years ago, parts of Thailand were under the Khmer Empire and many ruins remain to this day. The most prominent and impressive is Prasat Phimai in Nakhon Ratchasima province. Constructed between the 8th and 11th centuries, it was a Buddhist temple, which incorporated Hindu deities, and its location marks one end of the Ancient Khmer Highway to Angkor. Lying on the same route is Prasat Hin Phanom Rung in Buriram, constructed from the 10th to the 13th century as a Hindu temple dedicated to Shiva. Eight kilometres south of Phanom Rung stands the old Khmer sanctuary of Prasat Muang Tam, which dates back to the late 10th century. Its main tower represents Mount Meru, the abode of the gods.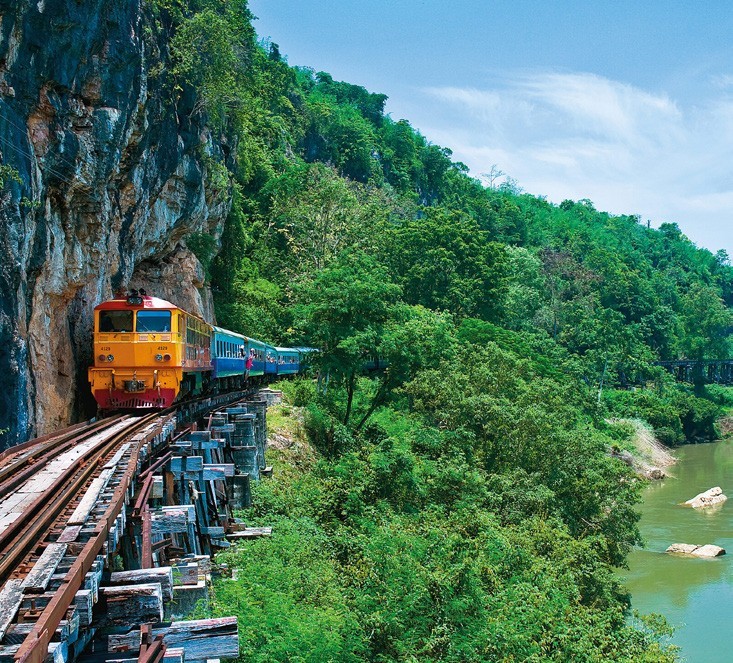 10 Death Railway, Kanchanaburi
The two-hour journey along the Thailand–Burma Death Railway, passing along the infamous Bridge on the River Kwai from Kanchanaburi to Nam Tok, is one of Thailand's most scenic and poignant journeys. Originally designed to lead travellers to India by land, the transport route connected Siam to Burma and was constructed by forced labour, using hundreds of thousands of civilians and prisoners captured by the Japanese during WWII. The railway was an extraordinary feat of engineering, yet involved an enormous loss of human life. Today guests can drink in stunning views on the Wang Po viaduct onboard, also built by prisoners of war.