SOLID WOOD FOR THE WIN
For investment-worthy solid wood pieces, homegrown furniture brand Castlery's contemporary designs make it a favourite for both style and price.
If you're on the search for well-made furniture that is also easy on the wallet, online furniture retailer Castlery's chic range will leave you wanting to click "Add to Cart".
ACCESSIBLE DESIGN
While quality solid wood furniture is usually associated with a hefty price tag, Castlery's ethos for competitive price points with reliable craftsmanship is reflected across its range of tasteful investment pieces that last.
Take note though, that it's easy to lose yourself in its wide range of products that marry high-functionality with sleek design. Many of its collections reimagine the nostalgic mid-century modern style with a fresh perspective, offering plenty of ideas on ways to style your interiors.
STYLE WITH SUBSTANCE
Take for instance, the new Hudson collection. Antiqued brass accents luxe up solid acacia wood, which is known to be highly durable and easy to maintain. It delivers the mid-twentieth century aesthetic with a hint of glamour.
More understated with a utilitarian-chic appeal is the Carrie collection, characterised by recessed handles and tapered legs, as well as sturdy mango wood in a rich walnut-stained finish. The rounded edges aren't just synonymous with the mid-century modern movement, they are also great if you have little ones around.
Then there is the Seb acacia wood series for pieces that are strong, and resistant to wear and tear. Stained in a subtle honey hue, it imbues a rustic or Nordic-style home with laid-back warmth.
What makes Castlery's pieces undeniably appealing is the versatility of their clean, streamlined designs that fit right in with modern tastes as much as they would in a more traditional setting. Best of all, the brand subscribes to a direct-to-consumer retail model, which translates to a seamless buying experience and more cost-savings.
Visit www.castlery.com for more information or visit its studio at #02-06 Jit Poh Building, 19 Keppel Road.
TOP
The gleaming accents of the Hudson collection turn up the shine without detracting from the warmth and beauty of acacia wood.
RIGHT
The Seb collection has a rustic mid-century modern feel to it and infuses interiors with a sense of home.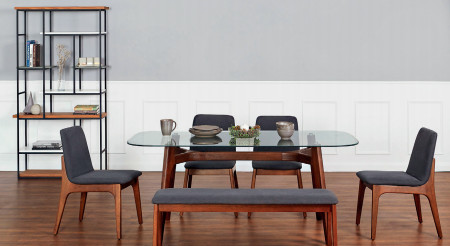 ABOVE
Solid mango wood, a dense hardwood that is strong and fairly water-resistant, is used in the Carrie collection.
TRENDING
BOLD AS BRASS
Not only do brass accents luxe up furniture or home accessories, they are versatile too; pair them with neutral or vibrant colours to weave a touch of elegance into your adobe.
1. Rivet coffee table, $750, and end table, $650, from Jotter Goods.
2. Shield Mirror, €4,130 (S$6,336.94), from Maison Valentina.
3. Fruit and nut platter, $50, from Singapore Trading Post
4. Darian Bathtub, €12,690 (S$19,475), from Maison Valentina.
COOKING MADE EASY
Samsung has rolled out the Colour Series Microwave Ovens that don't just look chic but boast innovative features, too. Choose from a solo microwave (in black and pink) or a grill microwave (in white and mint), both of which have a glass control panel and six intuitive buttons. For the health-conscious, the Grill Fry function fries food evenly with just a dab of oil, while those with a sweet tooth can whip up desserts using pre-set recipes. The Power Defrost and Bread Defrost are time-savers for busy home cooks, and cleaning up is painless too, thanks to a non-stick ceramic enamel interior that is certified to have up to 99.9 per cent antibacterial properties.
The Samsung Colour Series Microwave Oven retails at $249 (solo microwave) and $319 (grill microwave), available at the Samsung Online Store and major consumer electronics & IT stores.
SPACE-SAVING FITNESS
Italian brand Ever Life Design produces chic home accessories designed to address our evolving needs at home. Its latest product, Tape, is a multifunctional belt with a series of loops that can be installed on any flat vertical surfaces, including doors, to store your things. The Tape Fit version pictured is a space-saving fitness kit that comes with a yoga mat and weights made of cork, and beechwood handles for suspension training. All of Tape's elements are made with sustainable materials.
The Tape series retails at www.everlifedesign.it. Price by request.
GARDEN OF EDEN
Scent your home with the Thann Eden Breeze diffuser, which is formulated with jasmine and rose notes to uplift your spirits and soothe the senses. Pleasantly floral and light, the scent recalls a lush garden in full bloom.
The Eden Breeze Aroma Diffuser Greek Bottle retails at $80 at www.thann.com.sg.
IN A NEW LIGHT
The iconic teddy bear is reimagined as a table lamp by Italian designer Stefano Giovannoni. Available in a myriad of colours and embracing a small luminous sphere, the Teddy Girl Rechargeable Lamp brings both playfulness and an endearing touch to your bedroom.
The Teddy Girl Rechargeable Lamp retails at €169 (S$258.70) at www.qeeboo.com.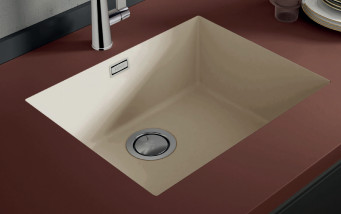 STREAMLINED & SLEEK
Love the look of a seamless kitchen countertop? Put Fenix's integrated kitchen sinks on your shopping list. They are designed to match and blend with worktops made of Fenix NTM, a smooth and matte nanotech material. The sinks are fabricated from a composite material that is resistant to impacts and thermal shocks, has a smooth surface for rapid water flow, as well as UV protection that guards against discolouration. To skip the lead time and shipping cost, head to local laminate company EDL to both purchase directly and have it installed in your home.
Choose from two models and 12 sink colours. Visit www.edleuro.com for more information on the Fenix Integrated Solutions.
PRETTY IN PINK
This edition of the Ruhens V water purifier, with its sleek contours and baby pink hue, is a far cry from its boxy impersonal counterparts. It offers five different temperature controls, so you can get iced water for a cold brew, or warm water for making tea. At just 16cm wide, it'll fit easily even into the tightest of spaces.
The Ruhens V retails at $2,599 at Ruhens' showroom.
TILE OF THE MONTH
NATURAL INSPIRATIONS
One great way to add visual interest to a neutral scheme: Throw in a mix of different materials and textures. The Pearl Gray Quad tile from Ceramiche Piemme's Bits and Pieces collection features wood-effect inserts that add nuance to a sand-hued stoneware porcelain background. It is just right for playing up the earthy feel of modern country, rustic or coastal-style interiors.
The Pearl Gray Quad tile retails at Hafary, 105 Eunos Avenue 3, www.hafary.com.sg.
EXHIBITION OF THE MONTH
What Non-Aligned
Where NTU CCA Singapore Block 43 Malan Road, Gillman Barracks
When Now till September 2020*
Non-Aligned showcases three moving-image works by artists, filmmakers, and writers that enquire into the transition periods from colonial rule to the independence of nations. The featured installations by John Akomfrah, Naeem Mohaiemen and The Otolith Group ponder not just the new possibilities for progressive social and independence movements but also the inherent struggles that define the post-WWII period.
Accurate at time of print. Opening date subject to government measures regarding the reopening of galleries.
JUST ADD WATER
Love plants but hate dealing with dirt? Terraplanter is made with propietary porous ceramic that diffuses water and allows plant to grow directly on its surface - no dirt involved, simply add water. Its parametrically-designed surface holds seeds and goes well with contemporary interiors. It is also reusable.
Back Terraplanter at Kickstarter, early bird price starts from US$59 (S$83.6). Visit www.terraplanter.com for more information.
360-DEGREE PURIFICATION
Indoor air quality is more important than ever. LG's award-winning air purifier PuriCare features a six-step filtration and an ingenious conical shape with super tiny air holes that can deliver clean air even to low areas that toddlers crawl, ensuring fresh air in every corner of a room. A taller version, LG PuriCare Double, will be available in Singapore later this year.
LG PuriCare retails from $1,099 and available from Best Denki, Courts, Harvey Norman and Mega Discount Store.
BOTANICAL GLORY
Jaime Hayon's Ikebana vases for Danish brand Fritz Hansen have become a staple for chic interiors of many styles. Now Fritz Hansen has followed up the collection with Ikeru vases, which features a series of forest green metal flutes on a disk base encased in glass to display both dry and fresh flowers in their full botanical glory. The design looks good from every angle, perfect for centrepieces.
The Ikeru vases are available in two sizes - tall (right, $290) and low (left, $190) from the Fritz Hansen Lounge Singapore.
Top View
For the 19th consecutive year, Epson has once again been named the number one projector brand in Southeast Asia as well as globally by Futuresource Consulting. It continues to innovate with the launch of its retail, education, corporate and home projectors, at the heart of which is its proprietary 3LCD technology.
Head West
Come 2021, Swedish furniture giant will be opening its third Singapore store. The first to be established as a tenant within a shopping centre in this region, the new and smaller store will be spread across three floors in JEM, spanning a 6,500 sqm. Customers can expect to shop the full Ikea range, and enjoy bistro favourites like Swedish meatballs and chicken wings.
Siri House Goes Digital
If you have an eye for artisanal and unique home goods, direct your browser to The Collective Market by Siri House. The multi-concept Siri House at Dempsey has brought its retail arm online, where you'll find traditional and contemporary handcrafted homewares from Thai and international brands like Thingg, Neighbour Crafts, and Sur And Everything.
Visit www.bit.ly/ShopatSiriHouseSG.
Down Memory Lane
Axor's latest campaign delves into the memories of design partners like Jean-Marie Massaud and Barber & Osgerby, who share their personal "Places of Memory" Aerial photography by Tom Hegen connects these places with the personalisation offered by Axor's MyEdition faucet collection.
Read on www.axor-design.com/places.
THE PERFECT BREW
Bring out your inner barista with the La Specialista, De'Longhi's latest espresso machine that enables you to precisely handcraft your coffee just the way you like it. You'll get a great brew every time, thanks to its sensor grinding technology and smart tamping station that deliver consistent results and less mess. Plus, there are separate heating systems for the water and milk, so you won't have to wait for a cuppa!
The La Specialista coffee machine retails at $1,199 at all leading departmental and electronic stores.
SUSTAINABILITY MEETS STYLE
Cork gets a new lease of life with the furniture pieces and bowls designed by Jasper Morrison for Vitra. Lightweight and fashioned from recycled pure cork that is left untreated for a natural and lively look, the former are suited for use as side tables or stools. Two new designs join the original three created in 2004, set apart by their round, convex profiles.
Cork Family, $758, available from www.vitra.com and Vitra Store Singapore.
THE CASTLERY APP
Going beyond online shopping, homegrown e-commerce brand Castlery has unveiled a new app with plenty of nifty features - including augmented reality (AR) capabilities that allow you to virtually outfit your home with true-to-scale 3D models, right down to details such as fabric and leather textures. Right now, it has an inventory of 250 AR-enabled products from its bestselling collections - think sofas, dining furniture and bed frames that you can mix and match to create your ideal space. You can also browse the rest of its catalogue, read customer reviews, shop your favourite pieces and make payment via the app.
The Castlery App is available on the Apple App Store (iOS 11 and above). For more information, visit www.castlery.com/app.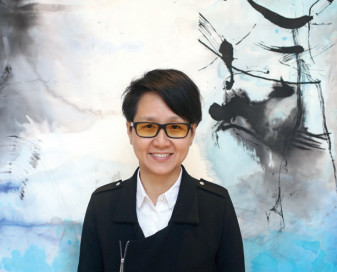 ARTIST OF THE MONTH
YEO SHIH YUN
Known for reinterpreting the act of ink painting, Singaporean artist Yeo Shih Yun fuses traditional forms of ink paintings with contemporary mediums like new media or performance art. Her works, including a commissioned piece from the Singapore Art Museum, have garnered much acclaim. She also won the Sovereign Asian Art Prize People's Choice Award in 2012 and the UOB Painting of the Year competition in 2007. Yeo, whose works have been exhibited both locally and internationally, is the founder of local independent art space "Instinc", where she currently lives and works.
Catch her upcoming shows in July: Chance Encounters at the Esplanade tunnel and My Ink-credible Adventure at the National Gallery (subject to gallery opening), or visit www.shihyunyeo.com.
text MICHELLE LEE, MELODY BAY AND ASIH JENIE