It's important to include the integration of smart technology when you are renovating your home today. Here is a handy checklist of what to look out for pre- and post- renovation, as well as tips on what you need to do to keep your interiors digitally connected.
It's important to include the integration of smart technology when you are renovating your home today. Here is a handy checklist of what to look out for pre- and post- renovation, as well as tips on what you need to do to keep your interiors digitally connected.
BEFORE RENO
SET YOUR GO ALS AND W ORK OUT A BRIEF
Identify what you want to achieve, your requirements and any issues that you wish to address. These may include planning how you are going to use the rooms you have, or if you should hack walls you don't need, and practical considerations such as storage and laundry. It may be useful to keep a scrapbook of ideas that you come across in magazines and showflats.
Tip
Focus on the physical layouts of the spaces you need first, followed by creating another list of the smart appliances you have or plan on purchasing. These can include wireless network set-up, soundbars, intelligent home systems, lighting, air-conditioners, locks and kitchen appliances that be connected to your central home system.
SET A REALIS TIC BUDGET
Work out a budget and think about how much buffer you can afford, should the costs exceed the original figure. Be mindful of inspection fees, application fees and shipping costs, especially for online orders. Discerning homeowners can also open a separate bank account for renovation expenses so that they are easier to track.
Tip
Create three different cost sections, one for the cost of interior design and labour, another for the cost of materials (tiles, laminates, surfaces, lights, air-con system and units), and a third sheet for furniture. This helps you understand how much you are spending in each area, and ensure that all parts of the renovation process are catered for accordingly.
ESTABLISH A TIMELINE
Is there an absolute date by which you need to complete the renovations and move in? If so, work backwards from that date, allowing for unforeseen delays. These can be due to various reasons, such as shortage of manpower, non-availability of materials, and unexpected site conditions.
Tip
This is where an interior design studio can offer a lot of support by taking on the role of a project manager, as well as offering design solutions. Remember to factor in time required for the setting up of your fibre broadband (Netlink Trust), as well as for the application of mobile broadband network and cable television service.
DRAW UP A C ONTINGENCY PLAN
Delays are inevitable, so plan for them. In the event of a delay, will you have somewhere to stay? Can the delivery of furniture and appliances be postponed and will you incur storage fees?
Tip
Differentiate between your needs (musthaves) and wants (nice-to-haves) and prioritise accordingly, based on your budget and timeline. If you are in a rush to move in, you can start purchasing furniture and appliances first and store them until they can be used. However, be careful not to go overboard on home shopping and buy unnecessary things that will end up cluttering your space.
GO DIY OR ENGA GE AN INTERIOR DESIGNER?
Doing it yourself can help you better manage costs and it is a great option if you know exactly what you want, what you need and what needs to be done. But, unless you have industry experience or are prepared to devote time researching and put in the legwork, you may be better off leaving it to a professional.
Tip
An interior designer will be able to assist you with the application of renovation permits and recommend contractors for your consideration. When looking for an interior designer, don't just look at their portfolios and their style. It is very important that you have rapport and can communicate effectively with one another. For a look at established IDs in Singapore, visit www.homeanddecor.com.sg to download a free copy of Designer Showcase 2018.
PRE-RENOVATION A SSESSMENT OF EXISTING C ONDITIONS
If your home is a resale unit, get a professional assessment of the existing conditions, such as whether it is structurally sound, whether there are leaks, or damp or waterproofing issues, and if the doors and windows are operating properly. Apart from safety and functionality issues, it will also help you to prioritise what needs to be replaced and what can be retained. If it is a newly completed unit purchased from the HDB or a private developer, be sure to check for any defects and get them rectified before you proceed with any renovation works.
Tip
Remember to check if the premises are fibre-ready. Alternatively, you can visit http://netlinktrust.com/ to find out.
ENSURE THAT ALL THE NE CESSARY PERMITS AND APPRO VALS HAVE BEEN OB TAINED
Be in the know as to the extent of works that you are allowed to carry out, and ensure that your contractor/interior designer takes note of structural elements that cannot be hacked.
Tip
HDB homeowners will be notified of their permit application status through the HDB portal online. It also helps if the homeowner calls 1800-225-5432 to check for updates.
ELECTRICAL POINTS AND CABLING
Don't overlook details such as electrical outlets (quantity, location, mounting height), lighting points and counter heights.
Tip
Advance planning can help you to plan for concealing electrical wires and cords within plaster walls and hollow skirting.
BUILT-IN ELEMENTS
Plan your built-in elements very thoroughly because once they are done, modifications may involve major abortive works, which have cost and time implications. Ensure that the contractor and interior designer check all relevant site measurements carefully before fabrication.
Tip
For built-in appliances, always check the sizes to ensure that the carpentry can accommodate the appliances. You may have to select your appliances earlier, as the contractor will need the dimensions to fabricate the carpentry. If you require space for displaying unique items, such as a pen or doll collection, be sure to mention it to your designer as they may require unique set-ups and shelf space.
PROTECTION
If there are areas that you are excluding from the renovation, ensure that the contractor protects them properly before commencing works to avoid damage.
SEQUENCE
The contractor/interior designer should be able to help you manage what gets done first. For example, ducting should come before plumbing, followed by electrical wiring and so on.
Tip
Apply for your broadband connection in advance, so that the engineer sent from your broadband service provider can assist you with the installation of your broadband, as well as Wi-Fi mesh and cable television.
FURNITURE SHOPPING
You can ask your interior designer for recommendations on furniture that complement the particular style of your home. Ensure that whatever you plan on buying can fit comfortably into the designated space.
Tip
Don't forget to allow for circulation space around the furniture. Also, consider how and where you are going to place your electronic devices, such as music player, modem, router, speakers and television set.
HOME AUTOMATION
With sensors and smart home assistants, it is now possible to create a fully integrated home system that can allow you to control everything from switching on air-conditioners and drawing the blinds, to playing music and even sending messages through your smart fridge! The cost of automating the appliances in your home depends on the compatibility of the products and whether their built-in smart systems can be synced with the system by your provider. For a start, homeowners can consider using the Amazon Echo and Alexa or the Google Home, all of which make use of Bluetooth and Wi-Fi networks to connect appliances.
AFTER RENO
CONTRACTUAL OBLIGATIONS
Go through the contract again and ensure that your interior designer/contractor has fulfilled all the works as documented and that you are satisfied with them.
Tip
Note down the various corrections or improvements that need to be done when the home is handed over to you. Point out the stains and areas that require additional work.
CHECKING FOR DEFECTS
Walk through the entire home and scrutinise everything, from whether tiles are laid properly with no gaps and sharp or uneven protrusions to whether there are any cracks on walls, stains, gaps between built-in furniture and adjoining floor and wall, and whether moving parts such as drawers and cabinet doors operate smoothly.
Tip
A handy tip is to go around with a roll of masking tape in hand and use it to indicate where various defects are, for easy identification when pointing them out to your interior designer/contractor.
WHAT THE EYE C ANNOT SEE
Pay attention to things that are concealed and thus hidden from the naked eye, such as waterproofing, ducting and wiring works.
Tip
Ensure that your wireless networks are operating properly.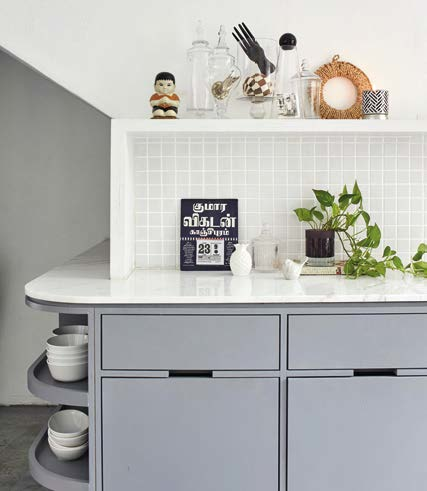 RECTIFICATION WORKS
Make a list of the defects, take some photographs and go through them with your interior designer/ contractor. Discuss what steps will be taken to rectify the flaws and problems. Bear in mind that different works were carried out by different sub-contractors during the renovation, so rectification will involve multiple parties. Have your interior designer/contractor co-ordinate for you.
Tip
Some major defects may involve extensive rectification works or even abortive works, so be prepared. The bottom line is, do not take over the unit unless you are absolutely sure that everything has been satisfactorily rectified, or if otherwise, that it is something you are willing to live with.
CLEANING
Unlike day-to-day domestic cleaning, postrenovation cleaning should best be left to the professionals. This includes the removal of renovation debris (even small things such as leftover screws and bits of plastic), and the cleaning of floors, vents, built-in appliances and other electrical fixtures – such as ceiling fans, outside and inside cabinets and drawers, windows, glass panels, door handles, etc.
SECURITY
Have the locks to your main door changed once all the rectification works have been completed and the unit has been handed over. You only need to change the cylinder and not the entire lockset. If it is an electronic lock, remember to re-programme it or change the combination.
Tip
Many digital locks, such as the Samsung Push-Pull Digital lock, come with Bluetooth capabilities, allowing you to pair the lock with up to eight smartphones so you can open the door with your mobile device. It can also be synced with smart home assistants, such as Alexa and Google Home.
Text LYNN TAN with additional reporting by YOUNG LIM