This contemporary home was designed to reflect the homeowner's city lifestyle. ELIZA HAMIZAH finds out more.
URBAN OASIS
The Distinctidentity team opted for a soothing monochromatic colour palette consisting of cool grey flooring, dark wood-look laminates as well as ambient lighting in areas like the dining room. Having plenty of storage also helped imbue a sense of cosiness. "In spacious homes such as this one, having minimal carpentry may risk the home looking empty. Luckily, the homeowners needed large storage spaces for their items," shares the team.
WHO LIVES HERE
A couple in their 50s, two children, and their pet dog HOME Three-bedroom condominium apartment in Holland Village SIZE 2,000 sq ft
A consistent colour palette is key to achieving a sleek and contemporary home. The interior design company Distinctidentity got it down pat in this restful apartment, thanks to a design exercise they apply to all their projects: conceptualising a logo and assigning suitable key words.
"We named this project Urban Oasis, and decided that each element used in the project had to reflect three things: modernity, luxury, and simplicity. The home should be a space where the owners can relax and refresh themselves after a busy day," says the Distinctidentity team.
Fred Tand and Janice Nyo, a couple in their 50s, had requested an open space with minimal clutter.  Fred enjoys cooking, while Janice has an extensive wardrobe. They wanted a home that was easy to maintain and reflective of their city lifestyle. The couple also consulted a feng shui master, who shared the best locations for items like the bed, sink, stove, and more. The homeowners spent approximately $350,000 on both renovation — which included major hacking works — and furnishings.
GATHER ROUND
"The homeowners like to read in the living room and prefer to have their daily meals at the kitchen island rather than the dining table. Taking these into consideration, we positioned the island in between the dry kitchen (where the fridge is) and the living room," says the team. He added that the open yet clear demarcation of spaces helps add depth to the spacious home.
PEEK-A-BOO
As the house is spacious, the homeowners requested a "shortcut" to the wet kitchen; the kitchen is now accessible via a sliding door in the dining room as well as the foyer. This dual entrance also aids in ventilation.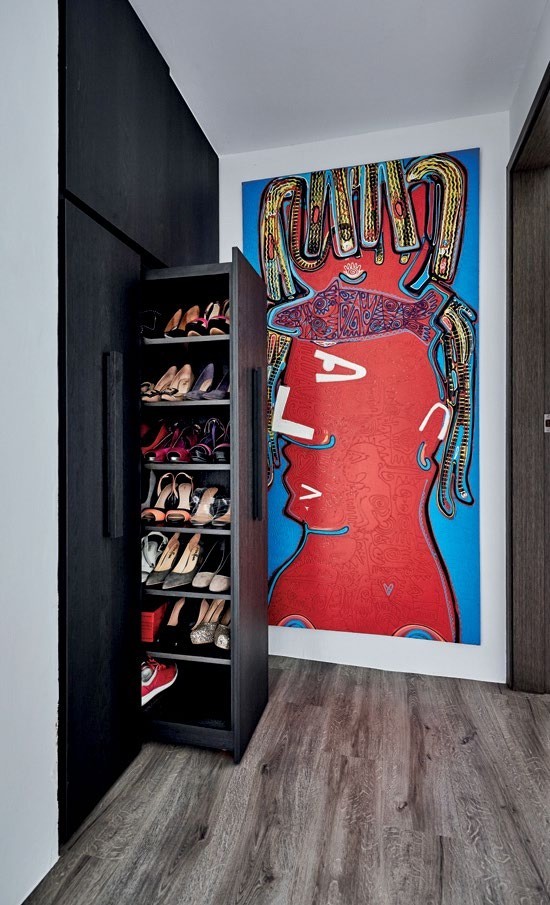 CLEVER ADD-INS
To maximise a small store room, and to avoid any dead space, the design team created a pullout larder with double-sided racks. It can easily fit 50 pairs of shoes. "The lady of the house has an extensive collection, and this allows her to see her entire collection at once," says the team.
COLOUR IT IN
Art by Popkapi, a Thai artist whose real name is Jakkrit Chewapanya, decorates the home. The homeowners chose these pieces as they add vibrancy into their home.
SUPER STORAGE
The bedroom underwent major renovation to create this comprehensive walk-in wardrobe. It features three stretches of full height cabinetry, an island (with additional storage), as well as a corner dresser — positioned to receive the best natural lighting. These were clad in a light brown finish.
THE OWNERS WANTED A HOME THAT WAS EASY TO MAINTAIN AND REFLECTIVE OF THEIR CITY LIFESTYLE.
photography ANGELA GUO art direction KRISTY QUAH