From the runway to the living room, here are some of the best new furniture designs and accessories from the home collections of your favourite fashion labels.
1. Virtus armchairs, from Versace Home. 
Couture lovers will be glad to know that their homes can look as spectacular as they do, with high-end fashion brands presenting luxury home furnishings that'll make their hearts skip a beat or 10. Most launch new home lines only once or twice a year, bringing the same level of detail and beauty to these creations as they do their fashion collections. Whether meticulously handcrafted by a leather artisan or created to honour a famous artist, each piece usually has a story behind it. Here, we share our favourite picks from recent collections. 
ARMCHAIRS
SIT BACK AND RELAX
Armchairs complete a living room by complementing the sofa or adding a design accent. Use these to even out the profile of your furniture or to add a pop of vibrant colour. 
2. & 3. Portable Lounge Chair by Marcel Wanders and collapsible Concertina Chair by Raw Edges, from Louis Vuitton Objets Nomades. 
4. Oval armchair by Carlo Colombo, from Trussardi Casa.
5. & 6. Mere and Wickham armchairs, from Bentley Home. 
SOFA
LOUNGE IN STYLE
The focal piece of the living room or lounge, sofas aren't just for watching TV or taking a nap – they're a place for entertaining, too. Pick a generous design that can accommodate guests or mix and match different seating options for larger spaces. 
7. & 9. Ceasar Tailor Sofa and Benson sofas and armchair, from Fendi Casa.
8. Modergen sectional sofa, from Trussardi Casa.
10. Virtus sofa, from Versace Home.
11. Shogun sofa by Kenzo Takada, from K3. 
OFFERING MORE FLEXIBILITY, A MODULAR SOFA CAN EASILY BE RECONFIGURED TO SUIT DIFFERENT SEATING ARRANGEMENTS. 
DINING TABLES
FINE FOR DINING
Invest in both aesthetics and durability because you'll want a dining set that will last you for years to come. When picking out a table, take into consideration the dimensions of your space and how often you will have dinner guests.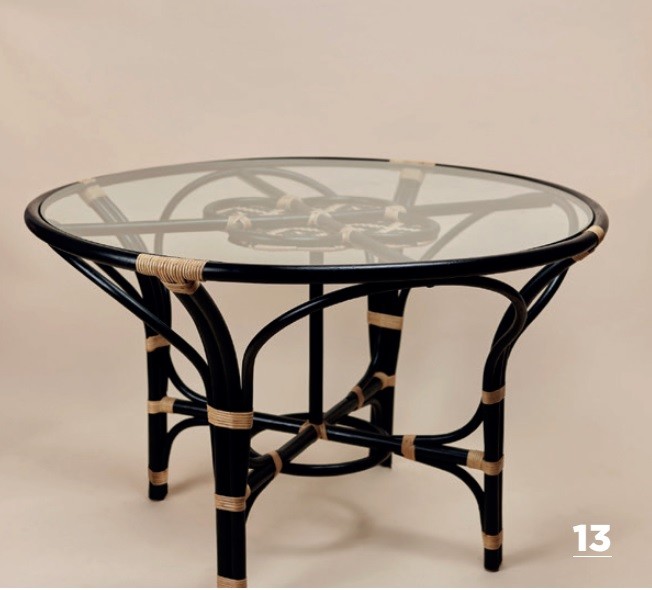 12. Whitby table, from Bentley Home.
13. Suvarnabumi dining table, from Ong Shunmugam.
14. Constellation Effe dining table with Tilda chairs, from Fendi Casa.
15. Ford dining table, from Fendi Casa. 
BEDS
SWEET DREAMS
These chic beds promise a good night's sleep. Most have headboards and accents upholstered in luxe materials like velvet and leather, which lend elegance to the bedroom. 
16. & 20. Lambert and Montgomery beds, from Fendi Casa.
17. Deven bed, from Trussardi Casa.
18. Virtus bed, from Versace Home. 19. Maiko collection by Kenzo Takada, from K3. 
HOME FRAGRANCES
SCENTS OF STYLE
A beautiful home should always smell wonderful. These days, it's an easy task, thanks to the different ways you can scent your home – whether you choose a diffuser, scented candle or room spray. 
21. 30 Montaigne candle, from Maison Christian Dior.
22., 23. & 24. Rattan diffuser in Ivy, Tomato Leaves candle, and scented wax candleholders (Cypress Ball, Tomato Leaves, and Luscious Pea), from Loewe. 
TEXTILES AND ACCESSORIES  

ALL IN THE DETAILS
Details enliven a space to no end. Add visual interest with eye-catching colours and unconventional shapes or use soft fabrics like cashmere for unparalleled luxury.
PHOTO: STUDIO DES FLEURS
25. Handwovenn Clamp Dye plaid, from Hermes.
26. Bois Paradis Screen by Maison Christian Lacroix, from Roche Bobois.
27. & 28. My Shelves by Raw Edges and Diamond Screen by Marcel Wanders, from Louis Vuitton Objets Nomades 
INTRODUCE A COUPLE OF CUSHIONS WITH A STRONG FOCAL POINT, DRESS UP WALLS WITH SCREENS OR THINK OF FURNITURE THAT WOULD LOOK WAY BETTER WITH A THROW – THE POSSIBILITIES ARE ENDLESS. 
LIGHTING
LIGHTS ON
The shape and colour of a lamp are other important details that can finish the look of a room. Use these accent lamps sparingly and choose a suitable design based on whether you want them to be a focal point or a discreet addition. 
29. Mendori light by In-Ei Issey Miyake, from Artemide.
30. Potence Lamp by Jean Prouve reimagined by Virgil Abloh, from Vitra.
31. & 33. Le Cercle table lamp and Infinity Line Up suspension lights, from Fendi Casa.
32. Barber & Osgerby Bell Lamp, from Louis Vuitton Objets Nomades. 
text MELODY BAY