AN INTERACTIVE LOUNGE SPOT INSPIRED BY NEW YORK'S BACK ALLEYS
AN INTERACTIVE LOUNGE SPOT INSPIRED BY NEW YORK'S BACK ALLEYS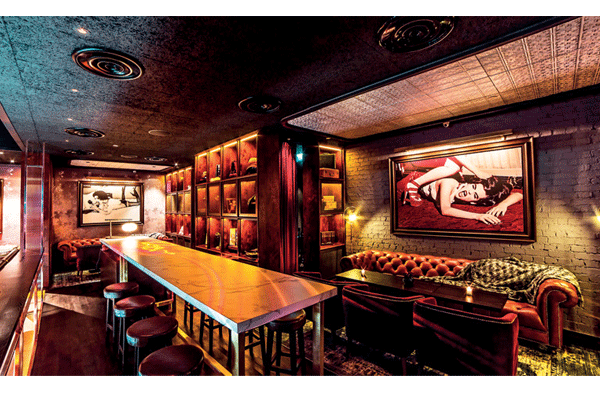 While a white tiger print upholstery sounds like a kitschy pick, its look fits right in with Lulu's Lounge. The nightlife venue channels the personality of Lulu, the fictional owner of this establishment, and creates an intriguing space for visitors to hang out.
"She's a tacky go-go dancer who aspires to be high class, so we went with bold tiger prints, vintage chesterfields and brass finishes. It brings a 1960s' speakeasy atmosphere to the space," says Bernard Johnson of interior design firm EDG.
There's a lot to discover about the wildly fun yet complex Lulu, and the real-life founders of the lounge, Joshua and Sarissa Schwartz, have left proverbial breadcrumbs around the place for you to piece Lulu's life story together. "Every furniture and artwork selected tells a story, and are to be explored by guests throughout their time here," says Bernard.
Partygoers will enter a small vestibule before stepping into the colourful yet intimate lounge room. There's a leopard-print coat hanging by the door, lampshades wrapped in red feather boas, bondage-esque masks, and even newspaper clippings of a certain arrest.
Perhaps the most telling of Lulu's mysterious background are the graffiti walls by international street and tattoo artist Mistra Crowe. Created using UV paint, the artworks subtly change as the night progresses; a black light reveals Lulu's defacement of (and ill feelings towards) certain high-society figures. With playful twists on classic cocktails and a post-disco playlist, Lulu's Lounge promises you a great night out.