SHOPPING IDEA S FOR QUICK FIXES WHEN SPRUCING UP Y OUR SPACE.
SHOPPING IDEA S FOR QUICK FIXES WHEN SPRUCING UP Y OUR SPACE.
1 Art Smart
Give your guests something to talk about when they pop by, with these hip and trendy art pieces featuring works by well-known contemporary art legends like Andy Warhol and Jean-Michel Basquiat. Art gallery Lumas collaborated with The Skateroom to incorporate the world-renowned artworks onto skateboards that come in bright, vibrant pops of colour. Put up one of these priced skateboards, featuring Warhol's Campbell's Soup Cans, and Basquiat's Trumpet, in your home to lend it a fun, cool vibe.
Andy Warhol's Campbell's Soup Cans ( set of 8) and Jean-Michel Basquiat 's Trumpet ( set of 3) retail at $3, 180 and $1, 080 respectively at Lumas Gallery, #04-47, Paragon, www.sg.lumas.com.
2 Clutter-Free
Concealable downdraf thoods have always been popular with homeowners for open-concept kitchens, but the Sintesi by Italian kitchen pundit Falmec goes one step further. Sintesi is an integrated kitchen system that combines a rear extractor and an induction hob with four (not the standard three) flexible cooking zones. The extractor is barely noticeable; instead of popping up like a downdraf thood, its space-saving slim blades simply open to absorb and purify air and moisture, removing odour. It is sophisticated, silent, easy to install, and is rated A++ for energy efficiency.
3 Switch It Up
Switches are seldom considered when thinking of ways to dress up your space, but this one is changing the game. The Avatar On customisable switch covers have a mirror smooth surface for personalised prints, and is changed easily with a snap-on motion.
Avatar On switches and sockets start from $9 . To get them through Schneider Electric's Customer Care Centre, e-mail customercare.sg@ schneider-electric.com.
TILE OF THE MONTH
4 Make An Impression
Nothing makes quite the same impact as a well-made sofa, when you're looking to add the "wow" factor to your living room. Go for stately, elegant pieces like this Contemporary Hallie tufted sofa by home-grown furniture label Embowood. This updated Chesterfield design is finished in luxurious velvet and available in a variety of colours. Homeowners can also make a request for custom servicing.
Prices for the Contemporary Hallie start from $2,350 . Visit www.havenlifestyle.asia, or call 6745-4698 for enquiries.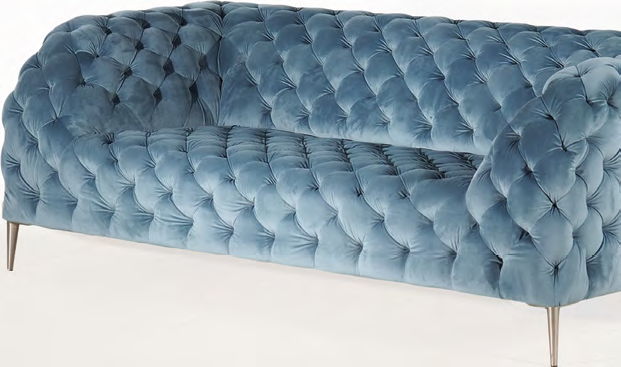 5 Geometric Fashion
For homeowners bent on changing the vibe at home, opt for radical-looking tiles. An unconventional take on square tiles, or mosaic, the Mutina Tratti tiles by Inga Sempe are designed with the aim of creating repeated patterns to result in graphical features. With a collection of patterns including grids, crosses, horizontal lines and even herringbone, there's no definite formula when pairing the pieces in this collection with one another.
The Mutina Tratti tile collection retails at Rice, #01-03, Henderson Industrial Park, www.rice-fields.com.
6 Statement pieces
Three of the most iconic chairs of our time crafted for the SAS Royal Hotel in Copenhagen, by Danish designer Arne Jacobsen, turn 60 this year. To commemorate this milestone, Fritz Hansen has reimagined the Egg, Swan and Drop chairs in new finishes centred on the theme of purity, dressing them in materials that develop a unique patina as they age. The limited-edition collection Egg and Swan chairs are upholstered in pure leather, while the Drop is covered in hard wearing fabric Sera. The bases of all three designs are plated with luxurious 24K gold.
The 60th anniversary collection is available at W.Atelier, with prices starting from $1,334 for the Drop chair. Visit www.watelier.com for details.
7 Glow In The Dark
Here's something for the discerning homeowner: a handwoven rug with embedded optic-fibre nodes. Produced by the largest rugmaker in Europe, Ferreira de Sa, the Dazzling rug is ahead of its time and conceived especially for grand entrances. If you're looking for something understated, the premium Portuguese rugmaker recently collaborated with local furniture retailer Studio 216 to launch a collection of rugs named after islands around Singapore.
Prices for Ferreira de Sa' s rugmaking service begin at $2,900 (for a rug of 3m by 2m). The rugs are available at Flex form Singapore, #01-01, 200 Newton Road, tel: 6 909-2128.
8 Creature Comfort
Don't forget to create cosy corners where you can retreat to after a long day. The N701 sofa from Ethnicraft offers a plush spot for lounging in and is sturdy in build, making it the perfect addition to a family den.
9 Lighten Up
Changing the mood of a space can be as simple as adding a source of ambient light to complement the decor. The Pose lamp from Maiori's La Lampe collection charms with its block like and uncomplicated design. Switch it on in the evenings to create a soft glow around your dining or side table.
The Pose light retails a t $ 141, and is available from P5 Studio , #01-08, Henderson Industrial Park.
10 Soften It Up
Make your home feel cosy with artisanal cushions designed by textile specialists Insley & Nash. Its debut Doubloon collection for interiors consists of hand screen-printed cushions made of silk and linen, with patterns reminiscent of textured brushstrokes. They come in a luxurious palette of gold, navy and white.