From its layout to its appeal as a hangout, from its design to its deodorisers, Uppercut's modern boxing studio shows championship form.
From its layout to its appeal as a hangout, from its design to its deodorisers, Uppercut's modern boxing studio shows championship form.
1. The 27 pairs of boxing gloves behind the reception counter are free for students to use. Deodorisers placed inside keep them dry and smelling fresh. They're constantly rotated with 173 other pairs in the storeroom. Inside a traditional shophouse on Telok Ayer Street, Uppercut isn't just a contemporary space for combining traditional boxing with high-intensity workouts. It's a cosy, sunlit spot for its members and founders to hang out and, of course, connect.
"It's inspired by Scandinavian aesthetics and brands like Muji," say co-founders Elizabeth Seow, 26, and Isaac Kwok, 28. "Using white and wooden combinations, we created something timeless with a lightanddark contrast."
It was Seow's first attempt at designing a commercial space, and being a millennial, her inspirations came from Pinterest. She designed the layout to flow easily and foster community spirit: the studio straight ahead, general space on the left, gender-neutral bathrooms on the right. Why gender-neutral bathrooms? "It's a way for members to respect one another, as well as build trust and friendship," says Seow, who also handles the brand's creative direction, marketing and social media.
Toiletry bottles are labelled "1", "2" and "3" to reflect the three-step act of bathing, and to remind members to spend only three minutes in the shower. You don't want a queue to build up (which might lead to actual boxing).
Lockers are also purposely not positioned by the showers, but at the other end of the gym. "I want people to hang out outside and not merely use the bathroom, freshen up, and leave."
The statement piece is a vintage-looking boxing ring – half the size of the real deal. It was custom-built using raw natural wood and detachable ropes, with wood-textured laminate on the sides. Multifunctional, it's for private training sessions (on top) and storage (below). It also serves as a conversation starter; members love taking pictures with it.
"When it comes down to it, how many of us can say that we have set foot in a boxing ring?" - HIY
Uppercut is at 155A/157A Telok Ayer Street (level 2). Weekdays: 7am-9.30pm. Weekends & public holidays: 10am-4.30pm. It charges $50 for two classes for first-timers.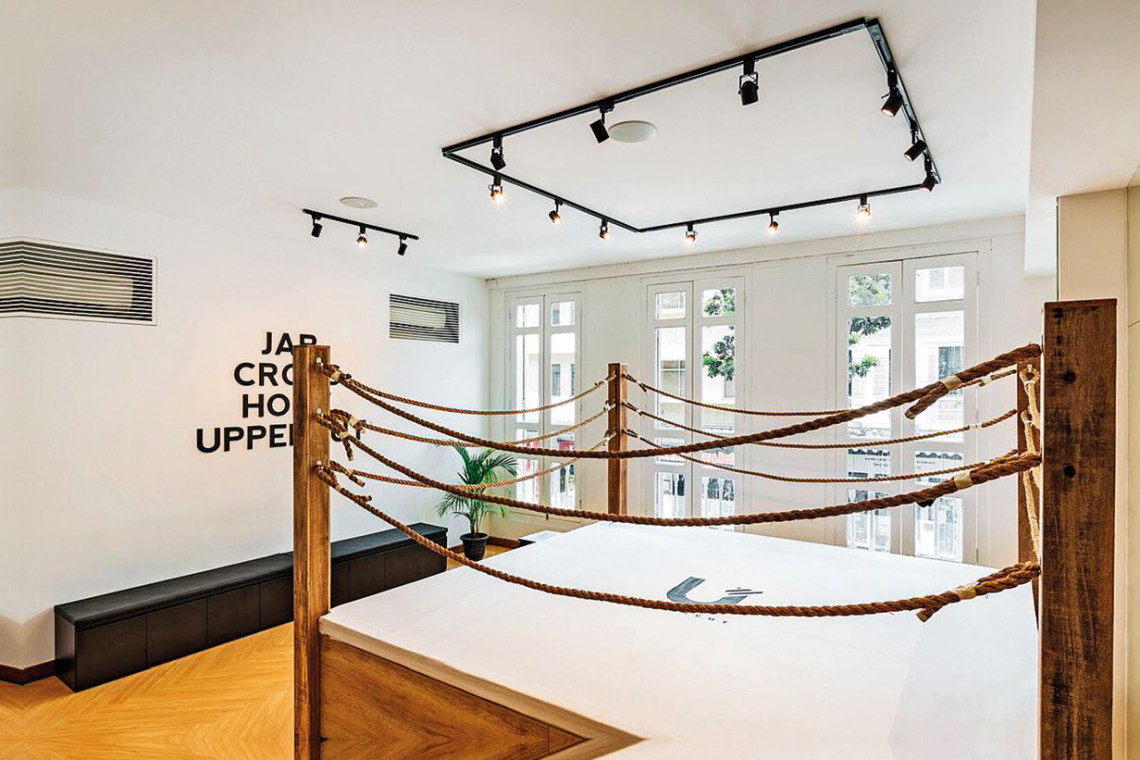 2. Jab, cross, hook and uppercut are punches incorporated into Uppercut's cardioheavy classes.
3. Shower stalls are gender-neutral to cultivate trust and respect among members.
4. Lockers with more than one purpose: each has a hanger outside, and those in the middle row have phone chargers.
5. Clean up the modern way: with a rain shower.
6. Clean towels on top, dirty towels out of sight in bins at the bottom.