Privacy, space, pop art museum-like rooms, and a floating jellyfish projection.
Privacy, space, pop art museum-like rooms, and a floating jellyfish projection. Chez Vous: Hideaway Concept Hair Salon on the 14th floor of Tower B Ngee Ann City is designed for equal parts relaxation and delight.
Hideaway. A place to hide and get away from people. Chez Vous' second outpost, Hideaway, a concept salon modelled after New York's speakeasy bars, takes having your own space and quiet time seriously.
It's everything that the 23-year-old Chez Vous (also at Ngee Ann City, but on the fifth floor) isn't. Both by founders/hairstylists Riz Tan and Thomas Teo, the latter is run as a "family" salon – noisy, open, often crowded.
Their customers were ready for more quiet. They didn't want people peering into the salon at them. They wanted to be able to really let their hair down and relax, says Eugene Teo, Hideaway's marketing director.
The feedback, gathered over two years, got Riz and Thomas thinking about doing things differently. They looked at everything Chez Vous was, and created a better 2.0 version.
• Location: It should not be in a mall but should still be accessible from one. That's why Hideaway is in the office tower of Ngee Ann City – with food-trading companies as its neighbours.
• Space: Most hair salons are open-concept because of limited space. To hide proper, Hideaway needs to be spacious – 1,800 sq ft (the size of an HDB executive flat) divided into zones, each with its own feel – so it never gets crowded, and no one crowds your space. The reception, a Renaissance art-themed area, is a closed room. The styling area has 14 generously-spaced stations. Customers who want to be alone have the option of the VIP room.
• Lighting: For practical reasons, all hair salons need to be brightly lit. The only spot where Hideaway has natural lighting is the styling area. Everywhere else – from the reception to the wash "cave" – is dim, dark or pitch-black to help calm your mind and lull you into a relaxed state.
• Sound: To lessen noise, which naturally comes with more customers, Hideaway accepts just 15 clients a day – even during the holiday season. To calm and soothe the heart and mind, a Tibetan singing bowl is rung prior to your hair wash.
• Time to relax: All customers are asked to come 15 minutes before their appointment so that they can enjoy the complimentary services in one of the zones, the relaxation den. The three massage chairs in there each have a machine for either LED scalp rejuvenation (to cleanse and soothe the scalp) or oxygen diffusing (to clean the air and soothe the mind). Other thoughtful extras: Himalayan salt at every styling station to help purify the air; a choice of essential oils (peppermint, cedar wood, lavender or lemongrass) to be used in your shampoo and massage rituals; and heated herbalscented shoulder pads to relieve lingering tension.
• Straightforward pricing: You do not incur additional charges here. The salon does not hard-sell packages either. Instead, it has four price tiers for all hair lengths – $199, $299, $399 and $499 nett. Each tier includes a haircut, plus one to four hair services (perm, colour, rebonding, hair treatment). If you want, you can add on $99 for a premium service like a keratin treatment or digital perm. – CT
Hideaway is at #14-04 Ngee Ann City Tower B. Opening hours: Mon-Fri, 11am-8.30pm; Sat, 10.30am-7pm; and Sun, 11am-6pm. Tel: 6219-3558 
1. The entrance of Hideaway. Its unit number (#14-04) isn't listed in the level directory or on the salon door.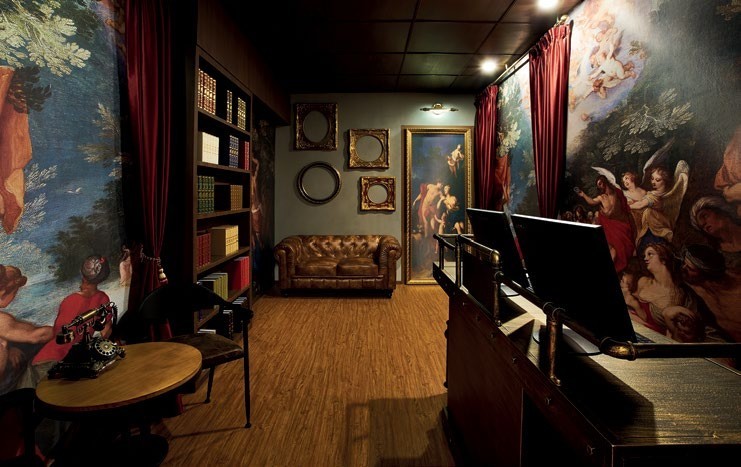 2. Zone 1 is the reception with two hidden doors. The life-sized painting leads to Zone 2, the Re:charge relaxation den (picture 3), while the giant bookshelf (filled with faux books) opens to the hairstyling stations.
3. Indulge in complimentary LED scalp therapy and the oxygen bar (laced with cooling peppermint) before and/or after your hair appointment.
4. Zone 3, the loft-like styling area: The 63 sq m space is as large as a three-room HDB flat. The 14 chairs in it are at least 1.5m apart. No one gets in your personal space.
5. Zone 4, the wash cave: This is lit only by a wall projection of jellyfish – inspired by the Japanese jellyfish aquariums used for meditation – so you can't help but enjoy shampoo time.
6. The Rose Quartz Room is for the customer who wants her/his own space.
7. Blue walls at Hideaway = This way to the exit.
8. Founders Riz Tan (near right) and Thomas Teo.