THE LIFESTYLE AND HOSPITALITY INDUSTRIES HAVE EVOLVED WITH THE SHARING ECONOMY: AIRBNB, SOCIAL DINING, YOU NAME IT. KENG YANG SHUEN VISITS TWO NAMES IN SINGAPORE WHO ARE TAKING THIS CONCEPT TO THE NEXT LEVEL IN THEIR VERY OWN HOMES.
THE LIFESTYLE AND HOSPITALITY INDUSTRIES HAVE EVOLVED WITH THE SHARING ECONOMY: AIRBNB, SOCIAL DINING, YOU NAME IT. KENG YANG SHUEN VISITS TWO NAMES IN SINGAPORE WHO ARE TAKING THIS CONCEPT TO THE NEXT LEVEL IN THEIR VERY OWN HOMES.
"Staying in is the new staying out." We've heard this said so many different ways that it's almost a cliche. Truth be told though, when you can do practically everything from home these days – shopping, dating, fine dining (thanks Deliveroo) and binging on Altered Carbon or anime – the allure of staying in has increased. At the same time, the concept of home has evolved from being a "shelter" to one that defines us, and from where connections happen. Take the creatives who've transformed their homes into not just feel-good destinations – a cafe and a holistic workshop space – but also imbued them with a sense of community. Family – real or self-defined – is a big part of home to many, and we capture some of Singapore's chicest in "portrait mode", decked out in the season's most colourful yet comfortable looks. There's also our curation of fashion-forward furniture and spa-like beauty products that'll let you turn your abode into a truly personal sanctuary. Welcome in.– KYS
Despite the preconceptions you might have of a rock hard (pun intended) material like concrete, craftsman Alvin Chan of design studio Concrete Everything (www.concrete-everything.com) says the broken "F" he created for us represents "the fragility and transient nature of concrete; every creation is always different and no two pieces will ever be the same". Chan is also known for fashioning everything from stationery to furniture out of concrete, and regularly holds workshops to teach the craft.
The Experiential Curator: Jerome Chee
WHO: You've probably seen Chee around if you frequent independent cinema The Projector. He's been its marketing manager since the get-go – yes, its zingy social media posts are his creations.
WHAT: Chee's dining concept, dubbed "sullen cafe" (intentionally stylised in lower case), that's like a indie alternative to the world's most exclusive restaurants. Launched last July, guests – that is, if you pass his cut – are hosted in his home (which he shares with the rest of The Projector crew). On the menu: a variety of dishes ranging from moussaka and shepherd's pie to tempura dons, kebabs and an assortment of pretty desserts. This changes on a weekly basis based on Chee's mood. Adding to eclectic charm: the shabby-chic space – a terrace house along a quiet residential lane on Joo Chiat Place – that brims with vintage furniture, and the relaxed vibe. The cafe derives its name from his musician persona, sullen (@sullen_official), and Chee's been known to play live upon request for guests – think pensive atmospheric tunes along the lines of Sigur Ros. You're also free to borrow his bike, take the pooches out for a walk, or simply chat with the 27-year-old. Sounds idyllic? Little wonder that visitors have largely been made up of those from the creative crowd.
THE RATIONALE BEHIND THE CONCEPT: The cafe is inspired by Chee's extensive travels; ditto the exotic-sounding fare he dishes out. "My most memorable travel experiences were when I was the only person in a cafe or restaurant, having a leisurely meal. I guess the cafe is me trying to share these experiences with others – a quiet time that I feel is valuable, yet hard to attain in most busy cities," he says.
HOW TO GET IN: Book a slot ($20 for approximately 90 minutes, typically on Mondays) through Airbnb. Potential guests are then sent a questionnaire that checks on their allergies (food and animals – there are two dogs on the premises) and interests (preferably mutual). At any one time, only three guests are allowed as it's a one-man show: Every dish is lovingly made by Chee, and his kitchen "has limits".
Jerome Chee
Chee's sparse room doubles as the dining room.
Grooming Sha Shamsi, using Tarte Cosmetics & Keune Singapore
The entire place comes across as idyllic and laid-back – perfect for those seeking a respite.
The house is filled with eclectic second-hand furniture and curios, such as this vintage cocktail bar table.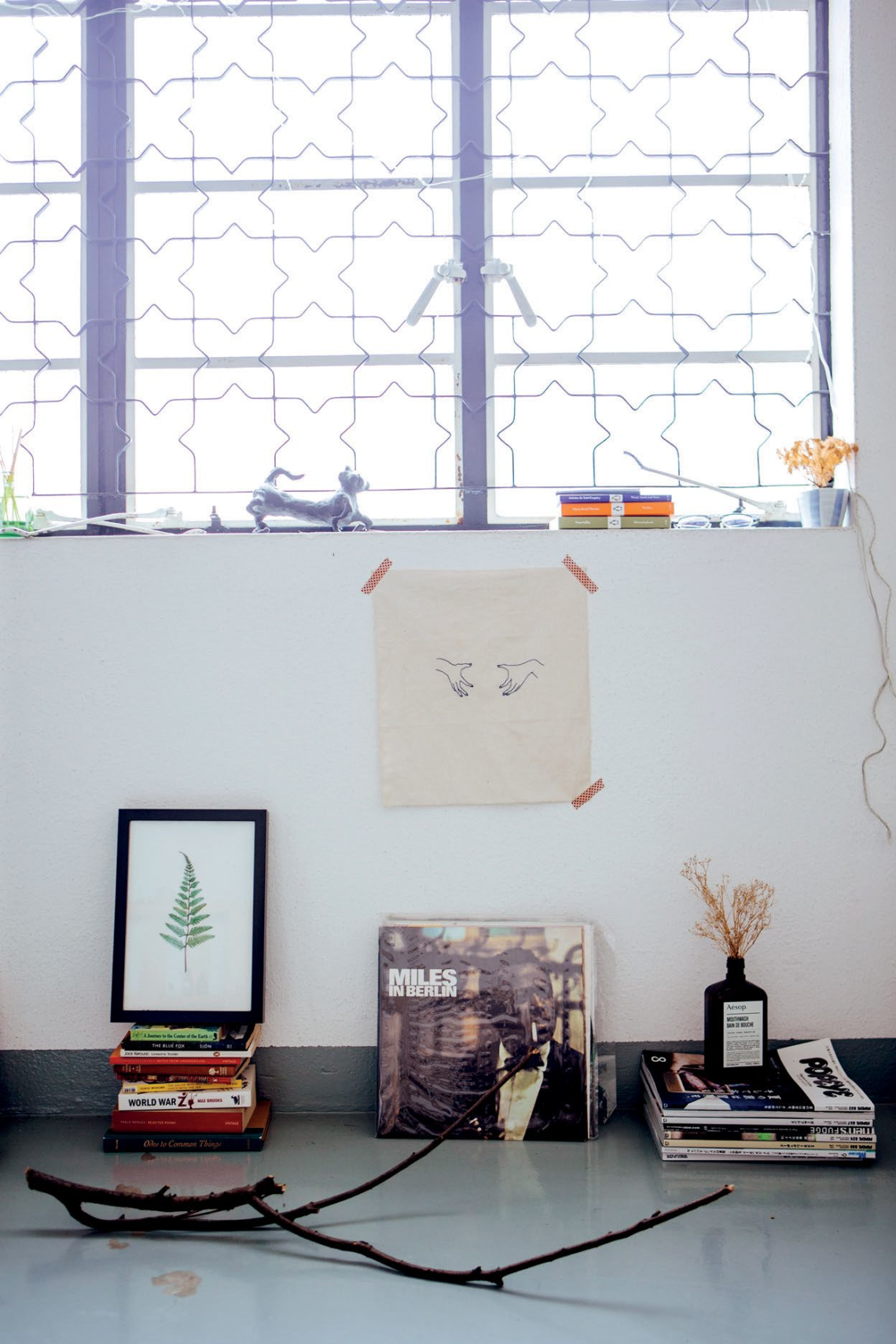 An example of the menu: homemade poached ruby pear with coconut sable and mascarpone whipped cream
Koh's mango and chicken blue-corn tacos exemplify her holistic ethos: They're preservative- and hormone-free – and addictive.
Koh conducts her "slow life" cooking workshops in her stylish all-marble kitchen.
Gilded utensils and homeware are a signature of Koh's home and, by extension, her Instagram feed.
Vegan carrot cake with organic coconut yogurt
Bella Koh and her husband, Terence Yeung, who designed the expansive 1,700 sq ft Tiong Bahru shophouse apartment
The Holistic Guru: Bella Koh
WHO: A powerhouse food, design and wellness stylist, the social media maven behind Instagram account @catslavery, and a member of our Female collective
WHAT: Koh transformed her former Tiong Bahru shophouse apartment last December into a twofold workshop and event space, and christened it The Slow House. Think of it as an extension of her popular Instagram feed, where feel-good images of plants, cats, home-cooked dishes (made with organic and sustainable ingredients) abound. She holds intimate workshops (for between five and 10 people) to educate time-strapped folks who still want to maintain a healthy diet (earlier workshops have focused on Japanese-style broths and plant-based milk formulas). Then, there's the events part, where external brands can rent the space for their own events – but with a #slowlife twist. "It (slow life) means simply to slow down one's pace (especially) in a fast-paced city like Singapore," she says.
THE RATIONALE BEHIND THE CONCEPT: "Slow House was partly created to change the way events work – I got bored of attending events that were really too commercialised and almost meaningless." So, she designs and presents "slow food" tables for brands such as Chantecaille and Innisfree, with a specific focus on whatever is launching – for example, pomegranate balsamic dressing on sustainable barramundi for Innisfree when the Korean skincare label was introducing an antioxidant-heavy range. During these events, Koh also conducts workshops in conjunction with the brands.
HOW TO GET IN: The space is (at print time) all booked for events, but Koh plans to conduct additional workshops (her last round of workshops was in January) for the public later in the year. In the meantime, there's the option of taking private, one-on-one sessions with her, but you'll have to e-mail her (love@theslowhouse.co) for more details.
Hair & Makeup Zeevy Tee, using Nars & Schwarzkopf
PHOTOGRAPHY ZAPHS ZHANG ART DIRECTION ADELINE ENG