The small size of his home did not stop this homeowner from fulfilling his big dreams of a beautiful abode.
The customised full-height TV console doubles as a display cabinet where Jay showcases home accessories and books. The rug with the geometric pattern is from Boconcept.
The small size of his home did not stop this homeowner from fulfilling his big dreams of a beautiful abode.
Naval architecture graduate Jay Chia has always had an interest in design and an eye for detail, so when it came to designing his own home, he knew what he wanted – a cosy contemporary-style space with dark hues and earthy tones, even if the apartment was only 604sqf. His six months' long renovation cost $50,000 (including furnishings).
Because the interior space is extremely limited, Jay extended the living area of the home into the semi-outdoor patio. He even replaced the bay window in the bedroom with a sliding door for more light and ventilation, as well as easier access to the patio. The hands-on homeowner created the impressive green wall in the patio as a doit- yourself project. "I bought 1,000 pots of artificial plants from Ikea and displayed them in the supporting frames that I built," he says.
His initial idea was to use real plants but, as he travels often for work, he knew he could not maintain them. Nonetheless, he has a corner dedicated to easy-to-maintain real plants, including herbs such as rosemary, which he uses in his cooking.
The teak bench in the outdoor area is customised by a contractor, and Jay installed a rain-activated awning to prevent his cushions and other furniture, such as the coffee table from Grafunkt, and Normann Copenhagen outdoor seats, from getting drenched.
For the apartment's interiors, he had the TV cabinet custom-built to display his favourite knick-knacks, cookbooks, and Bang & Olufsen speakers. Jay also kept his bedroom simple, using Marimekko fabric as artwork, positioned within a black frame that takes the place of a headboard. The bathroom stands out with the use of deep blue tiles that add colour to this intimate space, proving that not everything has to be light and bright in a small space.

Jay enjoys lounging in this open-air space. He bought the coasters and tableware from H&M Home and Zara Home, abroad.
The wall in the patio area is painted a bright yellow for a cheerful ambience.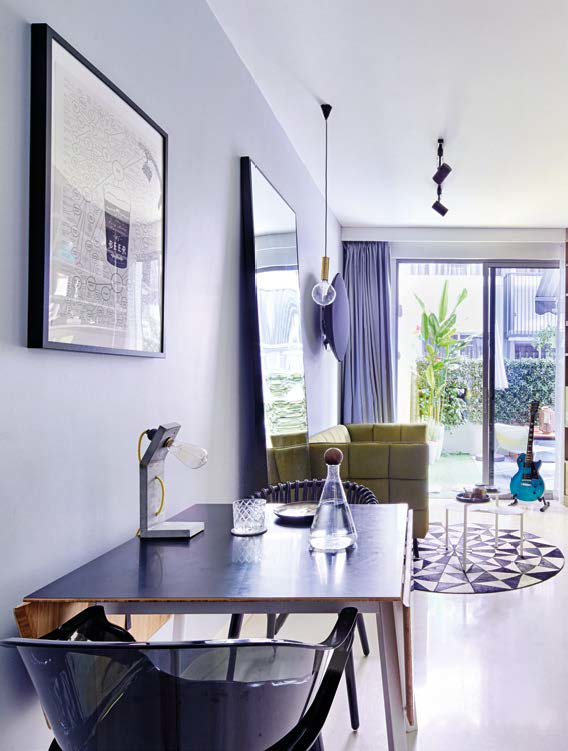 The homeowner cladded the surface of the extendable dining table from Ikea with black laminate, to match the home's colour scheme.
"I was fortunate to get these tiles because they were meant for a swimming pool, but that project was shelved at the last minute. I really love the colour," says Jay of his bathroom tiles.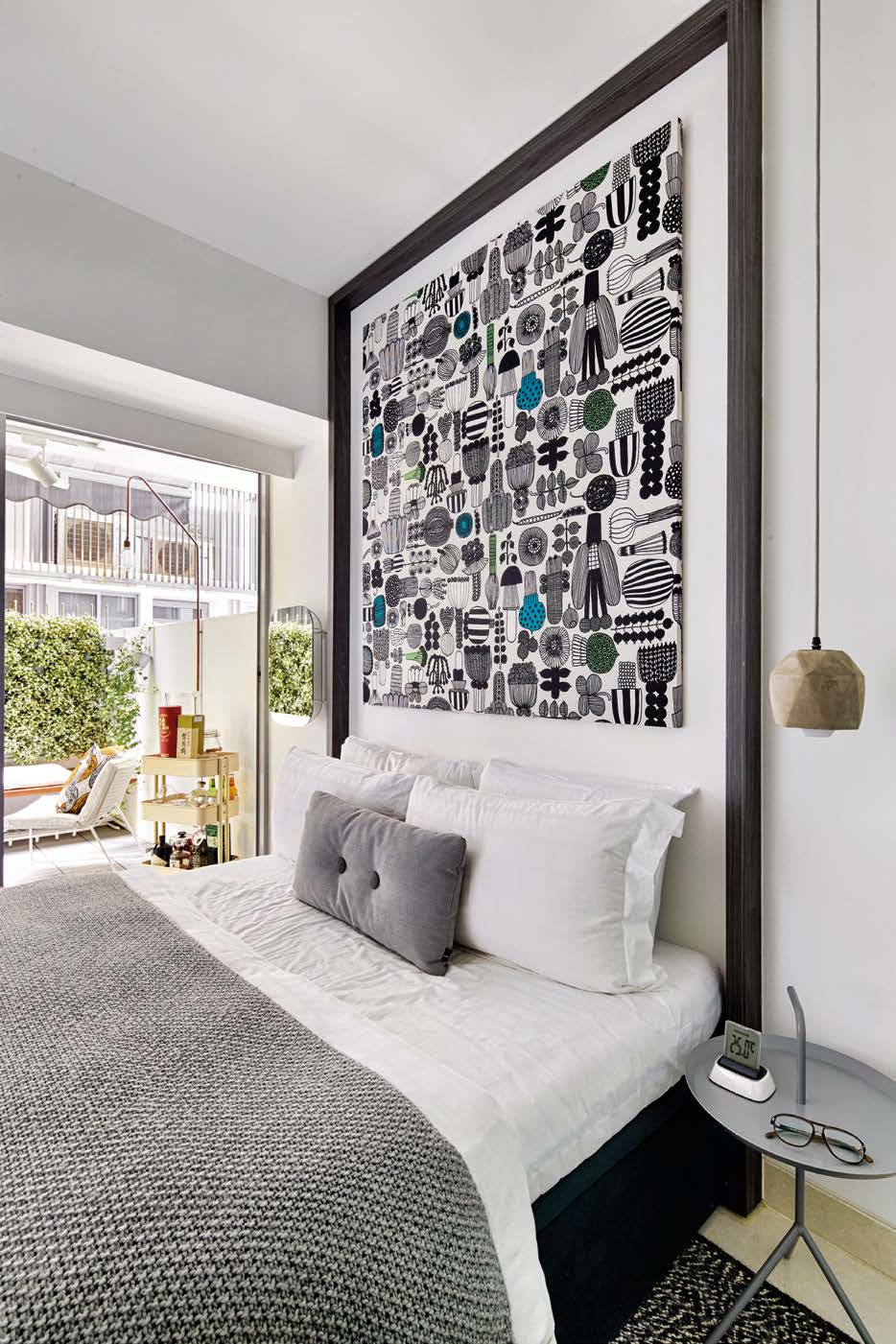 A small mirrorcum- storage cabinet from Grafunkt is mounted on the wall next to the bed, to store knick-knacks.