They may be the big names that rule Fashion Week, but they've taken their aesthetic sensibilities into furniture territory, boldly strutting dressy collections for the home.
They may be the big names that rule Fashion Week, but they've taken their aesthetic sensibilities into furniture territory, boldly strutting dressy collections for the home.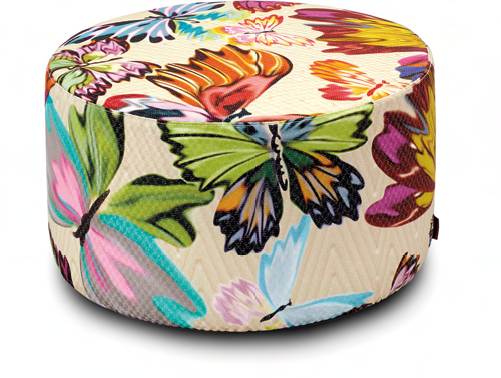 VERSACE
If the outstanding workmanship and elegant design are not instantly telling of its maker, then the iconic Medusa head would most definitely give away its maison's name. The Shadov chair and VM11 line of furniture and accessories are moulded in the silhouette of the Medusa. The VM11 furniture line and the Shado v chair are a vailable at Da Vinci Lifestyle.
MISSONI
The Italian fashion house known for its colourful and patterned knitwear returns with another home collection, this time inspired by a garden wonderland. Expect motifs such as poppies and butterflies, while Missoni's iconic chevron and gradient stripes adorn its range of indoor and outdoor sofas and cushions. Selected poufs and soft furnishings are a vailable at the Missoni store. Sofas and other designs are a vailable for special order.
PAUL SMITH
Thank god for British design and humour. The classic Anglepoise Type 75 desk lamp is given Paul Smith's "classic with a twist" treatment: The lamps are colour blocked in three unique schemes, and are reproduced in two more sizes – a humorous mini size and an outlandish giant size to be used as a floor lamp.
The Anglepoise and Paul Smith Type 7 5 Mini Desk Lamp and Table Lamp are a vailable from Million Lighting.
HERMES
Hermes presented an extensive collection of home furnishings in Milan this year, ranging from porcelain tableware and lacquered boxes, to cashmere throws and wallpaper. The collection juxtaposes nature-inspired prints with geometrical lattices and mosaics, all rendered in soothing hues and seamless design.
The 2018 Hermes Maison collection will be available in stores in the later half of the year.
MARNI
Tirelessly inspired by Columbia, the Milanese house presents yet another collection with the South American country's traditional crafts, materials and folklore in mind. From hammocks and stools, to baskets and cactus sculptures, its 2018 La Vereda collection is made with the usual PVC weaves but with a new loom-woven effect. E-mail customer_care@marni.com for enquiries on product a vailability.
HUGO BOSS
Designer furniture may be great, but what feels truly luxurious at the end of a long hard day has to be being ensconced in sumptuous bedsheets that promise recovering sleep. Hugo Boss Home's Spring/Summer collection presents a range of downy bedlinen, made with 100 per cent Egyptian, 300 thread-count cotton. The abstract print will also appeal to sophisticated art lovers Oceanwaves takes inspiration from Japanese prints and Volumn from Brancusi's sculpture Endless Column. Hugo Boss bedlinen is available exclusively at Robinsons The Heeren.
LOEWE
Known primarily for its leather products, Loewe's fabric-focused presentation at Milan Design Week was certainly unconventional, but reflected its creative director's obsession with the material. British designer J.W. Anderson trawled the globe, scouting textile artisans with incomparable craft techniques from India to Ecuador, in order to create the 80-plus collection of tote bags, tapestries and blankets. Loewe's tote bags will be a vailable for sale from October 2018. Tapestries and blankets will be a vailable for special order.
BOTTEGA VENETA
The 2018 Home Collection is the second time creative director Tomas Maier has collaborated with Italian designer Osanna Visconti di Modrone, and the partnership continues to prove felicitous. Visconti imparts her fondness for bronze and her expertise in the lostwax casting technique to create the brand's exquisite signature intrecciato, or braided, texture on the bronze lamps.
Bottega Veneta's Home Collection is available for order from boutiques here.
text ISABELLE TOW