Years of accumulated design references were lovingly woven into this couple's first home. They let Isabelle Tow in on the elements that make their cosy abode
For owners Marvin Liang, 34, and Chong Lingyi, 32, their home on Depot Road is a labour of love. Though they bought the HDB unit just two years ago, their vision for their home started long before. Years of bookmarked references and design inspiration gave the married couple a pretty solid idea of their first home together. The organised and creative pair, who both work in advertising, even collated their design brief and wishlists into a multi-page mood board as they scouted for a suitable interior designer. They found a kindred spirit in Mikael Teh of Monocot Studio and entrusted the renovation into his hands.
In their brief, the couple outlined their interior inclinations – a mid-century modern vibe invoked by a dusky colour palette of dark wood and navy blue, filled in with tropical plants, rattan furniture and wall-hung art for a comfortable lived-in feeling. "We knew we wanted things like rattan and certain colours, but we couldn't visualise it cohesively," shares Lingyi. Luckily Mikael was able to bring the disparate details together in his 3D renders, which both Marvin and Lingyi agree, helped bring their vision to life.
Off-white walls, arched doorways and concrete screed floors form a muted yet elegant backdrop in the living room that allow the eclectic style of the home to really pop. Vintage Scandinavian furniture like their sideboard exist alongside a royal blue velvet sofa and an outsized rattan lounge chair close to the windows.
Judging by the lush garden of indoor plants in their living room's "mini balcony", one wouldn't expect that the flat actually receives little natural light. Facing Telok Blangah Hill means the couple gets to enjoy verdant views all year round, but with the sun obscured, their interiors are kept fairly dim. Instead of overcompensating for the lack of light, Marvin and Lingyi chose to embrace it, pressing on with the dark colour scheme and keeping artificial illumination to a minimum. For instance, the walls of their hallway were painted a shade of forest green and warmly lit with a trio of delicate pendant lamps. Nicknamed their "floral corridor", it is decorated with frames of vintage pressed flower art and paintings of orchids by Lingyi's grandaunt, the artist Lim Chu Suan.
They reserved one bedroom as a guest room and converted another into a study. Both bookworms, their favourite tomes sit on shelves built along the length of the navy-blue wall in their study, while mismatched chairs flank a handsome wooden desk they got second-hand.
The bookshelves, along with the rattan wardrobes in the bedrooms and dusty blue kitchen cabinets are just a handful of built-in furniture one will find around the house, as Marvin and Lingyi mostly wanted loose pieces that they could take to their next home in the future. They also found that instead of hiding their possessions behind storage units, displaying items contributed better to the lived-in look that they desired. "Our logic with storage was, the more storage space you have, the more you will buy and stash inside them, and the accumulation of stuff goes unnoticed," says Marvin. "So by keeping everything on display it has influenced us to think our purchases very carefully and to get only the things we absolutely need."
After moving in in August 2018, the house-proud couple created a lifestyle-centric Instagram account (@ ourseaofgreen) to share images of the many picturesque corners of their home and their efforts on living more sustainably. They spent around $65,000 on renovation which took four months to complete.
BELOW
The homeowners made use of what available sources of natural light the home receives by turning space beside the windows into an indoor garden.
OPPOSITE
The use of subdued lighting in the home helps to create a cosy and ambient mood.
The bold use of dark-coloured colour along the corridor helps to draw focus to the beautiful artworks on the walls.
TOP LEFT
The couple opted for furniture that can be easily transported when they move in future.
TOP RIGHT
The vintage light switch adds to the rustic nature of the home's design.
RIGHT
Not ones to shy away from the unconventional, the owners used different styles of dining chairs for an eclectic look.
LEFT
Memories abound in the accessories found around the home.
WHO LIVES HERE
A married couple in their 30s, and wife's sister HOME A four-room HDB apartment in Telok Blangah SIZE 1,000 sq ft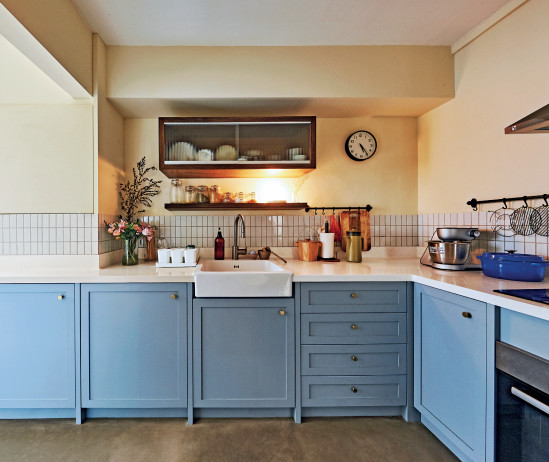 ABOVE
The farmhouse sink and plain mouldings along the cabinetry bring the look of the kitchen together.
FAR LEFT
The owners paid attention to details around the home, such as this rattan holder.
LEFT
An antique wooden lounder becomes the highlight in the corner of the living room.
OPPOSITE
A simple wall-mounted shelf is used as a handy display case next to the indoor garden.
JUDGING BY THE LUSH GARDEN OF INDOOR PLANTS, ONE WOULDN'T EXPECT THAT THE FLAT ACTUALLY RECEIVES LITTLE NATURAL LIGHT.
OPPOSITE
The dark-blue accent wall was converted into a space for books and ornaments in the study area.
INSTEAD OF OVERCOMPENSATING FOR THE LACK OF LIGHT, MARVIN AND LINGYI CHOSE TO EMBRACE IT, PRESSING ON WITH THE DARK COLOUR SCHEME AND KEEPING ARTIFICIAL ILLUMINATION TO A MINIMUM.
Vintage-style bathroom fixtures add a chic twist to design of the master bathroom.
OPPOSITE
The bedroom exudes a sense of serenity and wamth thanks to the jade green accent wall.
PHOTOGRAPHY VERONICA TAY ART DIRECTION KRISTY QUAH